You love books? You love the holidays? You love winning free stuff? Well, then you're in the right place! You've happened upon the Book Lover's Holiday Giveaway Hop, hosted by
Kid Lit Frenzy
&
I Am a Reader, Not a Writer
.
There are 250+ blogs participating in this giveaway, and you can find the entire list
here
.
For my part, I am giving away a large
Invisible Floating Bookshelf
: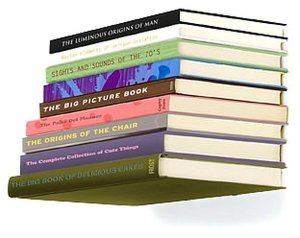 I love these things! So far, I have two of them by my bed. I may add more to my office and living room in the future! I have a small one to hold books that I've committed to reviewing, and a large one that I have to hold those books that I am most eager to read "just for fun".
The large bookshelf holds up to 20 pounds. Just look at how many books I have on my large shelf!
Quite an impressive load for a single, thin metal shelf, huh?
However I should mention that the large bookshelf isn't really "invisible" like the smaller one is. The base of the bookshelf is so large that a book must be at least 10" wide for it to be capable of covering the base and hiding it. So I find that I have to set books on the shelf, meaning that the shelf is visible from underneath, and there is the potential that if someone bumped into the shelf, they could cause all of the books to fall off the shelf. This hasn't been an issue for me.
Want your own invisible floating bookshelf? Use the Rafflecopter widget below for your chance to win! Be a follower (either via GoogleConnect, Email, Facebook, or Networked Blogs), and get an extra entry. Good luck, and thanks for stopping by!