Mailbox Monday is hosted
here
. I've received a few new books recently:
Poole's Paradise by John Vorhaus
WHEN YOU'RE ALEXANDER POOLE, EVERYONE'S YOUR TEACHER A skeevy stereo salesman, master of the bait and switch. A flaky folk singer and his dog that reads Tolkien. A drug dealer loan shark with a passion for trees. A ballsy townie chick who turns you on to Springsteen. Your wiseass roommate whose favorite pastime is smoking your dope. Your first college girlfriend who has sex with you to confirm that she's gay. Even your one true love. Together they point you to paradise - Poole's Paradise - but what will it cost to get in?
I received this book from the author, and I've found Vorhaus books are always just a fun read!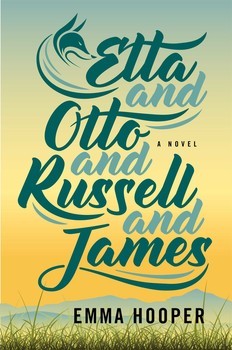 Etta and Otto and Russell and James by Emma Hooper
A gorgeous literary debut about an elderly woman's last great adventure walking across Canada. A beautiful novel of pilgrimage, of fulfilling lifelong promises, of a talking coyote called James, of unlikely heroes and hundreds of papier-mâché animals…

Eighty-two-year-old Etta has never seen the ocean. So early one morning she takes a rifle, some chocolate, and her best boots, and begins walking the 3,232 kilometers from rural Canada eastward to the coast.

Her husband Otto wakes to a note left on the kitchen table. I will try to remember to come back, Etta writes to him. Otto has seen the ocean, having crossed the Atlantic years ago to fight in a far-away war. He understands. But with Etta gone, the memories come crowding in and Otto struggles to keep them at bay.

Russell has spent his whole life trying to keep up with Otto and loving Etta from afar. Russell insists on finding Etta, wherever she's gone. Leaving his own farm will be the first act of defiance in his life.

As Etta walks further toward the ocean, accompanied by a coyote named James, the lines among memory, illusion, and reality blur. Rocking back and forth with the pull of the waves, Etta and Otto and Russell and James moves from the hot and dry present of a quiet Canadian farm to a dusty burnt past of hunger, war, passion, and hope; from trying to remember to trying to forget; and inspires each of its characters to visit the sites they've longed to see and say the things they've longed to say. This is dazzling literary fiction about the rediscovery and care of the soul, and the idea it's never too late for a great adventure.
I won this book via the last Dewey's Readathon.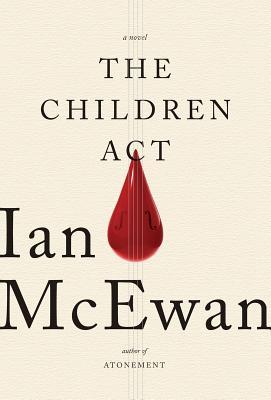 The Children Act by Ian McEwan
Fiona Maye is a High Court judge in London presiding over cases in family court. She is fiercely intelligent, well respected, and deeply immersed in the nuances of her particular field of law. Often the outcome of a case seems simple from the outside, the course of action to ensure a child's welfare obvious. But the law requires more rigor than mere pragmatism, and Fiona is expert in considering the sensitivities of culture and religion when handing down her verdicts.

But Fiona's professional success belies domestic strife. Her husband, Jack, asks her to consider an open marriage and, after an argument, moves out of their house. His departure leaves her adrift, wondering whether it was not love she had lost so much as a modern form of respectability; whether it was not contempt and ostracism she really fears. She decides to throw herself into her work, especially a complex case involving a seventeen-year-old boy whose parents will not permit a lifesaving blood transfusion because it conflicts with their beliefs as Jehovah's Witnesses. But Jack doesn't leave her thoughts, and the pressure to resolve the case—as well as her crumbling marriage—tests Fiona in ways that will keep readers thoroughly enthralled until the last stunning page.
And these books I got through SantaThing (with LibraryThing):
Necroscope by Brian Lumley
DEAD MEN TELL NO TALES...

Except to Harry Keogh, Necroscope. And what they tell him is horrifying.

In the Balkan mountains of Rumania, a terrible evil is growing. Long buried in hallowed ground, bound by earth and silver, the master vampire schemes and plots. Trapped in unlife, neither dead nor living, Thibor Ferenczy hungers for freedom and revenge.

The vampire's human tool is Boris Dragosani, part of a super-secret Soviet spy agency. Dragosani is an avid pupil, eager to plumb the depthless evil of the vampire's mind. Ferenczy teaches Dragosani the awful skills of the necromancer, gives him the ability to rip secrets from the mind and bodies of the dead.

Dragosani works not for Ferenczy's freedom but world domination. he will rule the world with knowledge raped from the dead.

His only opponent: Harry Koegh, champion of the dead and the living.

To protect Harry, the dead will do anything--even rise from their graves!
This was one of my ex-husband's favorites, but I've never read it.
Antarctica by Kim Stanley Robinson
From the award-winning author of the Mars Trilogy comes a thrilling new novel....

Kim Stanley Robinson, author of the Hugo and Nebula award-winning Mars trilogy, is one of the most original and visionary writers of fiction today. Now, in his latest novel, he takes us to a harsh, alien landscape covered by a sheet of ice two miles deep. This is no distant planet--it is the last pure wilderness on earth.

A stark and inhospitable place, its landscape poses a challenge to survival; yet its strange, silent beauty has long fascinated scientists and adventurers. Now Antarctica faces an uncertain future. The international treaty that protects the continent is about to dissolve, clearing the way for Antarctica's resources and eerie beauty to be plundered. As politicians and corporations move to determine its fate from half a world away, radical environmentalists carry out a covert campaign of sabotage to reclaim the land. The winner of this critical battle will determine the future for this last great wilderness....
Jennifer Government by Max Barry
In Max Barry's twisted, hilarious and terrifying vision of the near future, the world is run by giant corporations and employees take the last names of the companies they work for. It's a globalised, ultra-capitalist free market paradise! Hack Nike is a lowly merchandising officer who's not very good at negotiating his salary. So when John Nike and John Nike, executives from the promised land of Marketing, offer him a contract, he signs without reading it. Unfortunately, Hack's new contract involves shooting teenagers to build up street cred for Nike's new line of $2,500 trainers. Hack goes to the police - but they assume that he's asking for a subcontracting deal and lease the assassination to the more experienced NRA. Enter Jennifer Government, a tough-talking agent with a barcode tattoo under her eye and a personal problem with John Nike (the boss of the other John Nike). And a gun. Hack is about to find out what it really means to mess with market forces.