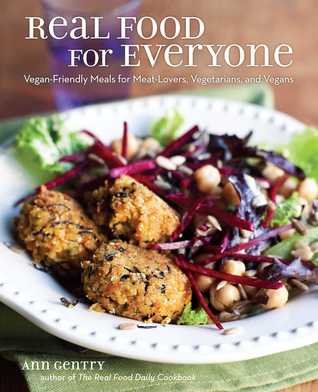 Synopsis
This is the cookbook for everyone who wants to eat a little healthier these days by incorporating more real foods into your diet, whether you're a true vegan, vegetarian, or meatlover.

Hollywood's go-to vegan chef, mom, and founder of Los Angeles' most popular and chic vegan restaurant Real Food Daily, Ann Gentry shares her secret recipes in Real Food for Everyone. You don't have to be a vegan to enjoy Real Food for Everyone. Moms, chefs, foodies, and families can all enjoy expanding their cooking repertoire with this book filled with easy to prepare, scrumptious, healthy recipes and tips for the real food pantry.

Whether you're a time-strapped cook or a seasoned pro in the kitchen, Real Food for Everyone demystifies vegetarian and vegan cooking by offering more than 100 deliciously fresh and simple to prepare recipes, many of which are gluten free, and all of which are satisfying and healthy dishes for everyone to enjoy. In addition, the many useful pantry sections provide information on cooking ingredients that might be unfamiliar. From breakfast favorites such as Sesame-Shiitake Tofu Frittata to simple homemade soups such as Black-Eyed Pea and Red Pepper Soup, adn from everyday favorites like Lasagna Rolls to decadent desserts like Chocolate Silk Pie, you'll find something satisfying and healthy to cook for everyone.

This is an updated and paperback edition of Ann's book, Vegan Family Meals.
Paperback, 272 pages
Published February 10th 2015 by Andrews McMeel Publishing
ISBN 1449466532 (ISBN13: 9781449466534)
About the Author
I quit eating meat five years ago over ethical concerns, but I haven't been the best at it. What I mean by that is that while I am good at not eating meat (no beef, poultry or pork), I do eat fish and seafood, but more importantly (and detrimentally), I do eat lots of junk and stuff that is just not so good for me. (By the way, don't let anyone tell you that you have to worry about not getting enough protein if you don't eat animals. I only eat fish or seafood every perhaps 7-10 days, and yet my protein levels are on the high side. I do eat yogurt, so I get some protein there. And I eat beans, quinoa, nuts, and other protein sources.)
This means I'm always eager for a cookbook that helps me focus on eating healthy vegetarian food that also tastes good, and is quick and easy to make. So when I saw this cookbook offered up vegan-friendly meals that even meat-lovers would love, I had to give it a gander.
The author offers an introduction that explains why you would want to eat vegan (e.g. the health benefits, the environmental benefits, the ethical benefits, etc.), and then starts right in with the recipes.
First come the breakfasts, full of granolas and porridges and smoothies. Next up is snacks and sandwiches, with recipes like Mango Salsa and BLT Tartines. Then comes soups with little tasties like Rich Dark Onion Soup with Cashew Cream and Herbed Croutons, and Black-Eyed Pea and Red Pepper Soup. Then it is family-style salads like Harvest Kale Salad with Sweet Mustard Tempeh and Saffron-Orange Tahini Dressing and Mixed Oak and Green Leaf Salad with Sesame-Hiziki Croquettes, Garbanzo Beans, and Ginger-Tahini Dressing. Next you can set the table with simple meals like One-Pot Vegetables and Tofu with Sesame Rice and Lasagna Rolls with Tofu Ricotta and Everyday Tomato Sauce. Add on some hearty grains and vegetables like Barley Risotto with Spring Peas, Aspragus, and Leeks and Spicy Kimpira. And round it all out with desserts like Summer Blueberry Crumble and Peaches and Nectarines with Sweet Almond-Cashew Cream.
There is a source guide at the end of the book that lists "Natural Foods Companies", "Kitchen Tools and Small Wares", "Education", and "Organizations and Initiatives", and then a handy metric conversion chart.
The book has some beautiful photography, but not nearly as many photographs as I would have preferred. The chapters are interspersed with brief articles introducing things like superfoods or kitchen tips and informative bits about cooking techniques or equipment.
The author also touches on more focused practices, such as macrobiotics, and offers up sources for obtaining more information.
I decided to try making guacamole for the first time, utilizing a recipe from the cookbook.