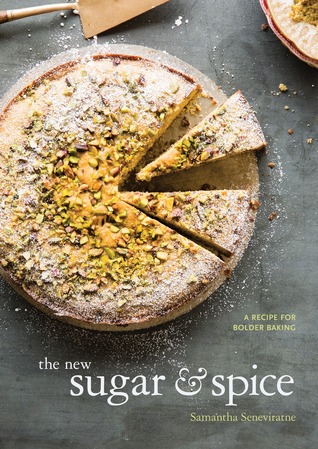 Synopsis
A wonderfully unique and unexpected collection of desserts that showcase spice over sugar, with 80 recipes that both reinvent classic sweets and introduce more unusual spice-infused desserts.

In Sugar and Spice, veteran food editor and recipe developer Samantha Seneviratne invites readers to explore a bold new world of spice-centric desserts. Each chapter centers on a different spice--some familiar, like vanilla, cinnamon, and ginger; others less expected (especially in sweet preparations), such as peppercorns, chiles, and cardamom. With fascinating histories, origin stories, and innovative uses for each spice, this book will inspire readers to rediscover and re-stock their spice drawers, and raise their desserts up to a whole new level of flavor.
Hardcover, 240 pages
Published September 8th 2015 by Ten Speed Press
ISBN 1607747464 (ISBN13: 9781607747468)
My Thoughts
We're obsessed with sugar in this country, and we've overwhelmed our taste buds with the sticky sweet flavor of sugar. This book shows you how other spices like cinnamon, nutmeg, bay leaves, cloves and lavender can balance out the sweetness in desserts to produce more full flavors.
Author Samantha Seneviratne opens the book with an introduction on how she began baking and sharing her creations with her dearly beloved brother (whom she later lost), the hours spent in her grandmother's kitchen in Sri Lanka, and the transition that had her making over traditional American overly-sweet desserts to more full-flavored desserts spiked with things like cinnamon and cardamon.
She then shares a chapter on "Baking Tips, Equipment, and Ingredients" before delving into the spices and recipes for which this book is named. The chapters are organized by spice ingredient:
Peppercorn & Chile

Cinnamon

Nutmeg

Clove & Cardamon

Vanilla

Ginger

Savory Herbs & Spices (like Caraway, Bay Leaves and Lavender)
Each chapter has an introduction to the chosen spice named in it, replete with childhood memories surrounding how the spice was used in family recipes, the history of the spice, and buying and storing suggestions, before moving into the recipes themselves, which include lovely yummies like:
Golden Syrup and Berry Pudding Cake

New Love Cake

Indonesian Spiced Layer Cake

Pistachio and Chocolate Butter Cake

Pavlova with Lime Custard and Basil Pineapple

Butter Rum Snack Cake

Bay Leaf Rice Pudding
My final word: I was so excited to open this book for the first time. It looks and feels high quality. There is beautiful photography throughout to entice you, charming stories shared by the author. The recipes are easy-to-follow and have some pretty common ingredients that should be easy to come by. I love complex flavors and textures, and this cookbook is right up my alley! This isn't just a cookbook. It's a memoir and world travelogue of the palate.
My Rating:
---
The Cerebral Girl
is a forty-something blogger just digging her way out from under a mountain of books in the deep south of Florida.
I received a copy of this book to review through Blogging for Books and the

publisher

, in exchange for my honest opinion. I was not financially compensated in any way, and the opinions expressed are my own and based on my observations while reading this novel.