Mailbox Monday is hosted
here
. I've received a few new books recently:
The Hummingbird by Stephen P. Kiernan
Received through TLC Book Tours

Deborah Birch is a seasoned hospice nurse whose daily work requires courage and compassion. But her skills and experience are tested in new and dramatic ways when her easygoing husband, Michael, returns from his third deployment to Iraq haunted by nightmares, anxiety, and rage. She is determined to help him heal, and to restore the tender, loving marriage they once had.

At the same time, Deborahs primary patient is Barclay Reed, a retired history professor and expert in the Pacific Theater of World War II whose career ended in academic scandal. Alone in the world, the embittered professor is dying. As Barclay begrudgingly comes to trust Deborah, he tells her stories from that long-ago war, which help her find a way to help her husband battle his demons.

Told with piercing empathy and heartbreaking realism, The Hummingbird is a masterful story of loving commitment, service to country, and absolution through wisdom and forgiveness.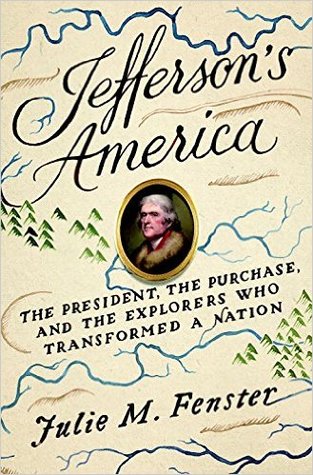 Jefferson's America: The President, the Purchase, and the Explorers Who Transformed a Nation by Julie M. Fenster
Received through Blogging for Books

The surprising story of how Thomas Jefferson commanded an unrivaled age of American exploration—and in presiding over that era of discovery, forged a great nation.

At the dawn of the nineteenth century, as Britain, France, Spain, and the United States all jockeyed for control of the vast expanses west of the Mississippi River, the stakes for American expansion were incalculably high. Even after the American purchase of the Louisiana Territory, Spain still coveted that land and was prepared to employ any means to retain it. With war expected at any moment, Jefferson played a game of strategy, putting on the ground the only Americans he could: a cadre of explorers who finally annexed it through courageous investigation.

Responsible for orchestrating the American push into the continent was President Thomas Jefferson. He most famously recruited Meriwether Lewis and William Clark, who led the Corps of Discovery to the Pacific, but at the same time there were other teams who did the same work, in places where it was even more crucial. William Dunbar, George Hunter, Thomas Freeman, Peter Custis, and the dauntless Zebulon Pike—all were dispatched on urgent missions to map the frontier and keep up a steady correspondence with Washington about their findings.

But they weren't always well-matched—with each other and certainly not with a Spanish army of a thousand soldiers or more. These tensions threatened to undermine Jefferson's goals for the nascent country, leaving the United States in danger of losing its foothold in the West. Deeply researched and inspiringly told, Jefferson's America rediscovers the robust and often harrowing action from these seminal expeditions and illuminates the president's vision for a continental America.
The Glorious Heresies by Lisa McInerney
Received through LibraryThing
One messy murder affects the lives of five misfits who exist on the fringes of Ireland's post-crash society. Ryan is a fifteen-year-old drug dealer desperate not to turn out like his alcoholic father Tony, whose obsession with his unhinged next-door neighbour threatens to ruin him and his family. Georgie is a prostitute whose willingness to feign a religious conversion has dangerous repercussions, while Maureen, the accidental murderer, has returned to Cork after forty years in exile to discover that Jimmy, the son she was forced to give up years before, has grown into the most fearsome gangster in the city. In seeking atonement for the murder and a multitude of other perceived sins, Maureen threatens to destroy everything her son has worked so hard for, while her actions risk bringing the intertwined lives of the Irish underworld into the spotlight . . .

Biting, moving and darkly funny, The Glorious Heresies explores salvation, shame and the legacy of Ireland's twentieth-century attitudes to sex and family.
The Secret Keeper by Kate Morton
Purchased as my August book club selection
During a summer party at the family farm in the English countryside, sixteen-year-old Laurel Nicolson has escaped to her childhood tree house and is happily dreaming of the future. She spies a stranger coming up the long road to the farm and watches as her mother speaks to him. Before the afternoon is over, Laurel will witness a shocking crime. A crime that challenges everything she knows about her family and especially her mother, Dorothy—her vivacious, loving, nearly perfect mother.

Now, fifty years later, Laurel is a successful and well-regarded actress living in London. The family is gathering at Greenacres farm for Dorothy's ninetieth birthday. Realizing that this may be her last chance, Laurel searches for answers to the questions that still haunt her from that long-ago day, answers that can only be found in Dorothy's past.

Dorothy's story takes the reader from pre–WWII England through the blitz, to the '60s and beyond. It is the secret history of three strangers from vastly different worlds—Dorothy, Vivien, and Jimmy—who meet by chance in wartime London and whose lives are forever entwined. The Secret Keeper explores longings and dreams and the unexpected consequences they sometimes bring. It is an unforgettable story of lovers and friends, deception and passion that is told—in Morton's signature style—against a backdrop of events that changed the world.