Mailbox Monday is hosted
here
. I've received a few new books recently:
Purchased through the Book of the Month club:
Before the Fall by Noah Hawley
On a foggy summer night, eleven people—ten privileged, one down-on-his-luck painter—depart Martha's Vineyard on a private jet headed for New York. Sixteen minutes later, the unthinkable happens: the plane plunges into the ocean. The only survivors are Scott Burroughs—the painter—and a four-year-old boy, who is now the last remaining member of an immensely wealthy and powerful media mogul's family.

With chapters weaving between the aftermath of the crash and the backstories of the passengers and crew members—including a Wall Street titan and his wife, a Texan-born party boy just in from London, a young woman questioning her path in life, and a career pilot—the mystery surrounding the tragedy heightens. As the passengers' intrigues unravel, odd coincidences point to a conspiracy. Was it merely by dumb chance that so many influential people perished? Or was something far more sinister at work? Events soon threaten to spiral out of control in an escalating storm of media outrage and accusations. And while Scott struggles to cope with fame that borders on notoriety, the authorities scramble to salvage the truth from the wreckage.

Amid pulse-quickening suspense, the fragile relationship between Scott and the young boy glows at the heart of this stunning novel, raising questions of fate, human nature, and the inextricable ties that bind us together.
Enchanted Islands by Allison Amend
Inspired by the midcentury memoirs of Frances Conway, Enchanted Islands is the dazzling story of an independent American woman whose path takes her far from her native Minnesota when she and her husband, an undercover intelligence officer, are sent to the Galápagos Islands at the brink of World War II.

Born in Duluth, Minnesota, in 1882 to immigrant parents, Frances Frankowski covets the life of her best friend, Rosalie Mendel, who has everything Fanny could wish for—money, parents who value education, and an effervescent and winning personality. When, at age fifteen, Rosalie decides they should run away to Chicago, Fanny jumps at the chance to escape her unexceptional life. But, within a year, Rosalie commits an unforgivable betrayal, inciting Frances to strike out on her own.

Decades later, the women reconnect in San Francisco and realize how widely their lives have diverged. While Rosalie is a housewife and mother, Frances works as a secretary for the Office of Naval Intelligence. There she is introduced to Ainslie Conway, an intelligence operator ten years her junior. When it's arranged for Frances and Ainslie to marry and carry out a mission on the Galápagos Islands, the couple's identities—already hidden from each other—are further buried under their new cover stories. No longer a lonely spinster, Frances is about to begin the most fascinating and intrigue-filled years of her life.

Amid active volcanoes, forbidding wildlife and flora, and unfriendly neighbors, Ainslie and Frances carve out a life for themselves. But the secrets they harbor from their enemies and from each other may be their undoing.

Drawing on the rich history of the early twentieth century and set against a large, colorful canvas, Enchanted Islands boldly examines the complexity of female friendship, the universal pursuit of a place to call home, and the reverberations of secrets we keep from others and from ourselves.
All the Ugly and Wonderful Things by Bryn Greenwood
As the daughter of a meth dealer, Wavy knows not to trust people, not even her own parents. Struggling to raise her little brother, eight-year-old Wavy is the only responsible "adult" around. She finds peace in the starry Midwestern night sky above the fields behind her house. One night everything changes when she witnesses one of her father's thugs, Kellen, a tattooed ex-con with a heart of gold, wreck his motorcycle. What follows is a powerful and shocking love story between two unlikely people that asks tough questions, reminding us of all the ugly and wonderful things that life has to offer.
The Girls by Emma Cline
Northern California, during the violent end of the 1960s. At the start of summer, a lonely and thoughtful teenager, Evie Boyd, sees a group of girls in the park, and is immediately caught by their freedom, their careless dress, their dangerous aura of abandon. Soon, Evie is in thrall to Suzanne, a mesmerizing older girl, and is drawn into the circle of a soon-to-be infamous cult and the man who is its charismatic leader. Hidden in the hills, their sprawling ranch is eerie and run down, but to Evie, it is exotic, thrilling, charged—a place where she feels desperate to be accepted. As she spends more time away from her mother and the rhythms of her daily life, and as her obsession with Suzanne intensifies, Evie does not realize she is coming closer and closer to unthinkable violence, and to that moment in a girl's life when everything can go horribly wrong.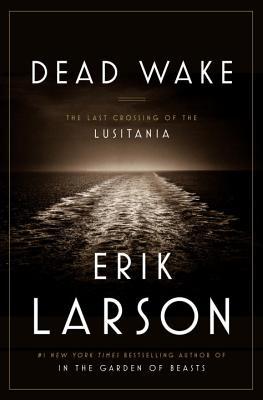 Dead Wake by Erik Larson
From the bestselling author and master of narrative nonfiction comes the enthralling story of the sinking of the Lusitania

On May 1, 1915, with WWI entering its tenth month, a luxury ocean liner as richly appointed as an English country house sailed out of New York, bound for Liverpool, carrying a record number of children and infants. The passengers were surprisingly at ease, even though Germany had declared the seas around Britain to be a war zone. For months, German U-boats had brought terror to the North Atlantic. But the Lusitania was one of the era's great transatlantic "Greyhounds"—the fastest liner then in service—and her captain, William Thomas Turner, placed tremendous faith in the gentlemanly strictures of warfare that for a century had kept civilian ships safe from attack.

Germany, however, was determined to change the rules of the game, and Walther Schwieger, the captain of Unterseeboot-20, was happy to oblige. Meanwhile, an ultra-secret British intelligence unit tracked Schwieger's U-boat, but told no one. As U-20 and the Lusitania made their way toward Liverpool, an array of forces both grand and achingly small—hubris, a chance fog, a closely guarded secret, and more—all converged to produce one of the great disasters of history.

It is a story that many of us think we know but don't, and Erik Larson tells it thrillingly, switching between hunter and hunted while painting a larger portrait of America at the height of the Progressive Era. Full of glamour and suspense, Dead Wake brings to life a cast of evocative characters, from famed Boston bookseller Charles Lauriat to pioneering female architect Theodate Pope to President Woodrow Wilson, a man lost to grief, dreading the widening war but also captivated by the prospect of new love.

Gripping and important, Dead Wake captures the sheer drama and emotional power of a disaster whose intimate details and true meaning have long been obscured by history.
Received from the publisher:
I Will Send Rain by Rae Meadows
A luminous, tenderly rendered novel of a woman fighting for her family's survival in the early years of the Dust Bowl; from the acclaimed and award-winning Rae Meadows.

Annie Bell can't escape the dust. It's in her hair, covering the windowsills, coating the animals in the barn, in the corners of her children's dry, cracked lips. It's 1934 and the Bell farm in Mulehead, Oklahoma is struggling as the earliest storms of The Dust Bowl descend. All around them the wheat harvests are drying out and people are packing up their belongings as storms lay waste to the Great Plains. As the Bells wait for the rains to come, Annie and each member of her family are pulled in different directions. Annie's fragile young son, Fred, suffers from dust pneumonia; her headstrong daughter, Birdie, flush with first love, is choosing a dangerous path out of Mulehead; and Samuel, her husband, is plagued by disturbing dreams of rain.

As Annie, desperate for an escape of her own, flirts with the affections of an unlikely admirer, she must choose who she is going to become. With her warm storytelling and beautiful prose, Rae Meadows brings to life an unforgettable family that faces hardship with rare grit and determination. Rich in detail and epic in scope, I Will Send Rain is a powerful novel of upheaval and resilience, filled with hope, morality, and love.