Mailbox Monday is hosted
here
. I've received a few new books recently:
Received through the Book of the Month club: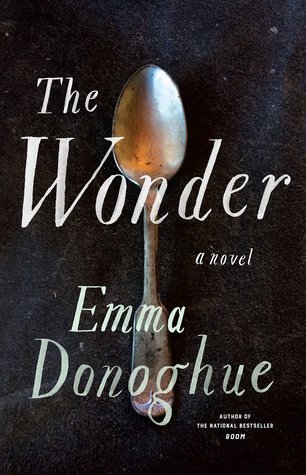 The Wonder by Emma Donoghue
In Emma Donoghue's latest masterpiece, an English nurse brought to a small Irish village to observe what appears to be a miracle-a girl said to have survived without food for months-soon finds herself fighting to save the child's life.
Tourists flock to the cabin of eleven-year-old Anna O'Donnell, who believes herself to be living off manna from heaven, and a journalist is sent to cover the sensation. Lib Wright, a veteran of Florence Nightingale's Crimean campaign, is hired to keep watch over the girl.

Written with all the propulsive tension that made Room a huge bestseller, THE WONDER works beautifully on many levels--a tale of two strangers who transform each other's lives, a powerful psychological thriller, and a story of love pitted against evil.
A Gentleman in Moscow by Amor Towles
With his breakout debut novel, Rules of Civility, Amor Towles established himself as a master of absorbing, sophisticated fiction, bringing late 1930s Manhattan to life with splendid atmosphere and a flawless command of style.

A Gentleman in Moscow immerses us in another elegantly drawn era with the story of Count Alexander Rostov. When, in 1922, he is deemed an unrepentant aristocrat by a Bolshevik tribunal, the count is sentenced to house arrest in the Metropol, a grand hotel across the street from the Kremlin. Rostov, an indomitable man of erudition and wit, has never worked a day in his life, and must now live in an attic room while some of the most tumultuous decades in Russian history are unfolding outside the hotel's doors. Unexpectedly, his reduced circumstances provide him a doorway into a much larger world of emotional discovery.

Brimming with humor, a glittering cast of characters, and one beautifully rendered scene after another, this singular novel casts a spell as it relates the count's endeavor to gain a deeper understanding of what it means to be a man of purpose.
For review through TLC Book Tours:
The Dude Diet by Serena Wolf
From chef and creator of the popular food blog Domesticate-Me.com, 125 outrageously delicious yet deceptively healthy recipes for dudes (and the people who love them), accompanied by beautiful full-color photography.

Dudes. So well intentioned when it comes to healthy eating, even as they fail epically in execution—inhaling a "salad" topped with fried chicken fingers or ordering their Italian hero on a whole wheat wrap (that makes it healthy, right?).

There are several issues with men going on diets. First, they seem to be misinformed about basic nutrition. They are also, generally, not excited about eating "health food." You can lead a dude to the salad bar, but you can't make him choose lettuce.

Enter Serena Wolf—chef, food blogger, and caretaker of a dude with some less than ideal eating habits. As a labor of love, Serena began creating healthier versions of her boyfriend's favorite foods and posting them on her blog, where she received an overwhelming response from men and women alike. Now, in The Dude Diet, Serena shares more than 125 droolworthy recipes that prove that meals made with nutrient-dense whole foods can elicit the same excitement and satisfaction associated with pizza or Chinese take-out.

The Dude Diet also demystifies the basics of nutrition, empowering men to make better decisions whether they're eating out or cooking at home. Better still, each recipe is 100% idiot-proof and requires only easily accessible ingredients and tools. With categories like Game Day Eats, On the Grill, Serious Salads, and Take Out Favorites, The Dude Diet will arm dudes and those who love them with the knowledge they need to lead healthier, happier lives—with flattened beer bellies and fewer meat sweats.

The Dude Diet includes 102 full-color photographs.