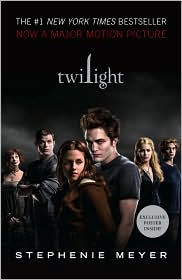 Synopsis
About three things I was absolutely positive:
First, Edward was a vampire.
Second, there was a part of him–and I didn't know how dominant that part might be–that thirsted for my blood.
And third, I was unconditionally and irrevocably in love with him.
Isabella Swan's move to Forks, a small, perpetually rainy town in Washington, could have been the most boring move she ever made. But once she meets the mysterious and alluring Edward Cullen, Isabella's life takes a thrilling and terrifying turn. Up until now, Edward has managed to keep his vampire identity a secret in the small community he lives in, but now nobody is safe, especially Isabella, the person Edward holds most dear. The lovers find themselves balanced precariously on the point of a knife -- between desire and danger.
Deeply romantic and extraordinarily suspenseful, Twilight captures the struggle between defying our instincts and satisfying our desires. This is a love story with bite.
About the Author
Biography
Stephenie Meyer's life changed dramatically on June 2, 2003. The stay-at-home mother of three young sons woke up from a dream featuring seemingly real characters that she could not get out of her head.
"Though I had a million things to do, I stayed in bed, thinking about the dream. Unwillingly, I eventually got up and did the immediate necessities, and then put everything that I possibly could on the back burner and sat down at the computer to write—something I hadn't done in so long that I wondered why I was bothering."
Meyer invented the plot during the day through swim lessons and potty training, and wrote it out late at night when the house was quiet. Three months later she finished her first novel, Twilight. With encouragement from her older sister (the only other person who knew she had written a book), Meyer submitted her manuscript to various literary agencies. Twilight was picked out of a slush pile at Writer's House and eventually made its way to the publishing company Little, Brown where everyone fell immediately in love with the gripping, star-crossed lovers.
Twilight was one of 2005's most talked about novels and within weeks of its release the book debuted at #5 on The New York Times bestseller list. Among its many accolades, Twilight was named an "ALA Top Ten Books for Young Adults," an Amazon.com "Best Book of the Decade...So Far", and a Publishers Weekly Best Book of the Year.
The highly-anticipated sequel, New Moon, was released in September 2006, and spent more than 25 weeks at the #1 position on The New York Times bestseller list.
In 2007, Eclipse literally landed around the world and fans made the Twilight Saga a worldwide phenomenon! With midnight parties and vampire-themed proms the enthusiasm for the series continued to grow.
On May 6, 2008, Little, Brown and Company released The Host, Meyer's highly-anticipated novel for adults which debuted at #1 on The New York Times and Wall Street Journal bestseller lists. The Host still remains a staple on the bestseller lists more than a year after its debut.
On August 2, 2008, the final book in the Twilight Saga, Breaking Dawn was released at 12:01 midnight. Stephenie made another appearance on "Good Morning America" and was featured in many national media outlets, including Entertainment Weekly, Newsweek, People Magazine and Variety. Stephenie headlined the Breaking Dawn Concert Series with Justin Furstenfeld (lead singer of Blue October) to celebrate the release in four major markets across the US. Breaking Dawn sold 1.3 million copies in its first 24 hours.
The Twilight movie, directed by Catherine Hardwicke and starring Robert Pattinson and Kristen Stewart, was released on November 21, 2008. Twilight debuted at #1 at the box office with $70 million, making it the highest grossing opening weekend for a female director.
Stephenie lives in Arizona with her husband and three sons.
Good to Know
Here are some fun facts Barnes and Noble had listed "from Stephenie's unofficial biography on her website":

"The unusual spelling of my name
was a gift from my father, Stephen ( + ie = me ). Though I have had my name spelled wrong on pretty much everything my entire life long, I must admit that it makes it easier to google myself now."
"I met my husband, Pancho (his real name is Christiaan, but no one calls him that—it's not a long story, but it is a stupid one, so I'll skip it), when I was four, but we were never anywhere close to being childhood sweethearts. In fact, though we saw each other at least weekly through church activities, I can't recall a single instance when we so much as greeted each other with a friendly wave, let alone exchanged actual words.
This may have been for the best, because when we did eventually get around to exchanging words, sixteen years after our first meeting, it only took nine months from the first 'hello' to the wedding."
" I am also a member of the Church of Jesus Christ of Latter-day Saints, and that has a huge influence on who I am and my perspective on the world, and therefore what I write (though I have been asked more than once, 'What's a nice Mormon girl like you doing writing about vampires?')."
"I can't write without music, and my biggest muse is the [British rock] band Muse."
A transcript of the dream that inspired Twilight appears in the book as Chapter 13, "Confessions."
My Thoughts
I actually held off on reading this book for awhile, because I was afraid that it would be really heavy and dark. I mean, it's a vampire story. Vampire stories are heavy and dark, right?
Not this one. I had underestimated the "romance" aspect of this storyline, and it really lightened the story.
Bella is the new girl in town. She's left sunny Phoenix for the dreary little town of Forks, Washington to stay temporarily with her father, whom she isn't very close to. But she's making the best of things for her mother. She does everything for her mother, even being the mother herself in the relationship. And now she is taking on being caretaker of her father Charlie while Mom runs off to Florida to get her life straight with her current husband.
It's not long before Bella finds herself in the midst of a group of friends, and obsessed with the outsiders that make up the Cullen family. Well, one Cullen in particular. Edward Cullen has an immediate and unexplainable attraction for Bella, and she is fascinated by him, even while she is furious with him. And he can make her furious. Their relationship is fraught with tension and volatility, but they are also immediately consumed with empathy and attraction for one another.
I don't know how much appeal this book holds for the true horror lover, but definitely appeals to the romantic nature of women. You wind up really rooting for Edward and Bella. Romantic, dreary, humorous, frightening, tense and dramatic-- this book has it all. I actually put my computer down to read it, which is something I rarely do and one of the reasons that it normally takes me weeks to finish a book. This one I got through in a few days.
This is one of my new favorites. I can't wait to dig into the second book and see the movie for them both!
My Rating: 8.5 out of 10