Books available the week of 4/26/10: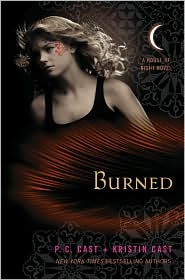 Burned (House of Night Series #7)
by P.C. Cast and Kristin Cast
The highly anticipated seventh book in the
New York Times
and
USA Today
bestselling House of Night series.
The Carrie Diaries
by Candace Bushnell
Before Carrie Bradshaw hit the big time in the City, she was a regular girl growing up in the suburbs of Connecticut. How did she turn into one of the most-read social observers of our generation?
The Carrie Diaries opens up in Carrie's senior year of high school. She and her best friends -- Walt, Lali, Maggie, and the Mouse -- are inseparable, amid the sea of Jens, Jocks and Jets. And then Sebastian Kydd comes into the picture. Sebastian is a bad boy-older, intriguing, and unpredictable. Carrie falls into the relationship that she was always supposed to have in high school-until a friend's betrayal makes her question everything. With her high school days coming to a close, Carrie will realize it's finally time to go after everything she ever wanted.
Rabid fans of Sex and the City will love seeing Carrie Bradshaw evolve from a regular girl into a sharp, insightful writer. They'll learn about her family background -- how she found her writing voice, and the indelible impression her early friendships and relationships left on her. We'll see what brings Carrie to her beloved New York City, where the next Carrie Diaries book will take place.
Reckless by Andrew Gross
Former police detective Ty Hauck, now a partner in a worldwide security company, displays his usual bulldog tenacity in bestseller Gross's sketchily plotted third Ty Hauck novel (after Don't Look Twice). The murders of Marc Glassman, the chief equities trader at an old Wall Street firm, Glassman's wife, and one of their children at their Greenwich, Conn., home affect Hauck deeply. Meanwhile, his boss asks him to investigate shadowy financier Dieter Thibault, who's aroused the interest of a valued customer. Probing the connections among seismic disturbances in the financial markets, Glassman's death, and Thibault's actions, Hauck teams with Treasury agent Naomi Blum only to find their every action anticipated and countered. Against international conspiracies and financial institutions in freefall, Hauck and Blum have to go rogue. Thriller fans able to overlook clichés like "wet behind the ears" and "hit them like a truck" will enjoy the fast-flowing action. 6-city author tour.
Island Beneath the Sea
by Isabel Allende
Born a slave on the island of Saint-Domingue, Zarite—known as Tete—is the daughter of an African mother she never knew and one of the white sailors who brought her into bondage. Though her childhood is one of brutality and fear, Tete finds solace in the traditional rhythms of African drums and in the voodoo loas she discovers through her fellow slaves.
When twenty-year-old Toulouse Valmorain arrives on the island in 1770, it's with powdered wigs in his baggage and dreams of financial success in his mind. But running his father's plantation, Saint Lazare, is neither glamorous nor easy. It will be eight years before he brings home a bride—but marriage, too, proves more difficult than he imagined. And Valmorain remains dependent on the services of his teenaged slave.
Spanning four decades, Island Beneath the Sea is the moving story of the intertwined lives of Tete and Valmorain, and of one woman's determination to find love amid loss, to offer humanity though her own has been battered, and to forge her own identity in the cruellest of circumstances.