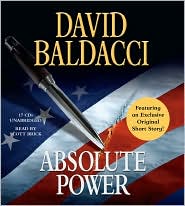 Synopsis
A riveting debut novel of murder, honor, loyalty, and betrayal that reaches all the way to the Oval Office. A vicious murder involving the president and his mistress results in a coverup orchestrated by the zealously loyal chief of security and the Secret Service. But, unbeknownst to the president and his lackeys, one unlikely witness saw everything. Will Americans learn the truth?
About the Author
from his
website
David Baldacci was born in Virginia, in 1960, where he currently resides. He received a Bachelor of Arts in political science from Virginia Commonwealth University and a law degree from the University of Virginia. Mr. Baldacci practiced law for nine years in Washington, D.C., as both a trial and corporate attorney.
David Baldacci has published nineteen adult novels: Absolute Power, Total Control, The Winner, The Simple Truth, Saving Faith, Wish You Well, Last Man Standing, The Christmas Train, Split Second, Hour Game, The Camel Club, The Collectors, Simple Genius, Stone Cold, The Whole Truth, Divine Justice, First Family, True Blue and Deliver Us From Evil. He has also published two young adult novels: Freddy and the French Fries: Fries Alive! and Freddy and the French Fries: The Adventures of Silas Finklebean. He published a novella for the Dutch entitled Office Hours, written for Holland's Year 2000 "Month of the Thriller" and authored a short story, "The Mighty Johns," as part of a mystery anthology published in 2002.
His works have been in numerous worldwide magazines, newspapers, journals, and publications. Baldacci has authored seven original screenplays. His books have been translated into more than 45 languages and sold in more than 80 countries. All of his books have been national and international bestsellers. Over 100 million copies of Mr. Baldacci's books are in print worldwide.
David writes for numerous magazines and newspapers. He is a contributing editor for Parade magazine, which has a circulation of over 75 million readers.
Castle Rock entertainment made Absolute Power (Warner Books/Grand Central Publishing, 1996) into a major motion picture starring Clint Eastwood and Gene Hackman. The novel Absolute Power won Britain's W. H. Smith's Thumping Good Read award for fiction in 1997, and was nominated for a literary award in Italy. Absolute Power was selected for People Magazine's "Page Turner of the Week." Absolute Power won the 1996 Gold Medal Award for Best Mystery/Thriller from the Southern Writers Guild.
The paperback version of Total Control (Warner/Grand Central, 1996) was a best-selling favorite of the traveling public for over a year. Total Control won the 1997 Gold Medal Award for Best Mystery/Thriller from the Southern Writers Guild.
The Winner's (Warner/Grand Central, 1997) sales topped those of Baldacci's first two novels, no doubt aided by revealing in the novel how to fix the lottery and win a hundred million dollars! The Winner received a starred review in Publishers Weekly, its highest rating.
The Simple Truth (Warner/Grand Central, 1998) was the first of Baldacci's novels in which part of the plot was based upon an actual event. President Clinton selected The Simple Truth as his favorite novel of 1999.
Saving Faith (Warner/Grand Central, 1999) is a novel about how Washington really works, and it reached number one on both the New York Times Bestseller List and the Publisher's Weekly national bestseller list. Saving Faith was selected for People Magazine's "Page Turner of the Week."
Wish You Well (Warner/Grand Central, 2000) is strongly linked to Baldacci's maternal family history. In researching for this book, he spent countless hours talking with his mother, who spent her first seventeen years on the "high rock" and learning its lifelong lessons. Wish You Well received a starred review in Publisher's Weekly and was selected as the inaugural book for All America Reads, a national reading program.
Last Man Standing (Warner/Grand Central, 2001) is an explosive psychological thriller about Web London, a member of the FBI's elite Hostage Rescue Team, who is desperate to find answers for secret terrors and relief from unbearable guilt. Last Man Standing reached number one on the New York Times Bestseller List.
The Christmas Train (Warner/Grand Central, 2002) is filled with memorable characters who have packed their bags for a holiday adventure and shows how we do get second chances to fulfill our deepest hopes and dreams during the season of miracles. The Christmas Train has quickly become a holiday classic.
Split Second (Warner/Grand Central, 2003) is a compelling, fast-paced political thriller that gives readers an inside look at the work of the Secret Service as it strives to protect America's leaders. As their worlds close in upon them, former agents Sean King and Michelle Maxwell team up to seek answer to events that, at first glance, seem to be unrelated disasters. Split Second became a New York Times bestseller on its first day of publication.
Hour Game (Warner/Grand Central, 2004) teams Sean King and Michelle Maxwell from Split Second in a race to prove a man's innocence in a domestic burglary. They quickly find themselves caught in a chain of murders that once again rocks the quiet hills of Wrightsburg, Virginia. At every turn, King and Maxwell find themselves trying to put the pieces together as the killer is plays the murderous "hour game."
In The Camel Club (Warner/Grand Central, 2005), Baldacci goes beyond the traditional boundaries of fiction, painting a frighteningly vivid portrait of a world that could be our own very soon, and the few people who have a chance to stop the last war the world may ever fight.
In The Collectors (Warner/Grand Central, 2006), Baldacci weaves a brilliant, white-knuckle tale of suspense in which every collectors is searching for one missing prize... the one to die for.
Simple Genius (Warner/Grand Central, 2007) brings back the dynamic team of Sean King and Michelle Maxwell from Split Second and Hour Game. While investigating a dead body found in Babbage Town—a think-tank and high tech research facility just across the York River from the CIA Training Facility in Camp Peary, Virginia—King & Maxwell find themselves thrown into the midst of a worldwide race to control information, and at any cost—even murder.
Stone Cold (Warner/Grand Central, 2007) brings back the unusual group of sleuths, the Camel Club, for another mystery involving Jerry Bagger, Annabelle Conroy, Alex Ford, and a deadly assassin whose identity, like Oliver Stone's, remains veiled in mystery.
The Whole Truth (Grand Central, 2008) represents David's first international thriller, one that presents the all-too-real world of perception management into the forefront of global defense contractor activities.
Divine Justice (Grand Central, 2008) is the fourth in the Camel Club series. Oliver Stone finally faces his inner demons and finds himself in rural Virginia where coal mining clashes with small town relationships with deadly results.
First Family (Grand Central, 2009) brings Sean King and Michelle Maxwell back together as they come to the aid of the First Lady when a family member is kidnapped. Michelle finally faces some her deepest secrets and inner demons.
In True Blue (Grand Central, 2010) a mysterious high-profile homicide in the nation's capital collides with the dark side of national security and Mace Perry, an imposing but fallen-from-grace police officer plans to make it right at all costs.
Deliver Us From Evil (Grand Central, 2010) brings back Shaw from The Whole Truth in another gripping adventure, but this time with even more deadly results. Shaw joins a new player on the scene, Reggie Campion, in eliminating the evil empire of Evan Waller—although neither is aware of the other's true intentions.
Freddy and the French Fries: Fries Alive! (Little, Brown & Company, 2005) and Freddy and the French Fries: The Adventures of Silas Finklebean (Little, Brown & Company, 2006) are titles in Baldacci's series for young readers. Find out more about Freddy at his Web site, FreddyandtheFrenchFries.com.
David Baldacci's books have been publicly discussed and/or read by everyone from Howard Stern and Don Imus to Newt Gingrich and Rush Limbaugh, from George H. W. Bush and Bill Clinton to Charlie Rose and Larry King.
David has made many television and radio appearances and has been featured in numerous national and international publications.
David contributes to, and is involved in, several philanthropic efforts. His greatest efforts are currently dedicated to his family's own Wish You Well Foundation. The Wish You Well Foundation, established by Michelle and David Baldacci, supports family literacy in the United States by fostering and promoting the development and expansion of new and existing literacy and educational programs. Recently the Wish You Well Foundation partnered with Feeding America to launch "Feeding Body & Mind". Through Feeding Body & Mind, hundreds of thousands of new and used books have been collected and distributed through area food banks, helping feed both body and mind. For more information, visit WishYouWellFoundation.org and FeedingBodyandMind.com or call 703-476-6032.
David Baldacci serves as a national ambassador for the National Multiple Sclerosis Society and participates in numerous charities, including the Barbara Bush Foundation for Family Literacy, the American Cancer Society, and the Cystic Fibrosis Foundation.
My Thoughts
The President of the United States is involved in the death of a woman of questionable character, and a thief witnesses the whole unsavory act. Following in its wake is a cover-up of enormous proportions, and a strain of people fighting for their lives and freedom.
I always have a difficult time reviewing audiobooks, probably because I am always doing other things while listening to them. So there is a big "distraction factor". However let me first say that this narrator was unbelievable! His voice held my attention, he didn't overplay the female voices in a cheesy sugar-sweet fashion as some male narrators may do. He had great inflection. I really enjoyed him as a narrator!
This book/audiobook has a great, complex storyline. It twists and turns, keeping me on the edge of my seat, never quite knowing where it will go next.
One drawback was that there were so many characters that I had a hard time keeping track of them via audio. However someone not so distracted while listening to the audiobook will probably have an easier time keeping up with everyone.
I loved this audiobook. Great storyline, great narrator, great audiobook overall.
My Rating: 8 out of 10