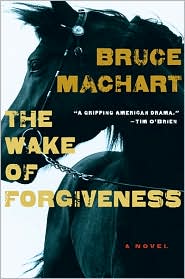 Synopsis
On a moonless Texas night in 1895, an ambitious young landowner suffers the loss of "the only woman he's ever been fond of" when his wife dies during childbirth with the couple's fourth boy, Karel. From an early age Karel proves so talented on horseback that his father enlists him to ride in acreage-staked horseraces against his neighbors. But Karel is forever haunted by thoughts of the mother he never knew, by the bloodshot blame in his father's eyes, and permanently marked by the yoke he and his brothers are forced to wear to plow the family fields. Confident only in the saddle, Karel is certain that the horse "wants the whip the same way he wants his pop's strap . . . the closest he ever gets to his father's touch." In the winter of 1910, Karel rides in the ultimate high-stakes race against a powerful Spanish patriarch and his alluring daughters. Hanging in the balance are his father's fortune, his brother's futures, and his own fate. Fourteen years later, with the stake of the race still driven hard between him and his brothers, Karel is finally forced to dress the wounds of his past and to salvage the tattered fabric of his family.

Reminiscent of Kent Haruf's portrayals of hope amidst human heartbreak and Cormac McCarthy's finely hewn evocations of the American Southwest, Bruce Machart's striking debut is as well wrought as it is riveting. It compels us to consider the inescapable connections between sons and their mothers, between landscape and family, and between remembrance and redemption.
About the Author
BRUCE MACHART's fiction has appeared in Zoetrope: All-Story, Glimmer Train, Story, One-Story, and elsewhere, and has been anthologized in Best Stories of the American West. A graduate of the MFA program at Ohio State University, he currently lives and teaches in Houston.
My Thoughts
Hmmmm. I'm not even sure how I would summarize this story. So let's keep it brief:
Karel was raised by a hard man. Having lost his mother at birth, his life has been spent side-by-side with his older brothers, all of them carrying the yoke of their father (quite literally). As an adult, he is estranged from his brothers and free of his father, and riding on the "wake of forgiveness".
Karel's father Vaclav is hard and cruel, and yet I can't help but feel a certain sympathy for him. The softness of his wife was torn from him. At that moment, his soul was bared and exposed, and quickly scabbed over to become scarred and hard. Part of me feels for him, but his cruelty is hard to comprehend. Someone in our discussion reminded me of a passage from the book:
The townsfolk would assume, from this day forward, that Klara's death had turned a gentle man bitter and hard, but the truth, Vaclav knew, was that her absence only rendered him, again, the man he'd been before he'd met her, one only her proximity had ever softened.
So really Vaclav was a hard man to begin with, and only the softness of his wife made him gentle. Once she was gone, he returned to the man he'd once been.
The older boys had also admired their father-- his stubbornness and sharp tongue, the way he refused to beckon the help of other men-- and so had Karel, and it was this admiration that he couldn't cotton to, the reverence for a man you surely hated, the hard plaque of respect that all the bad blood couldn't scour from your heart. This, too, he and his brothers had shared, and the bile of a common indigestion that rose from the two brands of unsuited feelings had been easier to swallow when there were others around who were burning inside with the same struggle to choke it down." (page 198)
But amidst all of this hardness, there are moments of softness and gooey goodness.
"I've seen them, Karel," she says, and his name on her lips sets loose something warm and liquid beneath his skin, a rush of comfort that seeps into him and swirls around his bones. (p. 130)
Probably my favorite passage comes when his wife Sophie (sweet Sophie) addresses Karel's infidelity after the birth of their son...
Sophie worked a finger into the corner of the baby's mouth to unlatch him, and then she turned him to the other breast, his tiny arms thrown up as if he'd found himself unmoored and falling from the night's only comfort when she did. "What I want, Karel, is for you to think about him if you have to."
"I have been," Karel said, "I am."
"That's not what I'm saying. What I mean is, I want you to try thinking about him when thinking about me isn't enough." (page 299)
So what did I really "think" about this book? Well, it was tough for me at times. That isn't to say that it is a bad story, or that it was bad writing. Quite the contrary, I think that the writing was quite good. It simply wasn't "my type" of writing style. It didn't "flow" for me. Just look at that quote that I posted above:
The townsfolk would assume, from this day forward, that Klara's death had turned a gentle man bitter and hard, but the truth, Vaclav knew, was that her absence only rendered him, again, the man he'd been before he'd met her, one only her proximity had ever softened.
Do you see all of the commas in that thing? That's one sentence! And the majority of this book was narrative. I'm a dialogue-kinda gal. That's probably why I like Stephen King. I have seen author Machart compared to Cormac McCarthy, and I am not a fan of McCarthy. So it stands to reason that I may not be a huge fan of Machart.
So this was a "good" story. It didn't really grab me or excite me, but it was well-written. If you like stories of human heartache, filled with narrative and little dialogue, then definitely give this book a try.
Pub. Date: October 2010

Publisher: Houghton Mifflin Harcourt

Format: Hardcover, 320pp

My Rating: 7.5 out of 10
(My thanks to Barnes and Noble for allowing me a "First Look" at this book. Their generosity in no way affected my honest review.)