This weekend I attended my first reading festival. I've never been to anything like this before. It was a pretty good size, lasted all day, and had something like 24 authors speaking and signing books. Books-a-Million was selling the author's books inside, with 20% of the proceeds going towards the festival. I wound up spending way more than I should have, and I know next time to bring my own books I bought elsewhere! (I knew that would happen!)
My first stop was the book sale, where I picked up a few books. I promptly took them out and had them autographed by Alice Hoffman! While I was at the book booth, I picked up some
Envirosax
at the great price of $3 each. Winning! *enter audio clip of Charlie Sheen here!*
I also listened to authors
Larry Baker
and
Susanna Daniel
speak. Larry Baker was very entertaining. Here is a video of him talking about one of his books (from the Tulsa City-County Library)...
Susanna Daniel talked of her love for Florida and the stilt homes of Biscayne Bay.
I also listened to author Heather Graham speak. She is a very animated speaker!
Food is always a problem at events like this for me. Being a pescatarian (vegetarian who eats fish and seafood), carnival food does not offer me many options. However there was a Greek booth, at which I found a delicious veggie wrap with hummus and tabbouleh. Not bad!
At the end of the day, this is what I walked away with: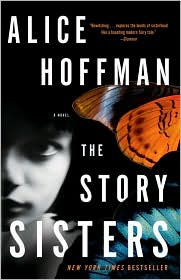 The Story Sisters by Alice Hoffman
Alice Hoffman's previous novel, The Third Angel, was hailed as "an unforgettable portrait of the depth of true love" (USA Today), "stunning" (Jodi Picoult), and "spellbinding" (Miami Herald). Her new novel, The Story Sisters, charts the lives of three sisters– Elv, Claire, and Meg. Each has a fate she must meet alone: one on a country road, one in the streets of Paris, and one in the corridors of her own imagination. Inhabiting their world are a charismatic man who cannot tell the truth, a neighbor who is not who he appears to be, a clumsy boy in Paris who falls in love and stays there, a detective who finds his heart's desire, and a demon who will not let go.
What does a mother do when one of her children goes astray? How does she save one daughter without sacrificing the others? How deep can love go, and how far can it take you? These are the questions this luminous novel asks.
At once a coming-of-age tale, a family saga, and a love story of erotic longing, The Story Sisters sifts through the miraculous and the mundane as the girls become women and their choices haunt them, change them and, finally, redeem them. It confirms Alice Hoffman's reputation as "a writer whose keen ear for the measure struck by the beat of the human heart is unparalleled" (The Chicago Tribune).
The Foretelling by Alice Hoffman
A coming-of-age story that pierces the soul and heals the spirit, this is the tale of the future leader of the Amazon women warriors. Rain must hold fast to her inner warrior, but she is startled and mystified by the first stirrings of mercy towards the enemy.
A Good Man by Larry Baker
Harry Ducharme is at the end of his rope. Booze and bad decisions have taken him from the A-list of talk-radio fame down to a tiny cinder-block station, WWHD in St. Augustine, Florida. He talks mostly to himself from 10 p.m. to 2 a.m., not sure anybody is listening, reading books and poetry that he likes, not caring if anyone agrees with him, playing golden-oldies from the Sixties, and wondering how he got there.

Then, as a hurricane pounds north Florida, with WWHD broadcasting to a town without electricity, Harry gets a visitor just as the eye of the hurricane passes over. An old black man who calls himself a Prophet wants to borrow a Walt Whitman poem that Harry read the night before. The Prophet wants "A Noiseless Patient Spider" to be the core of his next sermon, in which he announces the imminent arrival of a New Child of God. Harry is a bit skeptical.

A Good Man thus opens between the heaves of a hurricane and ends on Election night-2008 with the revelation of that Child. Or perhaps not. Still, Harry is there, in the parking lot of a football stadium, surrounded by thousands of pilgrims, as witness to and participant in one final act of violence that might be a sign of the beginning, or the end.

The story weaves back and forth in time, revealing the history of an orphan named Harry Ducharme. From Iowa farm to Florida beach, Harry is finally surrounded by men and women with their own burdens to carry. Captain Jack Tunnel is the morning host, more right-wing than Rush, with a cranky co-host parrot named Jimmy Buffett, but also with a gentle secret life. Nora James is the mysterious "cooking woman" who broadcasts from her home kitchen, but whom nobody has ever seen. Nora cooks on-air and discusses women's issues. Harry spends his first year in town trying to find her, only to discover that Nora's whereabouts are a communal secret, revealed only to a select few. Carlos Friedmann has the 2–6 a.m. slot, a fourth-generation Jewish Cuban who cannot speak Spanish, but whose forte is to broadcast fake interviews with Fidel Castro. Friedmann's great desire is to kill and cook the parrot Jimmy Buffett.

Harry had arrived in St. Augustine in November of 2000, just as the Florida governor was stealing an election for his brother. Living in a America's oldest city, Harry reveals profound insights into American politics and history throughout A Good Man, Eventually, his role in the New Child's arrival becomes intertwined with contemporary politics, Iraq, 9/11, old-time religion, and classic literature from writers like Flannery O'Connor and Emily Dickinson, as well as the music of Harry Chapin.

Harry Ducharme has always believed that somebody has written about him in the past. All he needs to do is find the right book or poem, and then he will understand himself. Only the reader will see how true that is.
Stiltsville by Susanna Daniel
(I love this cover!)
One sunny morning in 1969, near the end of her first trip to Miami, twenty-six-year-old Frances Ellerby finds herself in a place called Stiltsville, a community of houses built on pilings in the middle of Biscayne Bay.
It's the first time the Atlanta native has been out on the open water, and she's captivated. On the dock of a stilt house, with the dazzling skyline in the distance and the unknowable ocean beneath her, she meets the house's owner, Dennis DuVal—and a new future reveals itself.
Turning away from her quiet, predictable life back home, Frances moves to Miami to be with Dennis. Over time, she earns the confidence of his wild-at-heart sister and wins the approval of his oldest friend. Frances and Dennis marry and have a child—but rather than growing complacent about their good fortune, they continue to face the challenges of intimacy and the complicated city they call home.
Stiltsville is the family's island oasis—until suddenly it's gone, and Frances is forced to figure out how to make her family work on dry land. Against a backdrop of lush tropical beauty, Frances and Dennis struggle with the mutability of love and Florida's weather, as well as temptation, chaos, and disappointment. But just when Frances thinks she's reached some semblance of higher ground, she must confront an obstacle so great that even the lessons she's learned about navigating the uncharted waters of family life can't keep them afloat.
With Stiltsville, Susanna Daniel weaves the beauty, violence, and humanity of Miami's coming-of-age with an enduring story of a marriage's beginning, maturity, and heartbreaking demise.
Pretty Little Liars by Sara Shepard
Everyone has something to hide—especially high school juniors Spencer, Aria, Emily, and Hanna.
Spencer covets her sister's boyfriend. Aria's fantasizing about her English teacher. Emily's crushing on the new girl at school. And Hanna uses some ugly tricks to stay beautiful.
But they've all kept an even bigger secret since their friend Alison vanished.
How do I know? Because I know everything about the bad girls they were and the naughty girls they are now. And guess what? I'm telling.
I got all of these autographed except for The Foretelling. It was a great day and we really enjoyed ourselves!