Image licensed from bigstockphoto.com
Mailbox Monday is now hosted monthly by a different blog
. Here is the
official blog
of Mailbox Monday.
Here is what I received over the last couple of weeks: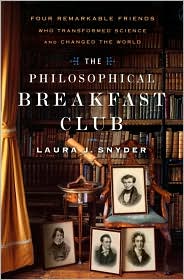 The Philosophical Breakfast Club by Laura J. Snyder
Won through Read It Forward
The Philosophical Breakfast Club recounts the life and work of four men who met as students at Cambridge University: Charles Babbage, John Herschel, William Whewell, and Richard Jones. Recognizing that they shared a love of science (as well as good food and drink) they began to meet on Sunday mornings to talk about the state of science in Britain and the world at large. Inspired by the great 17th century scientific reformer and political figure Francis Bacon—another former student of Cambridge—the Philosophical Breakfast Club plotted to bring about a new scientific revolution. And to a remarkable extent, they succeeded, even in ways they never intended.

Historian of science and philosopher Laura J. Snyder exposes the political passions, religious impulses, friendships, rivalries, and love of knowledge—and power—that drove these extraordinary men. Whewell (who not only invented the word "scientist," but also founded the fields of crystallography, mathematical economics, and the science of tides), Babbage (a mathematical genius who invented the modern computer), Herschel (who mapped the skies of the Southern Hemisphere and contributed to the invention of photography), and Jones (a curate who shaped the science of economics) were at the vanguard of the modernization of science.

This absorbing narrative of people, science and ideas chronicles the intellectual revolution inaugurated by these men, one that continues to mold our understanding of the world around us and of our place within it. Drawing upon the voluminous correspondence between the four men over the fifty years of their work, Laura J. Snyder shows how friendship worked to spur the men on to greater accomplishments, and how it enabled them to transform science and help create the modern world.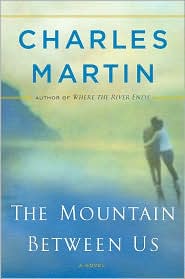 The Mountain Between Us by Charles Martin
Won through Books, Movies, Reviews! Oh My!
From the author of Where the River Ends, comes this page-turning story of love and survival.
On a stormy winter night, two strangers wait for a flight at the Salt Lake City airport. Ashley Knox is an attractive, successful writer, who is flying East for her much anticipated wedding. Dr. Ben Payne has just wrapped up a medical conference and is also eager to get back East for a slate of surgeries he has scheduled for the following day. When the last outgoing flight is cancelled due to a broken de-icer and a forthcoming storm, Ben finds a charter plane that can take him around the storm and drop him in Denver to catch a connection. And when the pilot says the single engine prop plane can fit one more, if barely, Ben offers the seat to Ashley knowing that she needs to get back just as urgently. And then the unthinkable happens. The pilot has a heart attack mid-flight and the plane crashes into the High Uintas Wilderness-- one of the largest stretches of harsh and remote land in the United States.

Ben, who has broken ribs and Ashley, who suffers a terrible leg fracture, along with the pilot's dog, are faced with an incredibly harrowing battle to survive. Fortunately, Ben is a medical professional and avid climber (and in a lucky break, has his gear from a climb earlier in the week). With little hope for rescue, he must nurse Ashley back to health and figure out how they are going to get off the mountain, where the temperature hovers in the teens. Meanwhile, Ashley soon realizes that the very private Ben has some serious emotional wounds to heal as well. He explains to Ashley that he is separated from his beloved wife, but in a long standing tradition, he faithfully records messages for her on his voice recorder reflecting on their love affair. As Ashley eavesdrops on Ben's tender words to his estranged wife she comes to fear that when it comes to her own love story, she's just settling. And what's more: she begins to realize that the man she is really attracted to, the man she may love, is Ben.

As the days on the mountains become weeks, their survival become increasingly perilous. How will they make it out of the wilderness and if they do, how will this experience change them forever?

Both a tender and page-turning read, The Mountain Between Us will reaffirm your belief in the power of love to sustain us.
Sarah's Key by Tatiana de Rosnay
Won through Books, Movies, Reviews! Oh My!
An American journalist researches the notorious roundup of Parisian Jews and uncovers her French family's war-era secrets.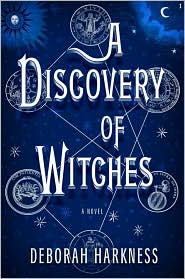 A Discovery of Witches by Deborah Harkness
Won through the Dewey's April 24-Hour Read-a-thon
A richly inventive novel about a centuries-old vampire, a spellbound witch, and the mysterious manuscript that draws them together.
Deep in the stacks of Oxford's Bodleian Library, young scholar Diana Bishop unwittingly calls up a bewitched alchemical manuscript in the course of her research. Descended from an old and distinguished line of witches, Diana wants nothing to do with sorcery; so after a furtive glance and a few notes, she banishes the book to the stacks. But her discovery sets a fantastical underworld stirring, and a horde of daemons, witches, and vampires soon descends upon the library. Diana has stumbled upon a coveted treasure lost for centuries-and she is the only creature who can break its spell.
Debut novelist Deborah Harkness has crafted a mesmerizing and addictive read, equal parts history and magic, romance and suspense. Diana is a bold heroine who meets her equal in vampire geneticist Matthew Clairmont, and gradually warms up to him as their alliance deepens into an intimacy that violates age-old taboos. This smart, sophisticated story harks back to the novels of Anne Rice, but it is as contemporary and sensual as the Twilight series-with an extra serving of historical realism.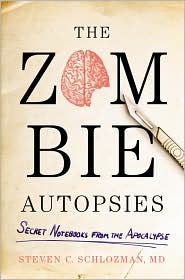 The Zombie Autopsies by Steve C. Schlozman, M.D.
Won from Zombie Girl Shambling
As the walking dead rise up throughout the world, a few brave doctors attempt to find a cure by applying forensic techniques to captured zombies.
On a remote island a crack medical team has been sent to explore a radical theory that could uncover a cure for the epidemic. Based on the team's research and the observations of renowned zombie expert Dr. Stanley Blum, THE ZOMBIE AUTOPSIES documents for the first time the unique biology of zombie organisms.
Detailed drawings of the internal organs of actual zombies provide an accurate anatomy of these horrifying creatures. Zombie brains, hearts, lungs, skin, and digestive system are shown, while Dr. Blum's notes reveal shocking insights into how they function—even as Blum and his colleagues themselves begin to succumb to the plague.
No one knows the ultimate fate of Dr. Blum or his researchers. But now that his notebook, THE ZOMBIE AUTOPSIES, has been made available to the UN, the World Health Organization, and the general public, his scientific discoveries may be the last hope for humans on earth.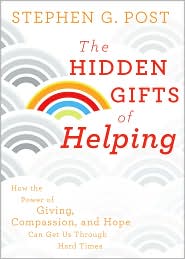 The Hidden Gifts of Helping by Stephen G. Post
Received from the author for review
Research has revealed that when we show concern for others—empathizing with a friend who has lost a loved one, mowing the lawn for an elderly neighbor, or volunteering to mentor a school-aged child—we improve our own health and well-being and embrace and give voice to our deeper identity and dignity as human beings.
In this moving book, Stephen G. Post helps us discover how we can make "helping" a lifetime activity. The Hidden Gifts of Helping explores the very personal story of Post and his family's difficult move and their experience with the healing power of helping others, as well as his passion about how this simple activity—expressed in an infinite number of small or large ways—can help you survive and thrive despite the expected and unexpected challenges life presents.
Post's story is intertwined with supporting scientific research and spiritual understanding. This book can become your companion and guide to the power of giving, forgiving, and compassion in hard times.
The Hidden Gifts of Helping will leave you with the unshakable feeling that the world can be a good place, if we act to make it so.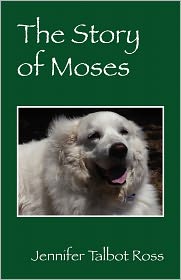 The Story of Moses by Jennifer Talbot Ross
Received for review from author
From surviving the wilds of the Texas Hill Country to a devastating battle with cancer, this is the story of Moses -- a beautiful, big, white dog who, from all indications, began his life as a livestock guard dog on a ranch in Texas (as do many dogs of his breed, the Great Pyrenees). Moses was taken in by a pet rescue group after having wandered onto a ranch in central Texas...homeless. After a few short months in foster care, Moses found his forever family and the road to immortality through their love and devotion.
In an authentic voice, the author tells the story of her beloved dog, Moses. Fate brought them together and something terrible ended their story far too soon. The Story of Moses recounts how Moses gained celebrity with friends, neighbors and strangers and earned the love and trust of both his human and four-legged family. As Moses illness is discovered and advances, life unravels like a loose thread in a well-worn sweater.
But, Moses' story is much, much more. It is the story of joy and hope and sorrow. It is the story of the wonderful dogs that came before, opening the door for Moses to walk through. It is the story of those left to remember and cherish. It is the story of survival in the midst of great loss-- of loving again, sheltering again, and living in the moment. It is knowing that, however painful, love remains and is the ultimate blessing.
The cast is a rich tableau of canine characters. There's Cleopatra, the first matriarch who won the author's heart and whose story is one of intelligence and grace and love. The story continues to unfold with Odin -- a fiercely loyal and protective dog whose will could not be broken and who loved Cleo immeasurably and grieved deeply and hauntingly through her loss. Odin was a mountain of a dog whose passing left a big hole in the lives of his owners and provided the impetus behind the search that led to Moses. Moses and his 'siblings' Bess, Samantha and Pax provide the next generation of antics and challenges in which Moses shines through with strength, willfulness and gentleness unmatched - a true, gentle giant. Though Moses' life ended tragically, his loving spirit lives on.
The book celebrates the individuality, intelligence and unconditional love of man's best friend. The book also dispels the myth of shelter and rescue dogs being undesirables while frankly exploring the pain and sorrow of loss and the soothing balm of trusted companions.
Animal lovers will delight in the stories of the amazing dogs that grace the pages and empathize over the ruthless destruction of canine cancer. Readers looking from the outside in who have not yet experienced the joy of pet ownership may well find themselves moved to do so.
The following books were received from the Book Bloggers & Publishers Online Conference:
Songs of Love & Death by many authors
IN this star-studded cross-genre anthology, seventeen of the greatest modern authors of fantasy, science fiction, and romance explore the borderlands of their genres with brand-new tales of ill-fated love. From zombie-infested woods in a postapocalyptic America to faery-haunted rural fields in eighteenth- century England, from the kingdoms of high fantasy to the alien world of a galaxy-spanning empire, these are stories of lovers who must struggle against the forces of magic and fate.
Award-winning, bestselling author Neil Gaiman demonstrates why he's one of the hottest stars in literature today with "The Thing About Cassandra," a subtle but chilling story of a man who meets an old girlfriend he had never expected to see.
International blockbuster bestselling author Diana Gabaldon sends a World War II RAF pilot through a stone circle to the time of her Outlander series in "A Leaf on the Winds of All Hallows." Torn from all he knows, Jerry MacKenzie determinedly survives hardship and danger, intent on his goal of returning home to his wife and baby—no matter the cost.
New York Times bestselling author Jim Butcher presents "Love Hurts," in which Harry Dresden takes on one of his deadliest adversaries and in the process is forced to confront the secret desires of his own heart.
Just the smallest sampling promises unearthly delights, but look also for stories by New York Times bestselling romance authors Jo Beverley and Mary Jo Putney, and by such legends of the fantasy genre as Peter S. Beagle and Tanith Lee, as well as many other popular and beloved writers, including Marjorie M. Liu, Jacqueline Carey, Carrie Vaughn, and Robin Hobb. This exquisite anthology, crafted by the peerless editing team of George R. R. Martin and Gardner Dozois, is sure to leave you under its spell.
Day by Day Armageddon: Beyond Exile by J.L. Bourne
START INTERCEPTArmies of undead have risen up across the U.S. and around the globe;there is no safe haven from the diseased corpses hungering for human flesh. But in the heat of a Texas wasteland, a small band of survivors attempt to counter the millions closing in around them.INTERCEPT COMPLETE
Survivor, Day by day, the handwritten journal entries of one man caught in a worldwide cataclysm capturethe desperation—and the will to survive—as he joins forces with a handful of refugees to battlesoulless enemies both human and inhuman from inside an abandoned strategic missile facility.
But in the world of the undead, is mere survival enough?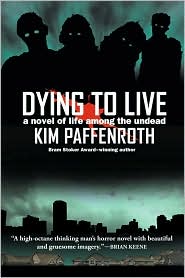 Dying to Live by Kim Paffenroth
A lone survivor in a zombie-infested world, Jonah Caine wandered for months, struggling to understand the apocalypse in which he lives.
Unable to find a moral or sane reason for the horror that surrounds him, he is overwhelmed by violence and insignificance. Then Jonah comes across a group of survivors living in a museum-turned-compound. They are led by Jack, an ever-practical and efficient military man; and Milton, a mysterious prophet who holds a strange power over the dead. Both share Jonah's anguish over the brutality of their world as well as his hope for its beauty. Together with others, they build a community that reestablishes an island of order and humanity surrounded by relentless ghouls. But this newfound peace is short-lived, as Jonah and his band of refugees clash with another group of survivors who remind them that the undead are not the only—nor the most grotesque—horrors they must face.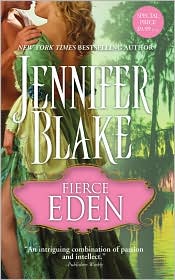 Fierce Eden by Jennifer Blake
A widow at twenty-five, beautiful Elise Laffont had been taught by her brutal husband to hate sex and men. She was quite content to manage her small Louisiana farm alone -- until a Natchez Indian uprising forced her to flee.

To secure safe passage for herself and her neighbors, Elise agreed to become the mistress of Reynaud Chavalier, son of a French nobleman and a Natchez princess.

But what began as sacrifice soon became pleasure, as his sensuous touch awakened her to the ecstasies of love...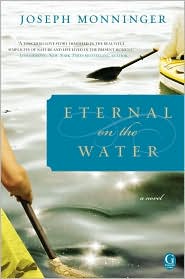 Eternal on the Water by Joseph Monninger
From the day Cobb and Mary meet kayaking on Maine's Allagash River and fall deeply in love, the two approach life with the same sense of adventure they use to conquer the river's treacherous rapids. But rivers do not let go so easily...and neither does their love. So when Mary's life takes the cruelest turn, she vows to face those rough waters on her own terms and asks Cobb to promise, when the time comes, to help her return to their beloved river for one final journey.
Set against the rugged wilderness of Maine, the exotic islands of Indonesia, the sweeping panoramas of Yellowstone National Park, and the tranquil villages of rural New England, Eternal on the Water is at once heartbreaking and uplifting -- a timeless, beautifully rendered story of true love's power.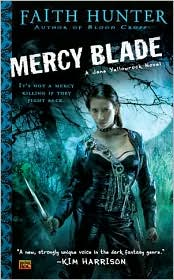 Mercy Blade by Faith Hunter
Jane, a shapeshifting vampire-hunter-for-hire, crosses paths with a stranger who has arrived in New Orleans, enlisted to hunt vampires who have gone insane-or so he says...
Thanks so much to everyone!