Mailbox Monday is now hosted monthly by a different blog. Here is the
official blog
of Mailbox Monday.
Here is what I received over the last number of weeks: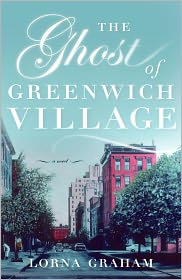 The Ghost of Greenwich Village by Lorna Graham
Won from Sara's Organized Chaos
In this charming fiction debut, a young woman moves to Manhattan in search of romance and excitement—only to find that her apartment is haunted by the ghost of a cantankerous Beat Generation writer in need of a rather huge favor.
For Eve Weldon, moving to Greenwich Village is a dream come true. She's following in the bohemian footsteps of her mother, who lived there during the early sixties among a lively community of Beat artists and writers. But when Eve arrives, the only scribe she meets is a grumpy ghost named Donald, and the only writing she manages to do is for chirpy segments on a morning news program,
Smell the Coffee
. The hypercompetitive network environment is a far cry from the genial camaraderie of her mother's literary scene, and Eve begins to wonder if the world she sought has faded from existence. But as she struggles to balance her new job, demands from Donald to help him complete his life's work, a budding friendship with a legendary fashion designer, and a search for clues to her mother's past, Eve begins to realize that community comes in many forms—and that the true magic of the Village is very much alive, though it may reveal itself in surprising ways.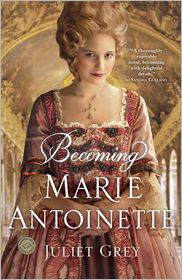 Becoming Marie Antoinette by Juliet Grey
Won from Stilleto Storytime
This enthralling confection of a novel, the first in a new trilogy, follows the transformation of a coddled Austrian archduchess into the reckless, powerful, beautiful queen Marie Antoinette.
Why must it be me?
I wondered.
When I am so clearly inadequate to my destiny?
Raised alongside her numerous brothers and sisters by the formidable empress of Austria, ten-year-old Maria Antonia knew that her idyllic existence would one day be sacrificed to her mother's political ambitions. What she never anticipated was that the day in question would come so soon.
Before she can journey from sunlit picnics with her sisters in Vienna to the glitter, glamour, and gossip of Versailles, Antonia must change
everything
about herself in order to be accepted as dauphine of France and the wife of the awkward teenage boy who will one day be Louis XVI. Yet nothing can prepare her for the ingenuity and influence it will take to become queen.
Filled with smart history, treacherous rivalries, lavish clothes, and sparkling jewels,
Becoming Marie Antoinette
will utterly captivate fiction and history lovers alike.
First Love by Violeta Barrett
This book was received from the author for review. It turns out she is a local author here in town!
By 1956 Violeta Barrett had been working for a Wall Street investment firm more than a decade. Recently separated from her husband and feeling overworked, Violeta decided to vacation in Mexico. After her plane landed in Mexico City, a stranger with a deep, accented voice introduced himself as her tour guide. Violeta and Jorge had no idea they were about to begin a four-year romance that would endure the test of time and distance.
In her compelling memoir, Violeta shares a nostalgic and emotional journey where principles, love, and obligations collide and force unexpected decisions. Energized by the Mexican culture and Jorge's charm, Violeta is soon caught up in the joy of being loved. But before long she must return to her obligations, leaving Jorge behind. Through the more than seventy love letters she would receive from Jorge for the next few years, the two share a forbidden passion-until the forces of morality prevail.
Nearly fifty years ago, Violeta and Jorge fell in love, changing their lives forever. Their heartfelt story proves that true love is not affected by time. It is ageless. It is eternal.
I've also purchased a number of books lately: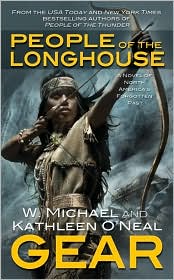 People of the Longhouse by W. Michael and Kathleen O'Neal Gear
Born in a time of violent upheaval, young Odion and his little sister, Tutelo, live in fear that one day Yellowtail Village will be attacked. When that day comes and Odion and Tutelo are marched away as slaves, Odion's only hope is that his parents are tracking them, coming to rescue them.
They are. But War Chief Koracoo and Deputy Gonda think they are tracking an ordinary war party herding captive women and children to an enemy village. Instead, they are following close on the heels of legendary evil, an old witch-woman named Gannajero, who captures children for her own purposes.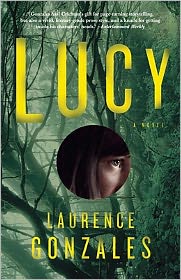 Lucy by Laurence Gonzales
Primatologist Jenny Lowe is studying bonobo chimpanzees deep in the Congo when she is caught in a deadly civil war that leaves a fellow researcher dead and his daughter, Lucy, orphaned. Realizing that the child has no living relatives, Jenny begins to care for Lucy as her own. But as she reads the late scientist's notebooks, she discovers that Lucy is the result of a shocking experiment, and that the adorable, magical, wonderful girl she has come to love is an entirely new hybrid species—half human, half bonobo.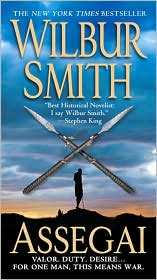 Assegai by Wilbur Smith
Wilbur Smith has won acclaim worldwide as the master of the historical novel. Now, in
Assegai
he takes readers on an unforgettable African adventure set against the gathering clouds of war.
It is 1913 and Leon Courtney, an ex-soldier turned professional hunter in British East Africa, guides the rich and powerful from America and Europe on big-game safaris. Leon had never sought fame, but an expedition alongside U.S. President Theodore Roosevelt has made him one of the most sought-after hunters on the continent. Soon, he finds that with celebrity comes not just wealth—but also danger.
Leon is recruited by his uncle Penrod Ballantyne, commander of the British forces in East Africa, to gather information on one of his clients: Count Otto von Meerbach, a German industrialist whose company builds aircraft and vehicles for the Kaiser's burgeoning army. While spying, Leon falls desperately in love with von Meerbach's beautiful and enigmatic mistress, Eva von Wellberg.
On the eve of the World War, Leon stumbles on a plot by Count von Meerbach that could wipe out the British forces in Africa. He finds himself left alone to frustrate von Meerbach's plan, and in grave peril as he learns more about the enigmatic Eva.
Set amidst the tensions that will spark a war across continents,
Assegai
delivers the fast-paced action and vivid history that has made Wilbur Smith an internationally bestselling author.
Copper Sun by Sharon M. Draper
Stolen from her village, sold to the highest bidder,
fifteen-year-old Amari has only one thing left of her own — hope.
Amari's life was once perfect. Engaged to the handsomest man in her tribe, adored by her family, and living in a beautiful village, she could not have imagined everything could be taken away from her in an instant. But when slave traders invade her village and brutally murder her entire family, Amari finds herself dragged away to a slave ship headed to the Carolinas, where she is bought by a plantation owner and given to his son as a birthday present.
Survival seems all that Amari can hope for. But then an act of unimaginable cruelty provides her with an opportunity to escape, and with an indentured servant named Polly she flees to Fort Mose, Florida, in search of sanctuary at the Spanish colony. Can the illusive dream of freedom sustain Amari and Polly on their arduous journey, fraught with hardship and danger?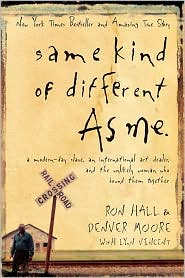 Same Kind of Different as Me: A Modern-Day Slave, an International Art Dealer, and the Unlikely Woman Who Bound Them Together by Ron Hall and Denver Moore with Lynn Vincent
Meet Denver, a man raised under plantation-style slavery in Louisiana in the 1960s; a man who escaped, hopping a train to wander, homeless, for eighteen years on the streets of Dallas, Texas. No longer a slave, Denver's life was still hopeless-until God moved. First came a godly woman who prayed, listened, and obeyed. And then came her husband, Ron, an international arts dealer at home in a world of Armani-suited millionaires. And then they all came together.
But slavery takes many forms. Deborah discovers that she has cancer. In the face of possible death, she charges her husband to rescue Denver. Who will be saved, and who will be lost? What is the future for these unlikely three? What is God doing?
Same Kind of Different As Me
is the emotional tale of their story: a telling of pain and laughter, doubt and tears, dug out between the bondages of this earth and the free possibility of heaven. No reader or listener will ever forget it.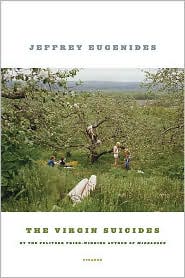 Virgin Suicides by Jeffrey Eugenides
First published in 1993,
The Virgin Suicides
announced the arrival of a major new American novelist. In a quiet suburb of Detroit, the five Lisbon sisters—beautiful, eccentric, and obsessively watched by the neighborhood boys—commit suicide one by one over the course of a single year. As the boys observe them from afar, transfixed, they piece together the mystery of the family's fatal melancholy, in this hypnotic and unforgettable novel of adolescent love, disquiet, and death. Jeffrey Eugenides evokes the emotions of youth with haunting sensitivity and dark humor and creates a coming-of-age story unlike any of our time. Adapted into a critically acclaimed film by Sofia Coppola,
The Virgin Suicides
is a modern classic, a lyrical and timeless tale of sex and suicide that transforms and mythologizes suburban middle-American life.