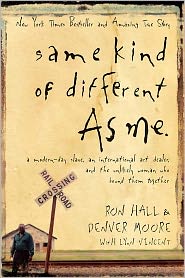 Synopsis
Meet Denver, a man raised under plantation-style slavery in Louisiana in the 1960s; a man who escaped, hopping a train to wander, homeless, for eighteen years on the streets of Dallas, Texas. No longer a slave, Denver's life was still hopeless-until God moved. First came a godly woman who prayed, listened, and obeyed. And then came her husband, Ron, an international arts dealer at home in a world of Armani-suited millionaires. And then they all came together.
But slavery takes many forms. Deborah discovers that she has cancer. In the face of possible death, she charges her husband to rescue Denver. Who will be saved, and who will be lost? What is the future for these unlikely three? What is God doing?
Same Kind of Different As Me is the emotional tale of their story: a telling of pain and laughter, doubt and tears, dug out between the bondages of this earth and the free possibility of heaven. No reader or listener will ever forget it.
Pub. Date: March 2008
Publisher: Nelson, Thomas, Inc.
Format: Paperback , 256pp
ISBN-13: 9780849919107
ISBN: 084991910X
About the Authors
DENVER MOORE'S BIOGRAPHY

Denver was born in rural Louisiana in January 1937, and after several tragic events went to live on a plantation in Red River Parish with his Uncle James and Aunt Ethel, who were share croppers.

Sometime around 1960, he hopped a freight train and began a life as a homeless drifter until 1966 when a judge awarded him a 10 year contract for hard labor at the Louisiana State School of Fools, aka, Angola Prison!

According to Denver, he went in a man and left a man and received a standing ovation from prisoners in the yard as he walked out of there in 1976. For the next 22 years he was homeless on the streets of Fort Worth, Texas. However, there were a few times after a brush with the law, he'd ride the rails visiting cities and hobo jungles across America, sampling regional cuisine like Vienna sausage with fellow passengers.

In 1998, "He never met Miss Debbie," Miss Debbie met him and his life was changed forever.

Today, he is an artist, public speaker, and volunteer for homeless causes. In 2006, as evidence of the complete turn around of his life, the citizens of Fort Worth honored him as "Philanthropist of the Year" for his work with homeless people at the Union Gospel Mission.
To view Denver's artwork, check out
his gallery
RON HALL'S BIOGRAPHY

While my daddy was fightin´ the big war in the Pacific, my grandmother delivered me in the farmhouse kitchen near Blooming Grove, Texas, in September 1945. This was back in those days when country girls knew about birthin´ babies and lucky for me, because my granddaddy and the town doctor were on the bucket brigade of a barn fire that night. I grew up in the bed of my granddad's Chevy pickup till it was time to go to school.

My first grade teacher was an old maid named Miss Ellis at Riverside Elementary in Fort Worth who taught me to write and draw square houses with stick figures. Unfortunately, the school was torn down about 30 years ago to make way for a new 7-11. And that's a cryin´ shame because lots of folks have inquired it they could visit if and see the red brick wall where my 2nd grade teacher, Miss Poe, made me stick my nose in that chalk circle.

In the third grade, showing signs of talent, my momma curled my hair with a "Toni Home Permanent" and took me to an audition for the Texas Boys Choir. I made the soprano section, singing in shopping centers and county fairs for three years, until the director saw a whisker on my chin, and my voice moved south of the range for choirboys. During that time however, I managed to win "runner up" in the Browning Heights Elementary talent show by singing a rendition of Snookie Lanson's "The Naughty Lady of Shady Lane."

The next year, my first original creation was a football mum fashioned from chrysanthemums I picked from our yard, adding glitter and streamers for my fourth grade cheerleader sweetheart. That was the only day I ever got to play halfback on a football team.

By the fifth grade I began to excel at dancing and racing on roller skates continuing for years, winning trophies and colored ribbons until I traded in my skates at age 14 for the down payment on a '55 Chevy convertible. At fifteen I was singing in a rock band playing at local VFW halls performing hits like "Mack the Knife" and "Scotch and Soda" for $5 a night. Continuing to explore all the talents God had given me (and several He did not), I started riding bulls until my nerve failed me when the chute gate opened. Next I took up boxing until a Lena Pope Home orphan named Jeff Perez beat me within an inch of my life in the Golden Gloves tournament.

Graduating from TCU, I managed to avoid classes on art, literature, or creative writing while pursuing Tri-Deltas and fraternity parties which made my resume prime for the job of Private in Uncle Sam's Army. With a little smooth talkin´ I landed a job in Colorado as a TOP SECRET nuclear weapons inspector! Using all the skills I learned in the Army, back in Fort Worth I landed a job selling Campbell soup. I dusted off Tomato Soup cans for $500 per month, while Andy Warhol made millions in New York painting them! In 1969, I married Deborah Short, my college sweetheart, who was embarrassed by the feather duster I had to carry in my back pocket, so I quit and got an MBA to become a municipal bond trader at the local bank.

In 1971, in Houston on a mission to buy water and sewer bonds for my bank, I happened on an art gallery where I bought my first original oil painting. Eighty-nine days later, under pressure, I sold it for a $2,000 profit, accidentally launching my art career. Actually, Debbie threatened to divorce me after finding out that I bought it on a 90 day loan by pledging the 50 shares of Ford stock her daddy gave her for a graduation present. I used the entire profit to smooth her ruffled feathers with diamonds and furs!

After twenty-five years I put art on the back burner to chase my dream of being a cowboy. My days were filled with ranching, team roping, cowboy poetry and anything else Debbie asked me to do, like being Denver's friend. After her death in November 2000, and unable to sleep, I began writing the book and making sculpture. I would stay up writing all night, and when writer's block set in I would fashion tiny sculptures from card board, Post-it-Notes, straight pins, Elmer's glue and paper clips. One day I took these to a welding shop near the ranch and with the help of a real welder began making them into large steel sculptures, "yard art" as my cowboy friends like to call it.

But with the success of our book Same Kind of Different as Me, I no longer find time for welding, selling or anything else but carrying Debbie's torch to cities all across America and playin´ with grand kids who have tagged me "Rocky Pop."

And thanks to folks from coast to coast the books are selling as fast as we can print them. That's the good news. However, most of the sculptures haven't found a home so they dot the landscape at Rocky Top providing buzzard roosts until the Sierra Club finds them unnatural and demands their removal.
My Thoughts
Town/Location:
Most of the story takes place across areas of Louisiana and Texas,with contrasting scenes of poverty and lavish wealth.
The Hall's Rocky Top homestead in Texas (from their website)
Denver was raised a black youth in abject
poverty
in the heart of Louisiana's sharecropping community, growing himself into a sharecropper as a young man, as he knew nothing else, before one day escaping into
homelessness
and what he surprisingly views as a better life than what he's previously known, because at least he is free and no longer a "modern day slave".
But you go on down to Louisiana right now, and take a drive on down the back roads in Red River Parish, and you might be able to see how a colored man that couldn't read and didn't have no radio, no car, no telephone, and not even 'lectricity might fall through a crack in time and get stuck, like a clock that done wound down and quit. (Denver Moore, page 64)
Sometimes it's drinkin or druggin that lands a man on the streets. And if he ain't drinkin or druggin already, most fellas like me start in once we get there. It ain't to have fun. It's to have less misery. To try and forget that no matter how many "partners in crime" we might hook up with on the street, we is still alone. (Denver Moore, page 73)
Denver Moore in a Louisiana cotton field (from their website)
Ron is a successful art dealer living the American dream with a beautiful wife who has a
heart of gold
. While Ron and his wife Debbie are volunteering at a homeless shelter, Debbie determines that Ron needs to befriend the irascible and anti-social Denver. It takes some time, but eventually a friendship is born, shortly before
heartbreak
befalls them all.
Debbie is portrayed in the book nothing short of a saint. She is selfless, God-fearing (and God-loving), patient, compassionate and kind. Based on a dream she had (which she views as a vision from God), she pushes Ron to befriend Denver. Once Ron begins to build a relationship with Denver, he finally broaches the idea of he and Denver becoming "friends", to which follows a lovely moment when Denver shares his concerns over how white people practice "catch and release" when they go fishing, and he doesn't wish to be "caught and released" like one of those fish. Ron commits to keep Denver if he can catch him, and over the years their friendship grows into
brotherhood
.
As their friendship builds, Ron is repeatedly struck by the small town wisdom of this illiterate sharecropper/homeless man.
...I laid my key ring on the table between us at one of our earliest meetings for coffee.

Denver smiled a bit and sidled up to a cautious question. "I know it ain't none of my business, but does you own somethin that each one of them keys fits?"

I glanced at the keys; there were about ten of them. "I suppose," I replied, not really ever having thought about it.

"Are you sure you own them, or does they own you?" (Ron Hall, Pages 112-113)
I love the book's cover, which shows Denver standing by a railroad crossing sign, located near the tracks where he hopped aboard a freight train leaving Louisiana, but also indicative of being "from the other side of the tracks". The font looks handwritten, the paper appears aged and stained. I felt it was perfectly matched to this story.
This book is 235 pages and 67 short chapters, which is how I prefer it. I only get to read is bursts, and I always appreciate having a good stopping point every few to a dozen pages. It also includes a Readers Guide, an Interview with the Authors, and a few pages of pictures.
My final word:
This book was moving and inspiring, and well-suited for those interested in spiritual and inspirational stories, as well as those fond of memoirs. It goes beyond the trappings of life to the heart of the matter, and is proof that two people can move beyond societal lines to forge a lasting friendship that can weather any storm. And behind it all is a humble woman-- small of frame and great of spirit.
Ron and Denver, friends forever (from their website)
Deborah's last Christmas (from their website)
My Rating: 8 out of 10