Mailbox Monday is hosted
here
. I've received a few new books recently:
My Grandmother Asked Me To Tell You She's Sorry by Fredrik Backman
Received from publisher
The hilarious, heart-breaking new novel by the author of the international bestseller A MAN CALLED OVE.

'Granny has been telling fairy tales for as long as Elsa can remember. In the beginning they were only to make Elsa go to sleep, and to get her to practise granny's secret language, and a little because granny is just about as nutty as a granny should be. But lately the stories have another dimension as well. Something Elsa can't quite put her finger on...'

Elsa is seven years old and different. Her grandmother is seventy-seven years old and crazy. Standing-on-the-balcony-firing-paintball-guns-at-men-who-want-to-talk-about-Jesus-crazy. She is also Elsa's best, and only, friend. At night Elsa runs to her grandmother's stories, to the Land of Almost-Awake and the Kingdom of Miamas. There, everybody is different and nobody needs to be normal.

So when Elsa's grandmother dies and leaves behind a series of letters apologizing to people she has hurt, it marks the beginning of Elsa's greatest adventure. Her grandmother's letters lead her to an apartment building full of drunks, monsters, attack dogs, and totally ordinary old crones-but also to the truth about fairytales and kingdoms and a grandmother like no other.

My Grandmother Sends Her Regards and Apologises is told with the same comic accuracy and beating heart as Fredrik Backman's bestselling debut novel, A Man Called Ove. It is a story about life and death and one of the most important human rights: the right to be different.
I received an ARC of this book, and it has
My Grandmother Asked Me To Tell You She's Sorry shown as the title, but while the ebook on Goodreads is listed under that title, the paperback is listed as My Grandmother Sends Her Regards and Apologises.
The Great Grammar Book by Marsha Sramek
I received this book from the author. Loving grammar as I do, I thought this would be a good fit. It is a workbook, and I'm learning a lot. I even dreamed about grammar last night!
The Man Who Loved Too Much by John Rachel
Received from the author
This is the story of Billy Green. When he was just turning four, his father tried to throw him in the trash. He was a smart kid but that just seemed to create enemies.

His mom did everything to protect him. But this was Detroit, armpit of the wasteland! Catholic school didn't help much, except the time he got his first kiss from an atheist nun. Home life was dismal. Was his father capable of anything but drinking beer and farting? And what was with that neighbor who made puppets and tried to molest Billy? Golly! Detroit was sucking the life out of him. At such a young age!

Then adolescence swirled around him. Like water in a toilet bowl. High school was a B movie. Only without a plot. So finally he did something about it. Billy ran away… to college. Cornell University. That was a good move for sure! He studied hard, lost his virginity, met the love of his life. Things were definitely looking up! What could possibly go wrong? Isn't that what we always ask?
Received through Netgalley: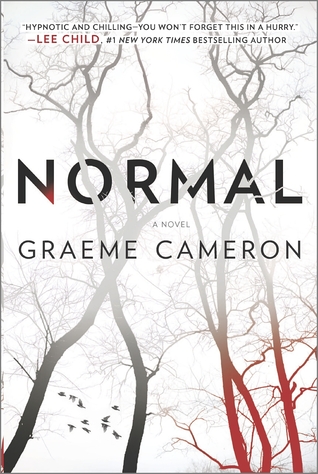 Normal by Graeme Cameron
This is a love story. No, really.

He lives in your community, in a nice house with a well-tended garden. He shops in your grocery store, bumping shoulders with you as you pass him and apologizing with a smile. He drives beside you on the highway, politely waving to let you into the lane ahead of him.

What you don't know is that he has an elaborate cage built into a secret basement under his garage. And the food that he's carefully shopping for is to feed a young woman he's holding there against her will--one in a string of many, unaware of the fate that awaits her.

This is how it's been for a long time. It's normal...and it works. Perfectly.

Then he meets the checkout girl from the 24-hour grocery. And now the plan, the hunts, the room...the others. He doesn't need any of them anymore. He needs only her. One small problem--he still has someone trapped in his garage.

Discovering his humanity couldn't have come at a worse time.
The Soul of an Octopus by Sy Montgomery
In this astonishing book from the author of the bestselling memoir The Good Good Pig, Sy Montgomery explores the emotional and physical world of the octopus' surprisingly complex, intelligent, and spirited creature: and the remarkable connections it makes with humans.

Sy Montgomery's popular 2011 Orion magazine piece, "Deep Intellect"; about her friendship with a sensitive, sweet-natured octopus named Athena and the grief she felt at her death, went viral, indicating the widespread fascination with these mysterious, almost alien-like creatures. Since then Sy has practiced true immersion journalism, from New England aquarium tanks to the reefs of French Polynesia and the Gulf of Mexico, pursuing these wild, solitary shape-shifters. Octopuses have varied personalities and intelligence they show in myriad ways: endless trickery to escape enclosures and get food; jetting water playfully to bounce objects like balls; and evading caretakers by using a scoop net as a trampoline and running around the floor on eight arms. But with a beak like a parrot, venom like a snake, and a tongue covered with teeth, how can such a being know anything? And what sort of thoughts could it think?

The intelligence of dogs, birds, and chimpanzees was only recently accepted by scientists, who now are establishing the intelligence of the octopus, watching them solve problems and deciphering the meaning of their color-changing camouflage techniques. Montgomery chronicles this growing appreciation of the octopus, but also tells a love story. By turns funny, entertaining, touching, and profound, The Soul of an Octopus reveals what octopuses can teach us about consciousness and the meeting of two very different minds.
I love octopi! They are intelligent and fascinating creatures!