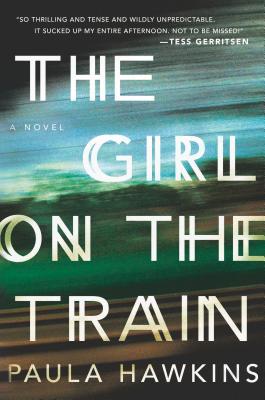 Synopsis
A debut psychological thriller that will forever change the way you look at other people's lives.

Rachel takes the same commuter train every morning. Every day she rattles down the track, flashes past a stretch of cozy suburban homes, and stops at the signal that allows her to daily watch the same couple breakfasting on their deck. She's even started to feel like she knows them. "Jess and Jason," she calls them. Their life—as she sees it—is perfect. Not unlike the life she recently lost.

And then she sees something shocking. It's only a minute until the train moves on, but it's enough. Now everything's changed. Unable to keep it to herself, Rachel offers what she knows to the police, and becomes inextricably entwined in what happens next, as well as in the lives of everyone involved. Has she done more harm than good?

Compulsively readable, The Girl on the Train is an emotionally immersive, Hitchcockian thriller and an electrifying debut.
Hardcover, 325 pages
Published January 13th 2015 by Riverhead Books
ISBN 1594633665 (ISBN13: 9781594633669)
About the Author
There is a pile of clothing on the side of the train tracks.
Rachel is a lonely divorced alcoholic who rides the train to and from work everyday, and who has become familiar with a couple that she regularly passes on her ride. She's made up lives for the couple, given them names, and feels as if she knows them. One day she sees something, and later learns that the woman she's watched every day has been reported missing. Rachel finds herself enmeshed in the drama surrounding the disappearance of Megan (the real name of the woman she's been watching from the train), while having things further complicated by her raw emotions regarding her ex-husband Tom and his new wife Anna.
She's a cuckoo, laying her eggs in my nest.
Since separating from her husband, Rachel has been living with Cathy, and things are wearing thin for both of them.
Cathy's a nice person, in a forceful sort of way. She makes you notice her niceness. Her niceness is writ large, it is her defining quality and she needs it acknowledged, often, daily almost, which can be tiring.
Suffice to say, things get very complicated.
My final word:
A little reminiscent of
Gone Girl
, with varying narratives and perspectives, it has some twists and turns that keep you guessing. You think you know what's happening, but then a twist is thrown in and you realize maybe you were wrong. And as with
Gone Girl
, I didn't find any of the characters very likable. They were all self-absorbed and annoying. So...it was okay...pretty good. I don't quite understand what all of the hullabaloo was, but it was okay. It was a pretty good mystery, keeping you guessing, and very readable.
Buy Now:
Barnes and Noble
Amazon
IndieBound
My Rating:
---
The Cerebral Girl
is a forty-something blogger just digging her way out from under a mountain of books in the deep south of Florida

.
This book was the

October

2015 selection for the Cape Coral Bookies.