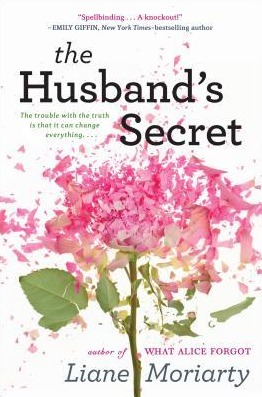 Synopsis
At the heart of The Husband's Secret is a letter that's not meant to be read

My darling Cecilia, if you're reading this, then I've died...

Imagine that your husband wrote you a letter, to be opened after his death. Imagine, too, that the letter contains his deepest, darkest secret—something with the potential to destroy not just the life you built together, but the lives of others as well. Imagine, then, that you stumble across that letter while your husband is still very much alive. . . .
Cecilia Fitzpatrick has achieved it all—she's an incredibly successful businesswoman, a pillar of her small community, and a devoted wife and mother. Her life is as orderly and spotless as her home. But that letter is about to change everything, and not just for her: Rachel and Tess barely know Cecilia—or each other—but they too are about to feel the earth-shattering repercussions of her husband's secret.

Acclaimed author Liane Moriarty has written a gripping, thought-provoking novel about how well it is really possible to know our spouses—and, ultimately, ourselves.
Hardcover, 396 pages
Published July 30th 2013 by G.P. Putnam's Sons (first published 2013)
ISBN 0399159347 (ISBN13: 9780399159343)
About the Author
Check out the author's website
Like the author on Facebook
My Thoughts
It was all because of the Berlin Wall.
A small town. One wife confronted with the end of her marriage, another confronted by a husband's deep secret. Another reminisces about her marriage before her husband's death years earlier and the loss of their daughter.
My final word:
I just don't know what it was about this book. I liked the concept, the characters were okay, development was okay-- but there was just something about it that I found a little boring and maybe a little slow. I initially had trouble keeping track of the characters. I could keep track of the three main women, but when they would start out talking about other characters, it would take me a minute to figure out which woman those characters were associated with, in order to understand whose perspective we were following this chapter. Overall the book was "okay to good".
Buy Now:
Barnes and Noble
Amazon
IndieBound
My Rating:
---
The Cerebral Girl
is a forty-something blogger just digging her way out from under a mountain of books in the deep south of Florida.
This book was the

November

2015 selection for the Cape Coral Bookies.