Mailbox Monday is brought to us by
The Printed Page
.
In my mailbox over the last couple of weeks I've received:


From Bridget at Readaholic: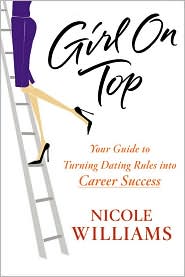 Girl on Top: Your Guide to Turning Dating Rules into Career Success by Nicole Williams
Nicole Williams is the tell-it-like-it-is career expert who you wish could fight your work battles for you. But with her ingenious approach-taking the tactics used to land a man and applying them to your career-you'll be able to handle any work situation and come out on top. Here, Nicole introduces twenty tried-and-true dating rules such as "Don't Give Away the Milk for Free" and "Don't Waste the Pretty" and reveals how they can be applied just as effectively in the office. Other strategies include:
• Keep It Brief
• Don't Bash Your Ex
• Have Others Sing Your Praises
• Play Hard to Get
• Keep the Fire Alive
• Be Willing to Walk Away
Among other topics, Nicole dishes on how much to reveal at work as well as what to put up with from your boss (and, more importantly, what not to). She tackles everything from having the money talk to leaving them wanting more on a job interview. And sprinkled throughout GIRL ON TOP is fashion advice ("Top Ten Commandments of Style") and checklists to determine if you need to get a life.
Nicole's keen insight and candid advice will teach you how to recognize the good guys from the bad, win the kudos of those who matter, and create the career of your dreams.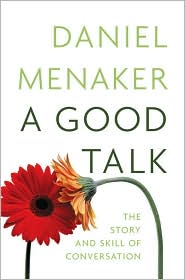 A Good Talk: The Story and Skill of Conversation
by Daniel Menaker
A GOOD TALK is an analysis of and guide to that most exclusively human of all activities—
conversation
.
Drawing on over forty years of experience in American letters, Menaker pinpoints the factors that drive and enliven every good conversation: the vagaries (and joys) of subtext; the deeper structure and meaning of conversational flow; the subliminal signals that guide our disclosures and confessions; and the countless other hurdles we must clear along the way. Moving beyond self-help musings and "how to" advice, he has created a stylish, funny, and surprising book: a celebration of "the most excusively human of all activities."
In a time when conversation remains deeply important— for building relationships, for relaxing, even for figuring out who we are— and also increasingly imperiled (with Blackberries and texting increasingly in vogue), A GOOD TALK is a refreshing celebration of the subtle adventures of a good conversation.
Received as part of the big giveaway at
Bookin' with Bingo
:
Say You're One of Them
by Uwem Akpan
The Shiksa Syndrome
by Laurie Graff
The Murder of King Tut
by James Patterson and Martin Dugard
The Little Giant of Aberdeen County
by Tiffany Baker
Permission Slips
by Sherri Shepherd
Thanks so much to both!