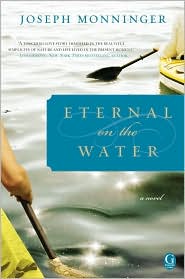 Synopsis
From the day Cobb and Mary meet kayaking on Maine's Allagash River and fall deeply in love, the two approach life with the same sense of adventure they use to conquer the river's treacherous rapids. But rivers do not let go so easily...and neither does their love. So when Mary's life takes the cruelest turn, she vows to face those rough waters on her own terms and asks Cobb to promise, when the time comes, to help her return to their beloved river for one final journey.

Set against the rugged wilderness of Maine, the exotic islands of Indonesia, the sweeping panoramas of Yellowstone National Park, and the tranquil villages of rural New England, Eternal on the Water is at once heartbreaking and uplifting — a timeless, beautifully rendered story of true love's power.

About the Author
(from www.josephmonninger.com)
Joseph Monninger has published eleven novels and three non-fiction books. His work has appeared in American Heritage, Scientific American, Readers Digest, Glamour, Playboy, Story, Fiction, The Boston Globe, Sports Illustrated and Ellery Queen, among other publications. He has twice received fellowships from the National Endowment for the Arts and has also received a fellowship from the New Hampshire Council for the Arts. His young adult novel, Baby, was awarded the 2008 award for best children's literature from the Peace Corps Writers. It was also chosen as a top ten book by YALSA, the American Library Association. The Bulletin of the Center for Children's' Books awarded Hippie Chick, a young adult novel, a blue ribbon for a top book of 2008.
Joseph Monninger grew up in Westfield, New Jersey and attended Temple University on a football scholarship. He served as a Peace Corps volunteer in Upper Volta, now Burkina Faso, from 1975-77. He has been a licensed New Hampshire Fishing Guide and has fly-fished from New Zealand to Wyoming's Wind River Range. He lives with his wife, Wendy, and his son, Justin, in a converted barn near New Hampshire's Baker River. For several years his family competed in the New England Sled Dog sprint races and ran a small sled dog business in New Hampshire's White Mountains. Laika and Willow, two sled dogs, live in happy retirement with them.
As a teacher at one time or another at the University of New Hampshire, the Lincoln School in Providence, Rhode Island, The American International School in Vienna, and at Plymouth State University, Joseph Monninger has spent thirty years in classrooms. During the summers he directed academic enrichment programs at Williams and Amherst Colleges. He led student groups on bicycle tours across Europe, sailed the Whitsunday Islands near the Great Barrier Reef, and worked on community service projects in Montserrat, West Indies and on the Crow Reservation in Montana. He has taken a mail boat across the southern edge of Newfoundland and, as a young man, hitch-hiked across the United States three times.
His latest novel, Eternal on the Water, will be published by Pocketbooks in February 2010.

My Thoughts
I received this book as part of the Barnes & Noble First Look club. After the last book through the club (
The Postmistress
) which I had some trouble getting through, I decided that I was going to be much more careful about which books I accepted as a First Look. So Eternal on the Water sounded like something I would probably enjoy, but had a little trepidation going into it.
That trepidation lasted about two pages, and then I was hooked.
Firstly let me warn you that this book actually begins before Chapter One. I grabbed this book one evening and flipped to Chapter One, started reading, and loved it. Then about halfway through the book I checked into the Barnes & Noble discussion on it, and I found that they were asking how the readers felt about knowing in the beginning of the book that Mary would die. Know? I had sort of figured out that it was gonna happen, but they made it sound as if it had played out in the beginning of the book. What was that all about? I flipped back to the very beginning of the book, and lo and behold! Before Chapter One even begins there was an unlabeled Preface that I had missed, and it did indeed begin with Mary's death. Well, that changed things a little! (So don't do like me and miss the preface!)
The book starts out with Cobb telling the story of the events leading up to Mary's death. He reminisces over the day they met and their life together.
They met when Cobb decided to kayak down the Allagash in an attempt to trace Thoreau's path. Their meeting seems fated from the beginning. They fall fast and hard into love, and their lives are lived fast and easy as they realize that there is a timeclock ticking. Mary is out to lead a full and complete life in an abbreviated amount of time, and she does it quite well. When it is time to leave, she does so with no regrets and a peaceful mind.
You get to know the wonderful support system of extensive friends and family of Cobb and Mary. The student that becomes something of a surrogate son to the childless couple. You feel their love for life and nature and adventure, and you are happy to be along with them on their ride.
I loved this story, tragic as it may be. I thought that the ending was beautiful, and the last 30 pages or so had me boo-hooing much of the time. The way that her family and friends supported her decision to leave this life when she had reached a point where the quality of life was lacking and she was becoming more of a "burden" to those she loved, and her proclamation that it was "time", was touching. There's a soft, ethereal cadence that softened the blow of the harsh realities of the story. I would strongly recommend this lovely tale of love and life and death.



My Rating:

9 out of 10



(Updated 8/5/10: This book has really stayed with me and haunted me since I finished it. Therefore I feel that it should really stand out above many of the other books I have read. So I am bumping up the rating from an 8.5 to a 9. Beautiful story with a haunting ending!)