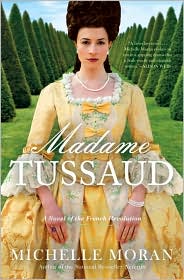 Synopsis
The world knows Madame Tussaud as a wax artist extraordinaire . . . but who was this woman who became one of the most famous sculptresses of all time? In these pages, her tumultuous and amazing story comes to life as only Michelle Moran can tell it. The year is 1788, and a revolution is about to begin.

Smart and ambitious, Marie Tussaud has learned the secrets of wax sculpting by working alongside her uncle in their celebrated wax museum, the Salon de Cire. From her popular model of the American ambassador, Thomas Jefferson, to her tableau of the royal family at dinner, Marie's museum provides Parisians with the very latest news on fashion, gossip, and even politics. Her customers hail from every walk of life, yet her greatest dream is to attract the attention of Marie Antoinette and Louis XVI; their stamp of approval on her work could catapult her and her museum to the fame and riches she desires. After months of anticipation, Marie learns that the royal family is willing to come and see their likenesses. When they finally arrive, the king's sister is so impressed that she requests Marie's presence at Versailles as a royal tutor in wax sculpting. It is a request Marie knows she cannot refuse—even if it means time away from her beloved Salon and her increasingly dear friend, Henri Charles.

As Marie gets to know her pupil, Princesse Élisabeth, she also becomes acquainted with the king and queen, who introduce her to the glamorous life at court. From lavish parties with more delicacies than she's ever seen to rooms filled with candles lit only once before being discarded, Marie steps into a world entirely different from her home on the Boulevard du Temple, where people are selling their teeth in order to put food on the table.

Meanwhile, many resent the vast separation between rich and poor. In salons and cafés across Paris, people like Camille Desmoulins, Jean-Paul Marat, and Maximilien Robespierre are lashing out against the monarchy. Soon, there's whispered talk of revolution. . . . Will Marie be able to hold on to both the love of her life and her friendship with the royal family as France approaches civil war? And more important, will she be able to fulfill the demands of powerful revolutionaries who ask that she make the death masks of beheaded aristocrats, some of whom she knows?

Spanning five years, from the budding revolution to the Reign of Terror, Madame Tussaud brings us into the world of an incredible heroine whose talent for wax modeling saved her life and preserved the faces of a vanished kingdom.
* Pub. Date: February 2011
* Publisher: Crown Publishing Group
* Format: Hardcover , 464p
* ISBN-13: 9780307588654
* ISBN: 0307588653
Read
an excerpt
from Madame Tussaud
About the Author
Q: What drew you to the story of Marie Tussaud?
A: My interest in Marie Tussaud began on my very first trip to London. Like thousands of tourists before me, I had decided that I wanted to visit the famous wax museum,
Madame Tussauds
. At the time, I knew almost nothing about the woman behind the name, but as I passed through the exhibition, I began to piece together what would ultimately prove to be a fascinating story. In the first wax tableau I came across, Marie Tussaud had modeled Queen Marie Antoinette with her husband and children. They looked young and happy, dressed in lavish court gowns and silk
culottes
. In another tableau, the mistress of King Louis XV lay sprawled on a couch, her blonde hair tumbling down her shoulders. Clearly, Marie Tussaud had been interested in modeling the celebrities of her day. Some she would have sculpted from memory, while many she would have met and modeled in person. Marie's art had obviously gained her access to some of the highest circles in French society.
But in a third tableau, a different part of Marie Tussaud's life emerged. Dressed in a black gown and dirtied apron, a young Marie could be seen holding up a lantern in the Madeleine Cemetery. The Revolution had begun, and she was searching through a pile of severed heads – all victims of Madame Guillotine. Immediately, I wanted to know what was she doing in that cemetery. Whose heads were they, and did she know those people? When I learned what Marie Tussaud went through during the French Revolution – who she'd met, where she'd gone, and what she'd seen – I knew I would someday tell her story.
Q: Why does history tend to remember the French Revolution as being successful?
A: Probably because it did exactly what its leaders intended, which was to deal a devastating blow to the aristocracy. But very soon after the overthrow of the monarchy, France's new government became obsessed with idea of rooting out Royalists. A fever like that of the Salem Witch Trials gripped France, and neighbor began turning on neighbor, accusing each other of being royalists. And it didn't take much to be sentenced to the guillotine. By 1793, all a person had to do was whistle the wrong tune or disrespect a liberty tree (saplings planted in the name of "liberty") to be accused of endangering the nation. By the end of the French Revolution, more than five hundred thousand French citizens had been killed, most of them commoners.
Q: How did you go about researching Madame Tussaud?
A: I began with a trip to France, where nearly all of the novel takes place. Once there, I tried to visit the locations Madame Tussaud herself would have seen. Some—such as the Bastille—no longer exist, but there are others—Versailles being the sublime example—where a great deal of 18th century life has been preserved. After my trip, I did as much research as I could in libraries. Finally, anything I couldn't find in books I tried to discover through email conversations with some very generous French historians.
Q: What is the most interesting fact you learned while researching Madame Tussaud?
A: That in 18th century France, most people went to street dentists when they had a toothache. These dentists would sit at a table laid out with various tools, and their unfortunate patients would have their teeth extracted right there, in the dirty street. After the extraction, the patient could sell his tooth (or teeth, if he was unlucky) to the dentist, who would then sell it to people like Marie Tussaud for her wax models. I know… creepy and disturbing!
Q: In your research about Marie Antoinette, did you come away feeling sorry for Queen Marie Antoinette?
A: Yes. I think the queen was as much a victim of circumstance as she was her own naiveté. While it's true that she held lavish balls in Versailles and spent a fortune on gowns, this really wasn't anything new for the monarchy. The difference was that it was Marie Antoinette, and not the king, who was doing the spending. The resentment and jealousy which built up around the queen having access to her husband's money earned her some powerful enemies at court. Meanwhile, the commoners were growing resentful as well. Yet the entire royal family's expenditures were actually a small fraction of the nation's budget, and whenever Marie Antoinette tried to economize, the courtiers who counted on her favors would raise a hue and cry. Various nobles had grown accustomed to the extra money they could earn from selling the dresses she had already worn or the accessories which had been ordered for her (often far more than she actually needed or used). These privileges were jealously guarded in Versailles, and this meant that the queen was "damned if she did, and damned if she didn't."
Q: Why are we still interested in Madame Tussaud 250 years after her birth?
A: I think the fascination with Madame Tussaud comes from the fact that the life she created was as intricate and mystifying as her artistry itself. Here was a woman who was asked to tutor the king's sister, yet she managed to keep her head during the Reign of Terror when women were being imprisoned for nothing more than wearing the wrong color. She navigated two very different worlds – the court of Versailles and the streets of Paris - and against all odds, lived to tell the tale. And through it all, it was her artistry that saved her. Today, with digital cameras available to capture everything around us, you would think it would be difficult to become enthusiastic about seeing a person's likeness reproduced in wax. But there is something compelling about waxworks, particularly those done at the various
Madame Tussauds
around the world. Perhaps it's the thrill of pretending to photograph yourself next to a celebrity, or getting to pose with Henry VIII "in the flesh," that keep customers coming back. Or maybe it's the eerie and arresting vision of a lifeless object that so closely mimics someone's humanity that people relate to. Whatever it is, I think
Madame Tussauds
will be a major draw even in another two hundred and fifty years.
Q: If Madame Tussaud were alive today, would she be happy to see that her wax museums have expanded not only throughout Europe, but now the world?
A: I think Marie Tussaud would be ecstatic. Having grown up on the Boulevard du Temple surrounded by actresses and showmen, Marie was taught from a very young age that publicity was the difference between staying in business and having to sell your teeth in order to buy bread. Today, the
Madame Tussauds
wax museums do a wonderful job of finding new subjects to model, and the public unveilings of their new wax figures would have absolutely delighted Marie. A part of me wants to say, "If only Marie could see her museum now," but something tells me she wouldn't be surprised at all by how popular her exhibition has become.
The purportedly first picture of a living person. The image shows a busy street, but due to exposure time of more than ten minutes, the traffic was moving too much to appear. The exception is the man at the bottom left, who stood still getting his boots polished long enough to show. Look closely and you will also see another man sitting on a bench to the right reading a newspaper. Also in the upper left hand side you can also see another man standing under the awning of the 3rd building from the left. What looks to be a woman standing under the street lantern at 10 o'clock from the man getting his shoes shined and another one in the big white building, 1st row 3rd window down.
My Rating
:
8.5 out of 10
Disclosure:
I received a copy of this book to review from the author, in exchange for my honest opinion. I was not financially compensated in any way, and the opinions expressed are my own and based on my observations while reading this novel. Thanks so much to Michelle Moran for surprising me with this book!