This is what's releasing the week of 11/16/09: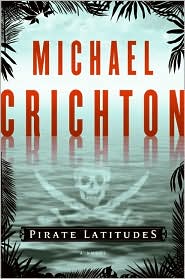 Pirate Latitudes
by Michael Crichton
From one of the best-loved authors of all time comes an irresistible adventure of swashbuckling pirates in the New World, a classic story of treasure and betrayal.
The Caribbean, 1665. A remote colony of the English Crown, the island of Jamaica holds out against the vast supremacy of the Spanish empire. Port Royal, its capital, is a cutthroat town of taverns, grog shops, and bawdy houses.
In this steamy climate there's a living to be made, a living that can end swiftly by disease-or by dagger. For Captain Charles Hunter, gold in Spanish hands is gold for the taking, and the law of the land rests with those ruthless enough to make it.
Word in port is that the galleon El Trinidad, fresh from New Spain, is awaiting repairs in a nearby harbor. Heavily fortified, the impregnable harbor is guarded by the bloodthirsty Cazalla, a favorite commander of the Spanish king himself. With backing from a powerful ally, Hunter assembles a crew of ruffians to infiltrate the enemy outpost and commandeer El Trinidad, along with its fortune in Spanish gold. The raid is as perilous as the bloodiest tales of island legend, and Hunter will lose more than one man before he even sets foot on foreign shores, where dense jungle and the firepower of Spanish infantry stand between him and the treasure. . . .
Pirate Latitudes is Michael Crichton athis best: a rollicking adventure tale pulsing with relentless action, crackling atmosphere, and heart-pounding suspense.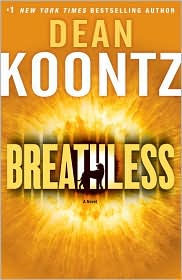 Breathless
by Dean Koontz
In the stillness of a golden September afternoon, deep in the wilderness of the Rockies, a solitary craftsman, Grady Adams, and his magnificent Irish wolfhound Merlin step from shadow into light…and into an encounter with enchantment. That night, through the trees, under the moon, a pair of singular animals will watch Grady's isolated home, waiting to make their approach.
A few miles away, Camillia Rivers, a local veterinarian, begins to unravel the threads of a puzzle that will bring all the forces of a government in peril to her door.
At a nearby farm, long-estranged identical twins come together to begin a descent into darkness…In Las Vegas, a specialist in chaos theory probes the boundaries of the unknowable…On a Seattle golf course, two men make matter-of-fact arrangements for murder…Along a highway by the sea, a vagrant scarred by the past begins a trek toward his destiny…
In a novel that is at once wholly of our time and timeless, fearless and funny, Dean Koontz takes readers into the moment between one turn of the world and the next, across the border between knowing and mystery. It is a journey that will leave all who take it
Breathless
.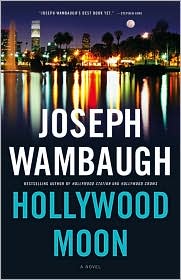 Hollywood Moon
by Joseph Wambaugh
There's a saying at
Hollywood
station that the full moon brings out the beast--rather than the best--in the precinct's citizens. One moonlit night, LAPD veteran Dana Vaughn and "
Hollywood
" Nate Weiss, a struggling-actor-turned cop, get a call about a young man who's been attacking women. Meanwhile, two surfer cops known as Flotsam and Jetsam keep bumping into an odd, suspicious duo--a smooth-talking player in dreads and a crazy-eyed, tattooed biker. No one suspects that all three dubious characters might be involved in something bigger, more high-tech, and much more illegal. After a dizzying series of twists, turns, and chases, the cops will find they've stumbled upon a complex web of crime where even the criminals can't be sure who's conning whom.
Wambaugh once again masterfully gets inside the hearts and minds of the cops whose jobs have them constantly on the brink of danger. By turns heart-wrenching, exhilarating, and laugh-out-loud funny,
Hollywood Moon
is his most thrilling and deeply affecting ride yet through the singular streets of LA.