Mailbox Monday is brought to us by
The Printed Page
.
Haven't done this for a few weeks.
In my mailbox over the last couple of weeks I've received: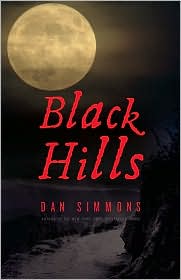 Black Hills by Dan Simmons
Won from
Jo-Jo Loves to Read


When Paha Sapa, a young Sioux warrior, "counts coup" on General George Armstrong Custer as Custer lies dying on the battlefield at the Little Bighorn, the legendary general's ghost enters him - and his voice will speak to him for the rest of his event-filled life.
Seamlessly weaving together the stories of Paha Sapa, Custer, and the American West, Dan Simmons depicts a tumultuous time in the history of both Native and white Americans. Haunted by Custer's ghost, and also by his ability to see into the memories and futures of legendary men like Sioux war-chief Crazy Horse, Paha Sapa's long life is driven by a dramatic vision he experienced as a boy in his people's sacred
Black Hills
. In August of 1936, a dynamite worker on the massive Mount Rushmore project, Paha Sapa plans to silence his ghost forever and reclaim his people's legacy-on the very day FDR comes to Mount Rushmore to dedicate the
Jefferson
face.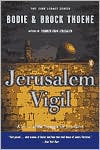 Jerusalem Vigil by Bodie and Brock Thoene
Won from Martha's Bookshelf
Bodie and Brock Thoene's superb storytelling comes alive in Jerusalem Vigil, a novel of the struggle for Jerusalem. It is May 14, 1948, in the world's holiest city: today the new State of Israel will be proclaimed and British troops will hand over the key to Zion Gate leaving behind hostile Jewish and Muslim forces poised for battle. Caught up in this historic moment are Moshe Sachar, an archaeology professor who is also a strategist; his pregnant wife, Rachel, who flees Tel Aviv for Jerusalem via a perilous route through the Christian Quarter; and Daoud and Gawan, two orphaned Arab boys who find a father with an unlikely surname. In this engrossing page-turner, the Thoenes combine historical authenticity, unforgettable characters, and gripping drama to create a saga about a fascinating period in world history.
One is watching history unfold when reading the Thoenes' work. (Houston Chronicle)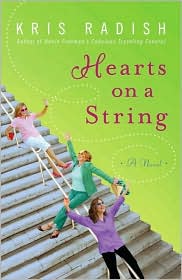 Hearts on a String
by Kris Radish

Won on
Library Thing
via their
Early Reviewer's
giveaway
Bestselling author Kris Radish delves deeply into the emotions of five very different women who are thrown together by chance—only to discover that they have more in common than they ever could have imagined.
Holly Blandeen has always cherished the story her grandmother told her about the thread that connects all women, tying them forever in sisterhood. It's a beautiful idea, but with all the curveballs life has thrown her way, Holly has often felt isolated, different from other women. That starts to change when she meets four strangers in an airport and they agree to share a luxury hotel suite because a powerful spring storm is barreling across the country, stranding travelers from California to Florida. What begins as a spur-of-the-moment decision becomes an unlikely, unexpected, and sometimes reluctant exercise in female bonding, as these five exceptional women—each at a crossroads—swap stories, share secrets, and seek answers to the questions they've been asking about life, love, and the path to true happiness. A storm may have grounded them for the moment, but after this wild adventure in which anything can and does happen, they'll never have to fly solo again.
The Saving of Aris
by Novamelia
Received for review through
Bostick Communications
This is the story of Aris Ball, a young boy whose life is tossed about by circumstance and fate and who constantly seeks to sort some meaning out of its tangle. He searches inside himself and he searches outside himself. He wants to be one of them, but he's not sure who they are. He wants to belong, to fit in. He wants to find out why other kids make fun of him and call him names.
His source of truth is his uncle Joshua, whom he believes at first is his father. Joshua would sort things out for him, telling him what was the truth and what was made up stuff.
Aris also believes he may have two mothers, but he isn't sure of that. He discovers that he can learn a lot by listening at doors, especially when there's an argument going on. But, as his uncle Joshua had predicted, he eavesdropped once too often. He finds out that Max got his head cracked wide open, but he doesn't know who Max is or why he got his head cracked wide open. He learned some things about himself, too that he didn't know before. Ultimately success comes by fate from a chance meeting in an alley. And it comes from one avenue he didn't explore, his own ignorance.
Thanks to everyone!