What's releasing the week of March 8:
Chelsea Chelsea Bang Bang
by Chelsea Handler
The hilarious new book from the star of
Chelsea Lately
and the #1
New York Times
bestselling author of
Are You There, Vodka? It's Me, Chelsea .
Get ready for big laughs as Chelsea Handler lets loose with more comic personal essays. In this new, no-holds-barred account of life on the ridiculous side, Chelsea mines the wealth of material that is her family, her sex life, her career, and her distinctively outrageous worldview. Here is young Chelsea discovering "The Feeling" during a third-grade sleepover and getting shafted by clueless parents over Cabbage Patch dolls...and grown-up Chelsea at the mercy of the remote control, Lean Pockets, and
Sex and the City
—but still managing to convince her boyfriend that there are Swiss Army knives in the soles of her $16,000 shoes. Through it all, Chelsea never lets anyone off the hook, even herself, as she delivers page after page of irrevent humor, biting wit, and deliciously off-kilter entertainment.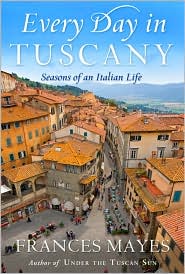 Every Day in Tuscany: Seasons of an Italian Life
by Frances Mayes
In this sequel to her New York Times bestsellers

Under the Tuscan Sun

and

Bella Tuscany

, the celebrated "bard of Tuscany" (New York Times) lyrically chronicles her continuing, two decades-long love affair with Tuscany's people, art, cuisine, and lifestyle. Frances Mayes offers her readers a deeply personal memoir of her present-day life in Tuscany, encompassing both the changes she has experienced since

Under the Tuscan Sun

and

Bella Tuscany

appeared, and sensuous, evocative reflections on the timeless beauty and vivid pleasures of Italian life. Among the themes Mayes explores are how her experience of Tuscany dramatically expanded when she renovated and became a part-time resident of a 13th century house with a stone roof in the mountains above Cortona, how life in the mountains introduced her to a "wilder" side of Tuscany—and with it a lively engagement with Tuscany's mountain people. Throughout, she reveals the concrete joys of life in her adopted hill town, with particular attention to life in the piazza, the art of Luca Signorelli (Renaissance painter from Cortona), and the pastoral pleasures of feasting from her garden. Moving always toward a deeper engagement, Mayes writes of Tuscan icons that have become for her storehouses of memory, of crucible moments from which bigger ideas emerged, and of the writing life she has enjoyed in the room where

Under the Tuscan Sun

began.

With more on the pleasures of life at

Bramasole

, the delights and challenges of living in Italy day-to-day and favorite recipes,

Every Day in Tuscany

is a passionate and inviting account of the richness and complexity of Italian life.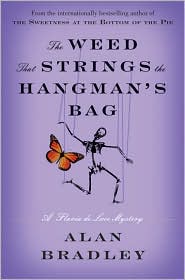 The Weed that Strings the Hangman's Bag
by Alan Bradley
From Dagger Award–winning and internationally bestselling author Alan Bradley comes this utterly beguiling mystery starring one of fiction's most remarkable sleuths: Flavia de Luce, a dangerously brilliant eleven-year-old with a passion for chemistry and a genius for solving murders. This time, Flavia finds herself untangling two deaths—separated by time but linked by the unlikeliest of threads.
Flavia thinks that her days of crime-solving in the bucolic English hamlet of Bishop's Lacy are over—and then Rupert Porson has an unfortunate rendezvous with electricity. The beloved puppeteer has had his own strings sizzled, but who'd do such a thing and why? For Flavia, the questions are intriguing enough to make her put aside her chemistry experiments and schemes of vengeance against her insufferable big sisters. Astride Gladys, her trusty bicycle, Flavia sets out from the de Luces' crumbling family mansion in search of Bishop's Lacey's deadliest secrets.
Does the madwoman who lives in Gibbet Wood know more than she's letting on? What of the vicar's odd ministrations to the catatonic woman in the dovecote? Then there's a German pilot obsessed with the Brontë sisters, a reproachful spinster aunt, and even a box of poisoned chocolates. Most troubling of all is Porson's assistant, the charming but erratic Nialla. All clues point toward a suspicious death years earlier and a case the local constables can't solve—without Flavia's help. But in getting so close to who's secretly pulling the strings of this dance of death, has our precocious heroine finally gotten in way over her head?