Available the week of 7/26/10: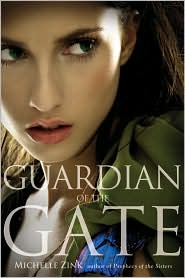 The Guardian of the Gate by Michelle Zink
The ultimate battle between sisters is nearing, and its outcome could have catastrophic consequences. As sixteen year-old Lia Milthorpe searches for a way to end the prophecy, her twin sister Alice hones the skills she'll need to defeat Lia. Alice will stop at nothing to reclaim her sister's role in the prophecy, and that's not the only thing she wants: There's also Lia's boyfriend James.
Lia and Alice always knew the Prophecy would turn those closest to them against them. But they didn't know what betrayal could lead them to do. In the end, only one sister will be left standing.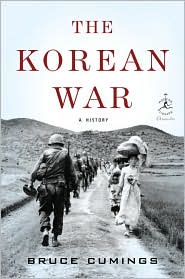 The Korean War: A History by Bruce Cumings


A bracing account of a war that lingers in our collective memory as both ambiguous and unjustly ignored
For Americans, it was a discrete conflict lasting from 1950 to 1953 that has long been overshadowed by World War II, Vietnam, and the War on Terror. But as Bruce Cumings eloquently explains, for the Asian world the Korean War was a generations-long fight that still haunts contemporary events. And in a very real way, although its true roots and repercussions continue to be either misunderstood, forgotten, or willfully ignored, it is the war that helped form modern America's relationship to the world.
With access to new evidence and secret materials from both here and abroad, including an archive of captured North Korean documents, Cumings reveals the war as it was actually fought. He describes its start as a civil war, preordained long before the first shots were fired in June 1950 by lingering fury over Japan's occupation of Korea from 1910 to 1945. Cumings then shares the neglected history of America's post–World War II occupation of Korea, the untold stories of bloody insurgencies and rebellions, and the powerful militaries organized and equipped by America and the Soviet Union in that divided land. He tells of the United States officially entering the action on the side of the South, and exposes as never before the appalling massacres and atrocities committed on all sides and the "oceans of napalm" dropped on the North by U.S. forces in a remarkably violent war that killed as many as four million Koreans, two thirds of whom were civilians.
In sobering detail,
The Korean War
chronicles a U.S. home front agitated by Joseph McCarthy, where absolutist conformity discouraged open inquiry and citizen dissent. Cumings incisively ties our current foreign policy back to Korea: an America with hundreds of permanent military bases abroad, a large standing army, and a permanent national security state at home, the ultimate result of a judicious and limited policy of containment evolving into an ongoing and seemingly endless global crusade.
Elegantly written and blisteringly honest, The Korean War is, like the war it illuminates, brief, devastating, and essential.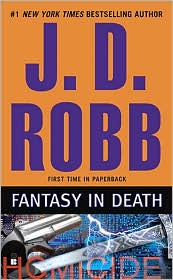 Fantasy in Death (In Death Series #30) by J.D. Robb


In the latest novel from #1 New York Times-bestselling author J.D. Robb, it is game over for the criminals pursued by NYPSD Lieutenant Eve Dallas. Bart Minnock, founder of the computer-gaming giant U-Play, enters his private playroom, and eagerly can't wait to lose himself in an imaginary world, to play the role of a sword-wielding warrior king, in his company's latest top-secret project, Fantastical. The next morning, he is found in the same locked room, in a pool of blood, his head separated from his body. It is the most puzzling case Eve Dallas has ever faced, and it is not a game. . . . NYPSD Lieutenant Eve Dallas is having as much trouble figuring out how Bart Minnock was murdered as who did the murdering. The victim's girlfriend seems sincerely grief-stricken, and his quirky-but-brilliant partners at U-Play appear equally shocked. No one seemed to have a prob¡lem with the enthusiastic, high-spirited millionaire. Of course, success can attract jealousy, and gaming, like any business, has its fierce rivalries and dirty tricks-as Eve's husband, Roarke, one of U- Play's competitors, knows well. But Minnock was not naive, and quite capable of fighting back in the real world as well as the virtual one. Eve and her team are about to enter the next level of police work, in a world where fantasy is the ultimate seduction-and the price of defeat is death. . . .
Jealousy, Vol. 3 by Lili St. Crow
It's a good thing Dru Anderson is fast. Because the sucker chasing her isn't slowing down—and he won't rest until he has tasted her blood and silenced her heart . . .
Dru's best friend, Graves, and her strange and handsome savior, Christophe, are ready to help her take on the ultimate evil. But will their battle for Dru's heart get in the way of her survival?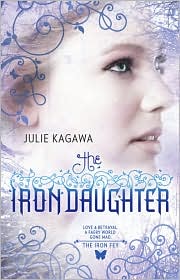 The Iron Daughter by Julie Kagawa
Half Summer faery princess, half human, Meghan has never fit in anywhere. Deserted by the Winter prince she thought loved her, she is prisoner to the Winter faery queen. As war looms between Summer and Winter, Meghan knows that the real danger comes from the Iron fey—ironbound faeries that only she and her absent prince have seen. But no one believes her.
Worse, Meghan's own fey powers have been cut off. She's stuck in Faery with only her wits for help. Trusting anyone would be foolish. Trusting a seeming traitor could be deadly. But even as she grows a backbone of iron, Meghan can't help but hear the whispers of longing in her all-too-human heart.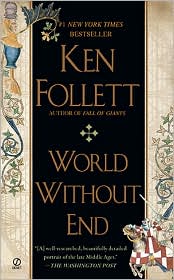 World Without End by Ken Follett


Ken Follett has 90 million readers worldwide. The Pillars of the Earth is his bestselling book of all time. Now, eighteen years after the publication of The Pillars of the Earth, Ken Follett has written the most-anticipated sequel of the year—World Without End. In 1989 Ken Follett astonished the literary world with The Pillars of the Earth, a sweeping epic novel set in twelfth-century England centered on the building of a cathedral and many of the hundreds of lives it affected. Critics were overwhelmed—"it will hold you, fascinate you, surround you" (Chicago Tribune)—and readers everywhere hoped for a sequel. World Without End takes place in the same town of Kingsbridge, two centuries after the townspeople finished building the exquisite Gothic cathedral that was at the heart of The Pillars of the Earth. The cathedral and the priory are again at the center of a web of love and hate, greed and pride, ambition and revenge, but this sequel stands on its own. This time the men and women of an extraordinary cast of characters find themselves at a crossroad of new ideas— about medicine, commerce, architecture, and justice. In a world where proponents of the old ways fiercely battle those with progressive minds, the intrigue and tension quickly reach a boiling point against the devastating backdrop of the greatest natural disaster ever to strike the human race—the Black Death. Three years in the writing, and nearly eighteen years since its predecessor, World Without End breathes new life into the epic historical novel and once again shows that Ken Follett is a masterful author writing at the top of his craft.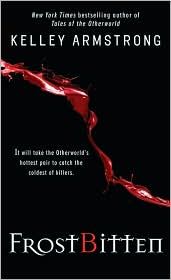 Frostbitten (Women of the Otherworld Series #10)
by Kelley Armstrong
The Alaskan wilderness is a harsh landscape in the best of conditions, but with a pack of rogue werewolves on the loose, it's downright deadly. Elena Michaels, the Pack's chief enforcer, knows all too well the havoc "mutts" can wreak. When they hear of a series of gruesome maulings and murders outside Anchorage, she and her husband, Clay, journey to Alaska in the dead of winter in order to hunt down the dangerous werewolves. Trapped in this savage, untamed winter realm, she and Clay learn more about their own werewolf heritage than they bargained for, tapping a little more into the wild nature of the beast within.
Also available this week: