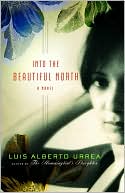 I was excited about this book from the beginning. First of all, it was my first ARC, won from
BermudaOnion
. (Note: I actually received this book before my ARC of
The Chosen One
, but I read the other book first, as it was releasing first. So this is my first ARC received, but my second ARC reviewed.)
Then I began reading it, and immediately connected with the main character and the storyline. I found author Luis Alberto Urrea's writing style very easy and engaging-- something really necessary for me. I've said before that I am not a "book club" kind of girl. I don't want reading to be a challenge. I don't want to spend my time trying to interpret a bunch of symbolism. I simply want to be engaged and entertained, and perhaps have my eyes opened a little wider (in either enlightenment or surprise).
I slipped into this book like a comfortable pair of old slippers. It just felt good.
This is the story of a Mexican girl named Nayeli, who lives in the town of Los Camerones. The men have left her town for the US in search of work and fortunes, and the inhabitants of town have been left vulnerable. Nayeli gets the idea to go to the US to recruit Mexican men to come back to Los Camerones, and also in search of her own father who went to the US and quit writing to the family.
This story captures the complexities of illegal immigration and the highly-charged emotions surrounding it-- not only in our own country, but in Mexico as well. I enjoyed the characters of Nayeli and Tacho and the nutty Atomiko. I held on until the end, waiting to find out whether Nayeli would ever find her father.
One negative is the excessive use of spanish without translation. I often found myself feeling like an outsider looking in-- as if only I knew what they just said, I could join in on the joke and find it all very clever!
I also found a typo or two, and there was even one spot in the book where the wrong girl is referred to. I found myself thinking, "Wait a minute! That's not Yolo! That's Vampi!" I read it over and over to see whether I was missing something, but I wasn't. The author (or someone) used the incorrect girl's name in that spot! Hopefully these errors were caught and fixed before release, since this is an ARC copy that I have.
I found this to be a very enjoyable read. It wasn't deeply thought-provoking or emotionally stirring, but it was an interesting story with engaging characters and a beautiful writing style. I give it two thumbs up-- and maybe I'll throw in a pinky-toe, too!
Product Details
* Hardcover: 352 pages
* Publisher: Little, Brown and Company; 1 edition (May 19, 2009)
* Language: English
* ISBN-10: 0316025275
* ISBN-13: 978-0316025270
My Rating: 8 out of 10