Mailbox Monday is brought to us by
The Printed Page
. I'm late getting this up today, and almost missed it altogether!
In my mailbox last week I got:
I got How Not to Look Old from a giveaway at
Merry Weather
.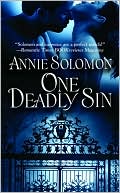 One Deadly Sin came by way of a giveaway by
Readaholic
.
Mistress of the Sun was a win from
The Tome Traveller's Weblog
.
I'm a lucky, lucky girl! Thanks to all of you for the wins!