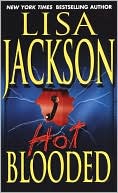 Storyline:
Popular late-night radio host Dr. Samantha Leeds has a fan who'd like to love her to death...literally. The first time that Samantha received a threatening phone call as the body of a murdered prostitute was discovered in the New Orleans French Quarter, it seemed like pure coincidence. But then it happened again, and again, and the danger became clear. Now Dr. Sam has to face the fact that some Hot Blooded killer is out to get her -- and no one knows who it is. The police are convinced it's someone close to Sam. And Sam has to wonder about her mysterious new neighbor, Ty Wheeler, a handsome, sexy stranger who knows all too much about her. Could Ty know Sam's darkest secret, the one that someone has decided she must die for?
My Review:
In one word, "eh". That's what this book was for me. It wasn't bad, and it wasn't that great. It was just "okay".
The characters weren't that well developed. I didn't really connect with them or "like" them that much. Probably the character I liked most was Detective Bentz.
What I really disliked was whenever the book would switch to the murderer's viewpoint. It just seemed...I don't know...childish? That's not quite it. It just wasn't believable to me. I was left with the feeling that the author was just writing this character based on a bunch of stereotypes from other thriller/killer stories. That's not what I'm looking for with a book like this. I want a character that makes me shiver and hide under the covers. This didn't do it for me. The character was too simplistic, with no real depth, and I found myself kind of bored with him.
And to make matters worse, the ending just sort of fizzled for me and seemed kind of unrealistic.
So, "eh". Maybe I'll give the second book in the series a try and see what I think about that. My one likable character Detective Bentz makes a reappearance in Cold Blooded, and I would like to give author Lisa Jackson another try or two.
This book fulfills several challenges for me: the Lisa Jackson Read-a-fest, 1st in a Series, What's In a Name, and my own "Read 30".

Product Details
* Paperback: 463 pages
* Publisher: Zebra (August 1, 2001)
* Language: English
* ISBN-10: 0821768417
* ISBN-13: 978-0821768419
My Rating:
6 out of 10