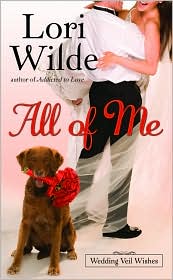 Synopsis
Can two broken hearts become one?

Attorney Jillian Samuels doesn't believe in true love and never, ever wished for happily ever after. But when a searing betrayal leaves her jobless and heartbroken, a newly inherited cottage in Salvation, Colorado, seems to offer a fresh start. What she finds when she arrives shocks her: the most gorgeous and infuriating man she's ever met is living in her home!

Tuck Manning was a gifted architect who left a skyrocketing career to care for his dying wife. But the life he's made for himself in this quiet town is turned upside down when Jillian appears on his doorstep. Tuck won't go without a fight, and the two resolve to live as roommates until they can untangle who owns the cottage. Yet as Tuck and Jillian's days—and nights—heat up, they realize more than property rights are at stake...and that sometimes, salvation comes when you least expect it.
My Thoughts
Tuck was a dedicated husband and a big name in architecture when his life fell apart with the loss of his wife. Jillian has a reputation as something of an "ice queen". Her lonely childhood spent with a resentful step-mother after losing both of her parents at a young age has left her bitter about love and emotionally reserved. Now Jillian finds herself in Salvation, CO looking for...what else..."salvation". Only when she shows up at the home that she has inherited after the loss of her mentor and substitute father, she finds Tuck already inhabiting it. Both lay claim to the home, and they decide to share the cottage while they sort it all out. And then, well, you know what happens.
This was a cute story. I can't give this story a real "in depth" analysis. I find that most romance novels are mostly "fluff" and predictable, and this one is pretty much what I expected. The writing was easy to read, and there was a decent amount of sexual tension to add some interest to the story. It wasn't quite as engaging as I would have liked. I tend to go for the romance novels that have verbally antagonistic leads, full of verbal banter, and this was a little lacking in that area. Of course, I also tend to go more for historical romance.
So it's a cute story, and I would recommend it for the true romance fan.
My Rating: 7 out of 10