Books that will be available December 14 and December 28:
Synopsis
The world is changing: the government has seized control of every aspect of society, and now, kids are disappearing. For 15-year-old Wisty and her older brother Whit, life turns upside down when they are torn from their parents one night and slammed into a secret prison for no reason they can comprehend. The New Order, as it is known, is clearly trying to suppress Life, Liberty, and the Pursuit of Being a Normal Teenager. But while trapped in this totalitarian nightmare, Wisty and Whit discover they have incredible powers they'd never dreamed of. Can this newly minted witch and wizard master their skills in time to save themselves, their parents--and maybe the world?
(I've been waiting for this one!)
Synopsis
In 1766 Scotland, the laird of the clan, Angus McTern, has everything he wants in life. Although his grandfather lost the family's land and castle in a card game when Angus was just a boy, Angus takes his duties seriously and is respected by all the men and adored by the women. That is, until Edilean Talbot shows up.
Breathtakingly beautiful and born of privilege, Edilean represents everything Angus despises. Still he is as dazzled by her as everyone else is, and he can keep his feelings hidden from her for only so long. When she rejects him he is deeply wounded and, worse, humiliated before his clan. But then the day comes when Edilean needs Angus's help, to reclaim the gold she inherited from her father, which is on its way to America. At first Angus refuses, but her beauty -- and her tears -- so haunt him that he puts aside his pride and decides to aid the heiress. However, when Angus tries to intervene, he's accused of kidnapping and theft. To avoid being prosecuted, he's forced to leave behind all that he knows and loves and escape with Edilean to America. There they will overcome almost insurmountable obstacles as they are pursued endlessly by the man who claims the gold for his own. Despite all that tries to keep them apart, Angus and Edilean also find a love as wild and free as the land itself.
(I think that this cover is absolutely gorgeous, and the storyline sounds fiery!)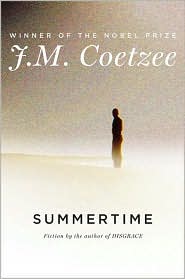 Synopsis


A brilliant new work of fiction from the Nobel Prize-winning author of Disgrace and Diary of a Bad Year
A young English biographer is researching a book about the late South African writer John Coetzee, focusing on Coetzee in his thirties, at a time when he was living in a rundown cottage in the Cape Town suburbs with his widowed father-a time, the biographer is convinced, when Coetzee was finding himself as a writer. Never having met the man himself, the biographer interviews five people who knew Coetzee well, including a married woman with whom he had an affair, his cousin Margot, and a Brazilian dancer whose daughter took English lessons with him. These accounts add up to an image of an awkward, reserved, and bookish young man who finds it hard to make meaningful connections with the people around him.
Summertime
is an inventive and inspired work of fiction that allows J.M. Coetzee to imagine his own life with a critical and unsparing eye, revealing painful moral struggles and attempts to come to grips with what it means to care for another human being. Incisive, elegant, and often surprisingly funny,
Summertime
is a compelling work by one of today's most esteemed writers.
(I think that this book sounds really fascinating!)

Also available: