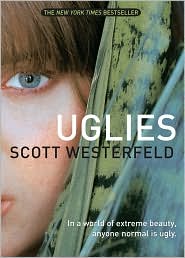 Synopsis
Tally is about to turn sixteen, and she can't wait. Not for her license -- for turning pretty. In Tally's world, your sixteenth birthday brings an operation that turns you from a repellent ugly into a stunningly attractive pretty and catapults you into a high-tech paradise where your only job is to have a really great time. In just a few weeks Tally will be there.
But Tally's new friend Shay isn't sure she wants to be pretty. She'd rather risk life on the outside. When Shay runs away, Tally learns about a whole new side of the pretty world -- and it isn't very pretty. The authorities offer Tally the worst choice she can imagine: find her friend and turn her in, or never turn pretty at all. The choice Tally makes changes her world forever.

About the Author
Scott Westerfeld's teen novels include the Uglies series, the Midnighters trilogy, The Last Days, an ALA Best Book for Young Adults and the sequel to Peeps. Scott was born in Texas, and alternates summers between Sydney, Australia, and New York City.
Check out his blog!
My Thoughts
"In a world of extreme beauty, anyone normal is ugly."

Tally is an "ugly" who is about to turn 16, and therefore about to become "pretty". This is a world where everyone receives surgery on their 16th birthday in order to achieve perfect beauty. But events unfold that she could never have predicted, causing her to betray some of those closest to her, and forcing her to turn the mirror on herself and face the fact that ugliness goes beyond skin deep, and in so doing she discovers that beauty also lies deeper.

This was a pretty good "yarn". The characters aren't thoroughly fleshed out, but well enough so that I have a connection to them. Truths about our society as it stands today are highlighted, even touching on our reliance on oil and our destruction of the environment. The environments of Ugly Town, New Pretty Town, The Ruins and The Smoke are well-described, allowing me to envision them in my mind's eye. The story leaves me hanging and wanting to get my hands on the next book in the series to see where this story is going.

This was a good YA story-- good characters, good plot, good writing. Superficial yet revealing, Uglies has assured that I'll be moving on to the second story Pretties before long!
My Rating: 8 out of 10