Books being released the week of June 14: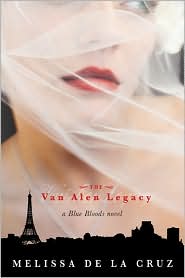 The Van Alen Legacy (Blue Bloods Series #4)
by Melissa de la Cruz
With the stunning revelation surrounding Bliss's true identity comes the growing threat of the sinister Silver Bloods. Once left to live the glamorous life in New York City, the Blue Bloods now find themselves in an epic battle for survival. Not to worry, love is still in the air for the young vampires of the Upper East Side. Or is it? Jack and Schuyler are over. Oliver's brokenhearted. And only the cunning Mimi seems to be happily engaged.
Young, fanged, and fabulous, Melissa de la Cruz's vampires unite in this highly anticipated fourth installment of the Blue Bloods series.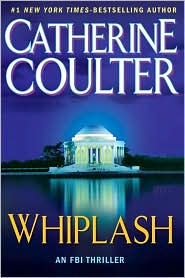 Whiplash (FBI Series #14) by Catherine Coulter
Yale professor Dr. Edward Kender's father is undergoing chemotherapy when the supply of a critical accompanying drug suddenly runs out. Unwilling to accept the drug company's disingenuous excuse of production line problems, Dr. Kender hires private investigator Erin Pulaski to prove there is something more sinister going on at Schiffer Engel's manufacturing facility in Indiana.
Pulaski uncovers a bombshell-Schiffer Engel's intentional shortage is bringing in a windfall profit in excess of two billion dollars.
When a top Schiffer Engel employee shows up viciously murdered behind the U.S. headquarters, Sherlock and Savich are called in to lend a hand. The murder of a foreign national on federal land can only mean the German drug company has a secret of epic proportions.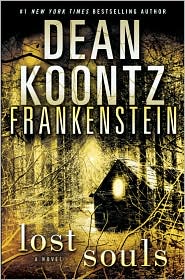 Frankenstein: Lost Souls
by Dean Koontz
#1
New York Times
bestselling author Dean Koontz brings his fertile imagination and unparalleled storytelling abilities to one of the most timeless—and terrifying—creations in all of fiction: the legend of Frankenstein. In
Lost Souls
, Koontz puts a singular twist on this classic tale of ambition and science gone wrong and forges a new legend uniquely suited to our times—a story of revenge, redemption, and the razor-thin line that separates humanity from inhumanity as we consider a new invitation to apocalypse.
The work of creation has begun again. Only now things will be different. Victor Leben, once Frankenstein, has not only seen the future—he's ready to populate it. Using stem cells, "organic" silicon circuitry, and nanotechnology, he will engender a race of superhumans—the perfect melding of flesh and machine. With a powerful, enigmatic backer eager to see his dream come to fruition and a secret location where the enemies of progress can't find him, Victor is certain that this time, nothing and no one can stop him.
It is up to five people to prove him wrong. In their hands rests nothing less than the survival of humanity itself.
They are drawn together in different ways, by omens sinister and wondrous, to the same shattering conclusion: Two years after they saw him die, the man they knew as Victor Helios lives on. Detectives Carson O'Connor and Michael Maddison; Victor's engineered wife, Erika 5, and her companion Jocko; and the original Victor's first creation, the tormented Deucalion, have all arrived at a small Montana town where their old alliance will be renewed—and tested—by forces from within and without, and where the dangers they face will eclipse any they have yet encountered. Yet in the midst of their peril, love will blossom, and joy, and they will discover sources of strength and perseverance they could not have imagined.
They will need all these resources, and more. For a monumental battle is about to commence that will require all their ingenuity and courage, as it defines what we are to be . . . and if we are to be at all.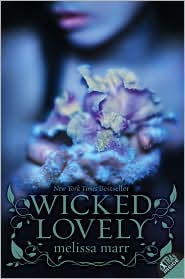 Wicked Lovely (Wicked Lovely Series #1)
by Melissa Marr
Rule #3: Don't stare at invisible faeries.
Aislinn has always seen faeries. Powerful and dangerous, they walk hidden in mortal world. Aislinn fears their cruelty—especially if they learn of her Sight—and wishes she were as blind to their presence as other teens.
Rule #2: Don't speak to invisible faeries.
Now faeries are stalking her. One of them, Keenan, who is equal parts terrifying and alluring, is trying to talk to her, asking questions Aislinn is afraid to answer.
Rule #1: Don't ever attract their attention.
But it's too late. Keenan is the Summer King who has sought his queen for nine centuries. Without her, summer itself will perish. He is determined that Aislinn will become the Summer Queen at any cost—regardless of her plans or desires.
Suddenly none of the rules that have kept Aislinn safe are working anymore, and everything is on the line: her freedom; her best friend, Seth; her life; everything.
Faerie intrigue, mortal love, and the clash of ancient rules and modern expectations swirl together in Melissa Marr's stunning 21st century faery tale.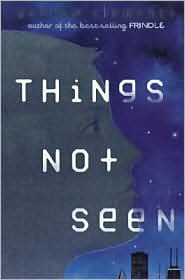 Things Not Seen
by Andrew Clements
Bobby Phillips is an average fifteen-year-old boy. Until the morning he wakes up and can't see himself in the mirror. Not blind, not dreaming—Bobby is just plain invisible. There doesn't seem to be any rhyme or reason to Bobby's new condition; even his dad the physicist can't figure it out. For Bobby that means no school, no friends, no life. He's a missing person. Then he meets Alicia. She's blind, and Bobby can't resist talking to her, trusting her. But people are starting to wonder where Bobby is. Bobby knows that his invisibility could have dangerous consequences for his family and that time is running out. He has to find out how to be seen again—before it's too late.
Also releasing this week: