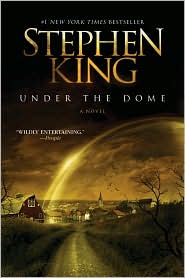 Synopsis
On an entirely normal, beautiful fall day in Chester's Mill, Maine, the town is inexplicably and suddenly sealed off from the rest of the world by an invisible force field. Planes crash into it and fall from the sky in flaming wreckage, a gardener's hand is severed as "the dome" comes down on it, people running errands in the neighboring town are divided from their families, and cars explode on impact. No one can fathom what this barrier is, where it came from, and when — or if — it will go away.
Dale Barbara, Iraq vet and now a short-order cook, finds himself teamed with a few intrepid citizens — town newspaper owner Julia Shumway, a physician's assistant at the hospital, a select-woman, and three brave kids. Against them stands Big Jim Rennie, a politician who will stop at nothing — even murder — to hold the reins of power, and his son, who is keeping a horrible secret in a dark pantry. But their main adversary is the Dome itself. Because time isn't just short. It's running out.
About the Author (like I need to tell you!)
from Barnes and Noble
Biography
Fiction powerhouse Stephen Edwin King was born in Portland, Maine, in 1947. As a student at the University of Maine at Orono, he wrote a weekly column for the school newspaper, became active in political causes, and met his wife, the former Tabitha Spruce. In the early years of his marriage, King augmented his meager teacher's salary by selling short stories to men's magazines. Then, in 1973 he hit pay dirt: his novel Carrie was accepted for publication, and a major paperback deal provided the means for him to leave teaching and concentrate full-time on writing. Since then, the prolific author has never looked back.
Dubbed the Master of the Macabre for his domination of the horror genre, King has also written bestselling thrillers, mysteries, fantasies, novellas, and short stories, many of which have been turned into blockbuster films and miniseries (A partial list includes Carrie, The Shining, The Stand,, Misery, It, The Shawshank Redemption, The Langoliers, Stand by Me, and The Green Mile). He also has two works of nonfiction to his credit: a gorgeously crafted memoir/scribbler's how-to (On Writing) and Faithful, a chronicle of the Boston Red Sox' stellar 2004 season, cowritten with Stewart O'Nan. In 2003, he received the National Book Foundation Medal for Distinguished Contribution to American Letters.
In between books, the indefatigable King performs in the Rock Bottom Remainders, a rock band that includes among its rotating personnel fellow authors Dave Barry and Amy Tan; attends as many Boston Red Sox games as is humanly possible; and contributes with his wife, Tabitha, to many local and national charities.
Good To Know
Don't believe everything you read about Stephen King. Among the gossip circulating about the scribe is the rumor that he is going blind. King assures his fans that while he is genetically predisposed to a disease called macular degeneration, which could result in blindness, he is not actually going blind.
King is probably one of the most easily recognizable authors alive, and it's not just because of his string of bestsellers. King has appeared in a number of films based on his work, including Pet Semetary, Thinner, and The Stand.
If you've ever wondered why Stephen King has written several books under the pseudonym Richard Bachman, there is actually a very simple explanation: King is so prolific that he felt it necessary to create an alter-ego so that he could publish more than one book a year. The name was a hastily hobbled together combination of writer Richard Stark (ironically, a pseudonym for Donald Westlake) and Randy Bachman of rock group Bachman-Turner Overdrive.
My Thoughts
What would happen if a dome suddenly appeared around a town, cutting it off from the rest of the world? That's what this book is all about. What happens from a scientific standpoint to the air, trees, water, etc? What happens to society? What questions get asked, like "Who is doing this?" and "Will it ever stop?"
I'm a big Stephen King fan. I have been since I first read The Stand at age 12. So I've been eager for this book.
At times King can be a little verbose, and I was tiring of the slow lollygagging way of the first 50 pages as King laid the groundwork for the rest of the story. I was impatient. I wanted to get to the meat! It was like nibbling on the bread while you wait for the meal to come.
But when the meal did finally arrive, the flavors were bold and satisfying!
This feels like old-school Stephen King. I haven't been the biggest fan of some of his books that I've tried reading over the last 10 years or so. I've started a couple that I just put down. But this one felt more like the old Stephen King I loved from my youth! This book feels similar to me as King's The Langoliers (found in
Four Past Midnight
).
A rich cast plays out this story, so rich in fact that there is a list of the cast in the beginning of the book to help you in keeping them all straight. Initially this was difficult, but then you "get to know them" and don't find it so difficult later on.
Enjoyable, closer to classic King, I "lika daf one" (as my friend's boy said when he was young). While it may not register as one of my favorites, like The Stand and The Long Walk, it will definitely hold its own for me up at the top of the Stephen King list. If you like King, if you like creepy and complex societal breakdown, definitely give this one a try!
My Rating: 8.5 out of 10