Available the week of 1/18/11: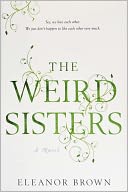 The Weird Sisters by Eleanor Brown
A major new talent tackles the complicated terrain of sisters, the power of books, and the places we decide to call home.
There is no problem that a library card can't solve.
The Andreas family is one of readers. Their father, a renowned Shakespeare professor who speaks almost entirely in verse, has named his three daughters after famous Shakespearean women. When the sisters return to their childhood home, ostensibly to care for their ailing mother, but really to lick their wounds and bury their secrets, they are horrified to find the others there. See, we love each other. We just don't happen to like each other very much. But the sisters soon discover that everything they've been running from-one another, their small hometown, and themselves-might offer more than they ever expected.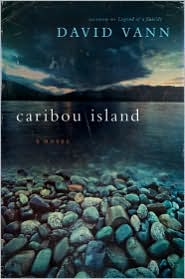 Caribou Island by David Vann
The prize-winning author of Legend of a Suicide delivers his highly anticipated debut novel.

On a small island in a glacier-fed lake on Alaska's Kenai Peninsula, a marriage is unraveling. Gary, driven by thirty years of diverted plans, and Irene, haunted by a tragedy in her past, are trying to rebuild their life together. Following the outline of Gary's old dream, they're hauling logs to Caribou Island in good weather and in terrible storms, in sickness and in health, to build the kind of cabin that drew them to Alaska in the first place.
But this island is not right for Irene. They are building without plans or advice, and when winter comes early, the overwhelming isolation of the prehistoric wilderness threatens their bond to the core. Caught in the emotional maelstrom is their adult daughter, Rhoda, who is wrestling with the hopes and disap-pointments of her own life. Devoted to her parents, she watches helplessly as they drift further apart.
Brilliantly drawn and fiercely honest, Caribou Island captures the drama and pathos of a husband and wife whose bitter love, failed dreams, and tragic past push them to the edge of destruction. A portrait of desolation, violence, and the darkness of the soul, it is an explosive and unforgettable novel from a writer of limitless possibility.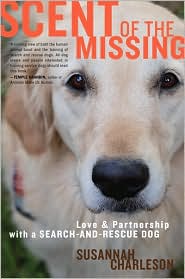 Scent of the Missing: Love and Partnership with a Search-and-Rescue Dog by Susannah Charleson
In the wake of the Oklahoma City bombing, Susannah Charleson clipped a photo from the newspaper: an exhausted canine handler, face buried in the fur of his search-and-rescue dog. A dog lover and pilot with search experience herself, Susannah was so moved by the image that she decided to volunteer with a local canine team and soon discovered firsthand the long hours, nonexistent pay, and often heart-wrenching results they face.
Still she felt the call, and once she qualified to train a dog of her own, she adopted Puzzle, a strong, bright Golden Retriever puppy who exhibited unique aptitudes as a working dog but who was less interested in the role of compliant house pet. Puzzle's willfulness and high drive, both assets in the field, challenged even Susannah, who had raised dogs for years.
Scent of the Missing is the story of Susannah and Puzzle's adventures together and of the close relationship they forge as they search for the lost—a teen gone missing, an Alzheimer's patient wandering in the cold, signs of the crew amid the debris of the space shuttle Columbia disaster. From the earliest air-scent lessons to her final mastery of whole-body dialog, Puzzle emerges as a fully collaborative partner in a noble enterprise that unfolds across the forests, plains, and cityscapes of the Southwest. Along the way Susannah and Puzzle learn to read the clues in the field, and in each other, to accomplish together the critical work neither could do alone and to unravel the mystery of the human/canine bond.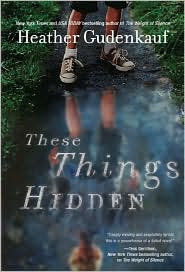 These Things Hidden by Heather Gudenkauf
When teenager Allison Glenn is sent to prison for a heinous crime, she leaves behind her reputation as Linden Falls' golden girl forever. Her parents deny the existence of their once-perfect child. Her former friends exult her downfall. Her sister, Brynn, faces whispered rumors every day in the hallways of their small Iowa high school. It's Brynn—shy, quiet Brynn—who carries the burden of what really happened that night. All she wants is to forget Allison and the past that haunts her.
But then Allison is released to a halfway house, and is more determined than ever to speak with her estranged sister.
Now their legacy of secrets is focused on one little boy. And if the truth is revealed, the consequences will be unimaginable for the adoptive mother who loves him, the girl who tried to protect him and the two sisters who hold the key to all that is hidden.
Also available this week: