Mailbox Monday is brought to us by
The Printed Page
.
In my mailbox last week I got:
Winnings...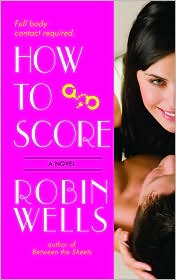 How To Score by Robin Wells
Won from Beth's Book Review Blog
HER LIFE COACH
Museum curator Sammi Matthews isn't just in a dating slump, she's putting men on the injured list. After giving one date a black eye and cracking another's rib, Sammi decides she needs professional help. Enter life coach Luke Jones, who advises Sammi on how to overcome her klutziness. And their phone sessions work! Sammi soon meets a sexy FBI agent who seems to know just what she needs.
IS CHANGING HER LIFE
When his brother Luke goes into federal protection, FBI Special Agent Chase Jones agrees to cover for him. Then Sammi's hot voice sizzles down the line, and the usual "phone only" rule is out. With "Luke" coaching her by day, and Chase dating her by night, Sammi's confidence soars, along with her appeal. Chase falls hard, but how will Sammi feel if and when he comes clean? Chase would rather she break all his bones than risk breaking her heart.
IN WAYS SHE'S NEVER IMAGINED!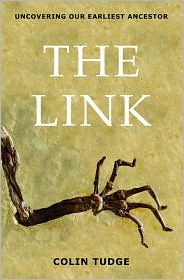 The Link: Uncovering Our Earliest Ancestor by Colin Tudge
Won from Luxury Reading
For more than a century, scientists have raced to unravel the human family tree and have grappled with its complications. Now, with an astonishing new discovery, everything we thought we knew about primate origins could change. Lying inside a high-security vault, deep within the heart of one of the world's leading natural history museums, is the scientific find of a lifetime - a perfectly fossilized early primate, older than the previously most famous primate fossil, Lucy, by forty-four million years.
A secret until now, the fossil - "Ida" to the researchers who have painstakingly verified her provenance - is the most complete primate fossil ever found. Forty-seven million years old, Ida rewrites what we've assumed about the earliest primate origins. Her completeness is unparalleled - so much of what we understand about evolution comes from partial fossils and even single bones, but Ida's fossilization offers much more than that, from a haunting "skin shadow" to her stomach contents. And, remarkably, knowledge of her discovery and existence almost never saw the light of day.
With exclusive access to the first scientists to study her, the award-winning science writer Colin Tudge tells the history of Ida and her place in the world. A magnificent, cutting-edge scientific detective story followed her discovery, and TheLink offers a wide-ranging investigation into Ida and our earliest origins. At the same time, it opens a stunningly evocative window into our past and changes what we know about primate evolution and, ultimately, our own.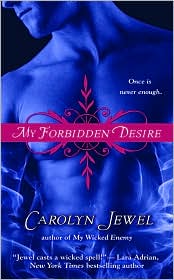 My Forbidden Desire by Carolyn Jewel
Won from Yankee Romance Reviews
TORN BETWEEN...
Alexandrine Marit is a witch in mortal danger. An evil mage craves the powerful, mysterious talisman that supplies her magic, and the only person who can keep her safe is a dark and dangerous fiend called Xia. With his fierce animosity toward witches, he's hardly the ideal bodyguard. Yet as days turn into nights, she can't deny the white-hot passion between them.
DESIRE AND TEMPTATION
Xia hates witches. They enslave and mercilessly kill his kind. But he's been ordered to protect Alexandrine, who, to his surprise, has a spirit he admires and a body he longs to possess. With the mage and his henchmen closing in, Alexandrine and her protector must trust the passion that can unite them...or risk losing everything to the enemies who can destroy them both.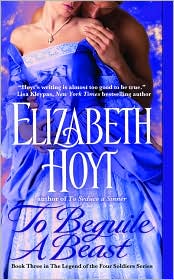 To Beguile a Beast by Elizabeth Hoyt
Won from Bookwormy Girl
CAN A WOUNDED BEAST . . .
Reclusive Sir Alistair Munroe has hidden in his castle ever since returning from the Colonies, scarred inside and out. But when a mysterious beauty arrives at his door, the passions he's kept suppressed for years begin to awaken.
TRUST A BEAUTY WITH A PAST . . .
Running from past mistakes has taken legendary beauty Helen Fitzwilliam from the luxury of the ton to a crumbling Scottish castle . . . and a job as a housekeeper. Yet Helen is determined to start a new life and she won't let dust-or a beast of a man-scare her away.
TO TAME HIS MOST SECRET DESIRES?
Beneath Helen's beautiful façade, Alistair finds a courageous and sensual woman. A woman who doesn't back away from his surliness-or his scars. But just as he begins to believe in true love, Helen's secret past threatens to tear them apart. Now both Beast and Beauty must fight for the one thing neither believed they could ever find-a happy ever after.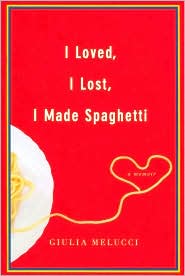 I Loved, I Lost, I Made Spaghetti by Giulia Melucci
Won from Chocolate and Croissants
From failure to fusilli, this deliciously hilarious read tells the story of Giulia Melucci's fizzled romances and the mouth-watering recipes she used to seduce her men, smooth over the lumps, and console herself when the relationships flamed out.
From an affectionate alcoholic, to the classic New York City commitment-phobe, to a hipster aged past his sell date, and not one, but two novelists with Peter Pan complexes, Giulia has cooked for them all. She suffers each disappointment with resolute cheer (after a few tears) and a bowl of pastina (recipe included) and has lived to tell the tale so that other women may go out, hopefully with greater success, and if that's not possible, at least have something good to eat.
Peppered throughout Giulia's delightful and often poignant remembrances are fond recollections of her mother's cooking, the recipes she learned from her, and many she invented on her own inspired by the men in her life. Readers will howl at Giulia's boyfriend-littered past and swoon over her irresistable culinary creations.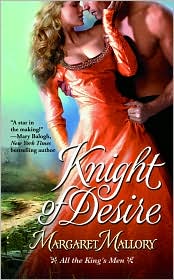 Knight of Desire by Margaret Mallory
Won from Books and Needlepoint
FEARLESS IN BATTLE
His surcoat still bloody from battle, William FitzAlan comes to claim the strategic borderlands granted to him by the king. One last prize awaits him at the castle gates: the lovely Lady Catherine Rayburn.
TENDER IN BED
Catherine risked everything to spy for the crown. Her reward? Her lands are declared forfeit and she is given this choice: marry FitzAlan or be taken to the Tower. Catherine agrees to give her handsome new husband her body, but she's keeping secrets, and dare not give him her heart. As passion ignites and danger closes in, Catherine and William must learn to trust in each other to save their marriage, their land, and their very lives.
KNIGHT OF DESIRE
Shiver by Maggie Stiefvater
Won from Laura's Review Bookshelf
For years, Grace has watched the wolves in the woods behind her house. One yellow-eyed wolf--her wolf--is a chilling presence she can't seem to live without. Meanwhile, Sam has lived two lives: In winter, the frozen woods, the protection of the pack, and the silent company of a fearless girl. In summer, a few precious months of being human . . . until the cold makes him shift back again.
Now, Grace meets a yellow-eyed boy whose familiarity takes her breath away. It's her wolf. It has to be. But as winter nears, Sam must fight to stay human--or risk losing himself, and Grace, forever.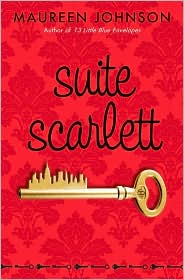 Suite Scarlett by Maureen Johnson
Won from Laura's Review Bookshelf
Her new summer job comes with baggage.

Scarlett Martin has grown up in a most unusual way. Her family owns the Hopewell, a small hotel in the heart of New York City, and Scarlett lives there with her four siblings - Spencer, Lola, and Marlene.

When each of the Martins turns fifteen, they are expected to take over the care of a suite in the once elegant, now shabby Art Deco hotel. For Scarlett's fifteenth birthday, she gets both a room called the Empire Suite, and a permanent guest called Mrs. Amberson.

Scarlett doesn't quite know what to make of this C-list starlet, world traveler, and aspiring autobiographer who wants to take over her life. And when she meets Eric, an astonishingly gorgeous actor who has just moved to the city, her summer takes a second unexpected turn.

Before the summer is over, Scarlett will have to survive a whirlwind of thievery, Broadway glamour, romantic missteps, and theatrical deceptions. But in the city where anything can happen, she just might be able to pull it off.
Bought for myself...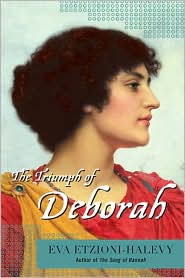 The Triumph of Deborah by Eva Etzioni-Halevy
The richly imagined tale of Deborah, the courageous Biblical warrior who saved her people from certain destruction
In ancient Israel, war is looming. Deborah, a highly respected leader, has coerced the warrior Barak into launching a strike against the neighboring Canaanites. Against all odds he succeeds, returning triumphantly with Asherah and Nogah, daughters of the Canaanite King, as his prisoners. But military victory is only the beginning of the turmoil, as a complex love triangle develops between Barak and the two princesses.
Deborah, recently cast off by her husband, develops a surprising affinity for Barak. Yet she struggles to rebuild her existence on her own terms, while also groping her way toward the greatest triumph of her life.
Filled with brilliantly vivid historical detail, The Triumph of Deborah is the absorbing and riveting tale of one of the most beloved figures in the Old Testament, and a tribute to feminine strength and independence.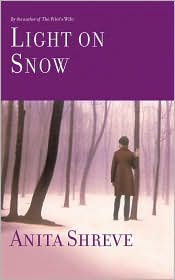 Light on Snow by Anita Shreve
A brilliant and beautiful contemporary novel about love and memory from the author of the bestselling novels All He Ever Wanted and The Pilot's Wife.
The events of a December afternoon, during which a father and his daughter find an abandoned infant in the snow, will forever alter the 11-year-old girl's understanding of the world and the adults who inhabit it: a father who has taken great pains to remove himself from society in order to put an unthinkable tragedy behind him; a young woman who must live with the consequences of the terrible choices she has made; and a detective whose cleverness is exceeded only by his sense of justice.
Written from the point of view of 30-year-old Nicky as she recalls the vivid images of that fateful December, her tale is one of love and courage, of tragedy and redemption, and of the ways in which the human heart always seeks to heal itself.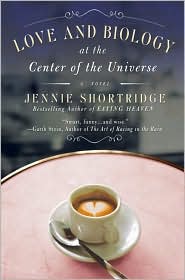 Love and Biology at the Center of the Universe by Jennie Shortridge
"An accomplished and superior novelist" (Statesman Journal) delivers a bittersweet book about a woman's midlife crisis that asks: How does a good girl know when to finally let herself be bad?
When she learns that her college sweetheart husband has been seeing another woman, Mira Serafino's perfect world is shattered and she wants no one, least of all her big Italian family, to know. She heads north—with no destination and little money— stopping only when her car breaks down in Seattle. She takes a job at the offbeat Coffee Shop at the Center of the Universe, where she'll experience a terrifying but invigorating freedom, and meet someone she'll come to love: the new Mira.