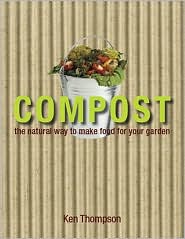 Compost: The Gardener's Essential Compost and Recycling Bible by Kenneth Thompson
The most practical book that all gardeners have been waiting for, this fun and informative guide shows how to make the best compost using ingredients that are easily found around the house.
My Thoughts
In this economy, so many people are trying to cut corners everywhere they can. Many people are opting to do backyard gardening to save on their food bills. Composting is not only a great way to help you grow a healthy garden to fee your family, but it is a great way to lower your garbage waste. You wouldn't believe the things that you can compost! Here's a link to
163 Things You Can Compost
.
This book covers the basics of compost: what it is, how to make it, the different types of compost bins, how to use compost.
Thanks to this book, I now have my own compost that is cooking. If you wanted to learn more about compost, this book is a good choice.
* Publisher: DK Publishing, Inc.
* Pub. Date: February 2007
* ISBN-13: 9780756613419
* 192pp