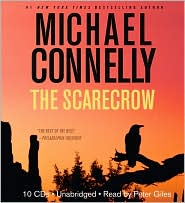 The Scarecrow by Michael Connelly
Forced out of the Los Angeles Times amid the latest budget cuts, newspaperman Jack McEvoy decides to go out with a bang, using his final days at the paperto write the definitive murder story of his career.

He focuses on Alonzo Winslow, a 16-year-old drug dealer in jail after confessing to a brutal murder. But as he delves into the story, Jack realizes that Winslow's so-called confession is bogus. The kid might actually be innocent.

Jack is soon running with his biggest story since The Poetmade his career years ago. He is tracking a killer who operates completely below police radar—and with perfect knowledge of any move against him. Including Jack's.
My Thoughts
Jack's had a bad day. He's been let go from his position at the LA Times, chewed out by an infuriated mother/grandmother, extorted by a gang member, usurped by a fledgling young reporter, and now he finds himself at the center of a brutal murder investigation.
I found this story entertaining and engaging. What I really loved was the narrator Peter Giles. He really brought the characters to life in a way that I had not experienced previously with other audiobooks. He has a flair for voices, and they come off realistic (my last audiobook, BoneMan's Daughters, was a little distracting to me, because the reader's voices sounded so fake and goofy-- primarily when he was reading a female character). Giles is brilliant as the narrator of The Scarecrow! I almost forgot that I was listening to only one person, and he flowed from character to character seamlessly.
The storyline is good and fairly thorough. Personally for me stories like these are "fluff" stories the same as romance novels. I don't read them expecting a story that I can really lose myself in, but am just looking for an enjoyable and entertaining diversion. This one fit the bill.
I think that this might have been my first Michael Connelly novel, and I would definitely read or listen to another of his.
Be forewarned that there is quite a bit of vulgarity in this one! If you can handle that, and you enjoy thrillers and suspense and murder mysteries, then I would strongly recommend this one for you!
Publisher: Hachette Audio

Pub. Date: May 2009

ISBN-13: 9781600245749

Edition Description: Unabridged, 10 CDs
My Rating: 8 out of 10