What's Releasing the week of 8/24: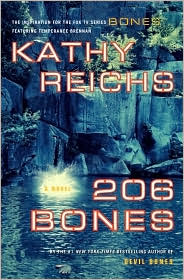 206 Bones (Temperance Brennan Series #12)
by Kathy Reichs
There are 206 bones in the human body. Forensic anthropologists know them intimately, can read in them stories of brief or long lives, and use them to reconstruct every kind of violent end.

The twelfth Temperance Brennan novel from Kathy Reichs, 206 Bones opens with Tempe regaining consciousness and discovering that she is in some kind of very small, very dark, very cold enclosed space. She is bound, hands to feet. Is she buried alive? In some kind of cell? Who wants Tempe dead, or at least out of the way, and why? Tempe begins slowly to reconstruct...

Tempe and Lieutenant Ryan had accompanied the recently discovered remains of a missing heiress from Montreal to the Chicago morgue. Suddenly, Tempe was accused of mishandling the autopsy — and the case. Someone made an incriminating phone call. Within hours, the one man with information about the call was dead. Back in Montreal, the corpse of a second elderly woman was found in the woods, and then a third.

Seamlessly weaving between Tempe's present-tense terror and her memory of the cases of these murdered women, Reichs conveys the incredible devastation that would occur if a forensic colleague sabotaged work in the lab. The chemistry between Tempe and Ryan intensifies as this complex, riveting tale unfolds.

With a popular series on FOX — now in its fifth season and in full syndication — Kathy Reichs is firmly established as a dominant talent inforensic mystery writing. Her signature blend of forensic descriptions that "chill to the bone" (Entertainment Weekly) and intense suspense have made her a number one New York Times bestseller and worldwide phenomenon.
Alex Cross's Trial
by James Patterson and Richard DiLallo
The year is 1906, and America is segregated. Hatred and discrimination plague the streets, the classroom, and the courts. But in Washington, D.C., Ben Corbett, a smart and courageous lawyer, makes it his mission to confront injustice at every turn. He represents those who nobody else dares defend, merely because of the color of their skin. When President Roosevelt, under whom Ben served in the Spanish-American war, asks Ben to investigate rumors of the resurgence of the Ku Klux Klan in his hometown in Mississippi, he cannot refuse.

The details of Ben's harrowing story -- and his experiences with a remarkable man named Abraham Cross -- were passed from generation to generation, until they were finally recounted to Alex Cross by his grandmother, Nana Mama. From the first time he heard the story, Alex was unable to forget the unimaginable events Ben witnessed in Eudora and pledged to tell it to the world. Alex Cross's Trial is unlike any story Patterson has ever told, but offers the astounding action and breakneck speed of any Alex Cross novel.
Tricks by Ellen Hopkins

"When all choice is taken from you, life becomes a game of survival."

Five teenagers from different parts of the country. Three girls. Two guys. Four straight. One gay. Some rich. Some poor. Some from great families. Some with no one at all. All living their lives as best they can, but all searching...for freedom, safety, community, family, love. What they don't expect, though, is all that can happen when those powerful little words "I love you" are said for all the wrong reasons.

Five moving stories remain separate at first, then interweave to tell a larger, powerful story — a story about making choices, taking leaps of faith, falling down, and growing up. A story about kids figuring out what sex and love are all about, at all costs, while asking themselves, "Can I ever feel okay about myself?"

A brilliant achievement from New York Times best-selling author Ellen Hopkins — who has been called "the bestselling living poet in the country" by mediabistro.com — Tricks is a book that turns you on and repels you at the same time. Just like so much of life.
Also available this week: