Mailbox Monday is brought to us by
The Printed Page
.
In my mailbox last week I got:
Winnings...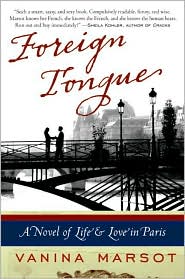 Foreign Tongue: A Novel of Life & Love in Paris
by Vanina Marsot
Won from Book Chatter and Other Stuff
Paris, the storybook capital of romance—of strolls down cobblestone streets and kisses by the Seine—may not be the ideal location to mend a wounded heart. But pragmatic professional writer Anna, who has been unlucky in love in L.A., has come here with keys to her aunt's empty apartment. Bilingual and blessed with dual citizenship, she seeks solace in the delectable pastries, in the company of old friends, and in her exciting new job: translating a mysterious, erotic French novel by an anonymous author.

Intrigued by the story, and drawn in by the mystery behind the book, Anna soon finds herself among the city's literati—and in the arms of an alluring Parisian—as she resolves to explore who she is . . . in both cultures.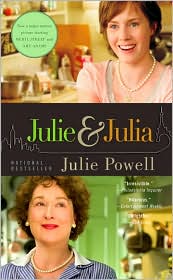 Julie & Julia by Julie Powell
Won from
Just Another New Blog
With the humor of Bridget Jones and the vitality of Augusten Burroughs, Julie Powell recounts how she conquered every recipe in Julia Child's Mastering the Art of French Cooking and saved her soul.

Julie Powell is 30 years old, living in a tiny apartment in Queens and working at a soul-sucking secretarial job that's going nowhere. She needs something to break the monotony of her life, and she invents a deranged assignment. She will take her mother's worn, dog-eared copy of Julia Child's 1961 classic Mastering the Art of French Cooking, and she will cook all 524 recipes -- in the span of one year.

At first she thinks it will be easy. But as she moves from the simple Potage Parmentier (potato soup) into the more complicated realm of aspics and crepes, she realizes there's more to Mastering the Art of French Cooking than meets the eye.

And somewhere along the line she realizes she has turned her outer-borough kitchen into a miracle of creation and cuisine. She has eclipsed her life's ordinariness through spectacular humor, hysteria, and perseverance.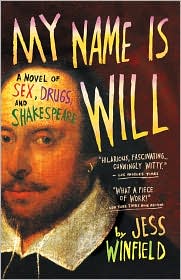 My Name is Will: A Novel of Sex, Drugs, and Shakespeare by Jess Winfield
Won from Sweeps4Bloggers
A Tale of two Shakespeares...

Struggling UC Santa Cruz grad student Willie Shakespeare Greenberg is trying to write his thesis about the Bard. Kind of...

Cut off by his father for laziness, and desperate for dough, Willie agrees to deliver a single giant, psychedelic mushroom to a mysterious collector, making himself an unwitting target in Ronald Reagan's War on Drugs.

Meanwhile, would-be playwright (and oppressed Catholic) William Shakespeare is eighteen years old and stuck teaching Latin in the boondocks of Stratford-upon-Avon. The future Bard's life is turned upside down when a stranger entrusts him with a sacred relic from Rome... This, at a time when adherents of the "Old Faith" are being hanged, drawn, and quartered as traitors.

Seemingly separated in time and place, the lives of Willie and William begin to intersect in curious ways, from harrowing encounters with the law (and a few ex-girlfriends) to dubious experiments with mind-altering substances. Their misadventures could be dismissed as youthful folly. But wise or foolish, the bold choices they make will shape not only the 'Shakespeare' each is destined to come... but the very course of history itself.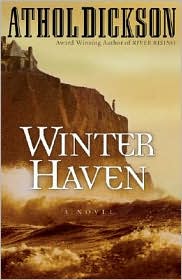 Winter Haven by Athol Dickson
Won from
Tree Swing Reading
Thirteen years ago, Siggy Gamble ran away from home never to be found—until his body washes ashore on the tiny island of Winter Haven off the coast of Maine. Now his sister, Vera, travels north to claim the body, and finds herself tangled in the impossible.

Her brother hasn't aged a day since last she saw him. Determined to uncover the cause of Siggy's mysterious end, Vera soon learns there are many secrets haunting the island. Hemmed in by unearthly fog, distrusted by the locals, and forced to rely on the enigmatic owner of a grand but dilapidated mansion poised on a rocky cliff, will Vera's desperate questions lead to answers, or will her story become yet one more dark Winter Haven legend?