Books that are releasing the week of 10/19/10:
Crescendo by Becca Fitzpatrick
The sequel to the New York Times Best selling phenomenon, Hush, Hush!
Nora should have know her life was far from perfect. Despite starting a relationship with her guardian angel, Patch (who, title aside, can be described anything but angelic), and surviving an attempt on her life, things are not looking up. Patch is starting to pull away and Nora can't figure out if it's for her best interest or if his interest has shifted to her arch-enemy Marcie Millar. Not to mention that Nora is haunted by images of her father and she becomes obsessed with finding out what really happened to him that night he left for Portland and never came home.
The farther Nora delves into the mystery of her father's death, the more she comes to question if her Nephilim blood line has something to do with it as well as why she seems to be in danger more than the average girl. Since Patch isn't answering her questions and seems to be standing in her way, she has to start finding the answers on her own. Relying too heavily on the fact that she has a guardian angel puts Nora at risk again and again. But can she really count on Patch or is he hiding secrets darker than she can even imagine?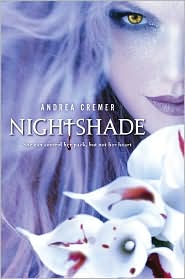 Nightshade by Andrea R. Cremer
Calla Tor has always known her destiny: After graduating from the Mountain School, she'll be the mate of sexy alpha wolf Ren Laroche and fight with him, side by side, ruling their pack and guarding sacred sites for the Keepers. But when she violates her masters' laws by saving a beautiful human boy out for a hike, Calla begins to question her fate, her existence, and the very essence of the world she has known. By following her heart, she might lose everything— including her own life. Is forbidden love worth the ultimate sacrifice?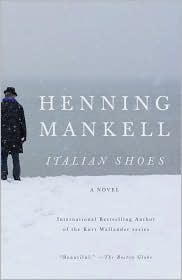 Italian Shoes by Henning Mankell
"Living on a tiny island entirely surrounded by ice during the long winter months, Fredrik Welin is so lost to the world that he cuts a hole in the ice every morning and lowers himself into the freezing water to remind himself that he is alive. Haunted by memories of the terrible mistake that drove him to abandon a successful career as a surgeon, he lives in a stasis so complete an anthill grows undisturbed in his living room." "Then an unexpected visitor alters his life completely: Harriet, whom he inexplicably abandoned in the midst of their youthful romance, turns up decades after they last saw each other and demands that Fredrik fulfill an old promise and take her to the forest pool he visited as a youth. Thus begins their eccentric, elegiac journey, leading to undreamt-of connections." A moving tale of loss and redemption, Italian Shoes is a testament to the unpredictability of life, which breeds hope even in the face of tragedy.
Also available this week: