Books releasing the week of 10/26/10:
Dreamfever (Fever Series #4) by Karen Marie Moning
They may have stolen my past, but I'll never let them take my future.
When the walls between Man and Fae come crashing down, freeing the insatiable, immortal Unseelie from their icy prison, MacKayla Lane is caught in a deadly trap. Captured by the Fae Lord Master, she is left with no memory of who or what she is: the only sidhe-seer alive who can track the Sinsar Dubh, a book of arcane black magic that holds the key to controlling both worlds.
Clawing her way back from oblivion is only the first step Mac must take down a perilous path, from the battle-filled streets of Dublin to the treacherous politics of an ancient, secret sect, through the tangled lies of men who claim to be her allies into the illusory world of the Fae themselves, where nothing is as it seems—and Mac is forced to face a soul-shattering truth.
Who do you trust when you can't even trust yourself?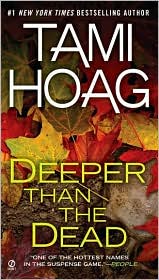 Deeper Than the Dead by Tami Hoag
When three children stumble on a shallow grave in 1984, an idyllic California community is rocked to its core. The victim is a young woman, her eyes and lips sealed closed, a blind and silent witness to an unspeakable crime. The third victim in two years' time, it's clear that a serial killer has come calling.

As a member of the FBI's fledgling criminal profiling unit, Special Agent Tony Mendez knows serial killers. It quickly becomes apparent that the See-No-Evil killer is no ordinary psychopath. The profile paints a portrait of a man easily trusted, well respected, and intelligent--a man no one would suspect.

Dr. Peter Crane fits the bill. A pillar of the community, he volunteers at a center for disadvantaged women--a center the victims had all attended. Crane is also a beloved husband and father to a ten-year-old son, Tommy, who was one of the three children to discover the grave. Needing insight into Peter Crane's world, Mendez asks Anne Navarre, Tommy's...
Also available this week: