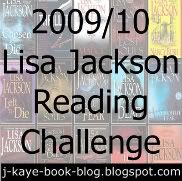 Well there are some Lisa Jackson books that I still want to check out. I wasn't thrilled with the first book I read (Hot Blooded), but I want to give her another shot and try a few more. So I'm going to join the
2009/10 Lisa Jackson Reading Challenge
.
Guidelines:
1) Create a list of the Lisa Jackson books you'd like to read between now and December 31, 2010. Don't include books you've read prior to or started before 7/18/09.
2) This reading challenge is for participants with a blog. If you decide to participate in the 2009/2010 Lisa Jackson Reading Challenge, create a post on your blog telling others about this event. In your post, be sure to include the link to this post on your blog. That way others can find their way here and join in the fun.
3) If you want to have your reading list on your blog's right sidebar, then please include a link to this post.
4) Audio and eBooks count.
5) You can join anytime between now and the later part of next year.
6) When you sign up under Mr. Linky, list the direct link to your post where your library books will be listed. If you list just your blog's URL, it will be removed. If you don't have a blog, leave the URL blank.
7) Set the number of books you'd like to read ahead of time. The amount can be up to you. You can change out titles if you'd like, just try and accomplish the number you set out to complete.
8) There will be a place for you to link your reviews, but this is optional.
9) When you have completed your number of Lisa Jackson books, link your completed list to the completed page. One will be set up.
10)If you have any questions, feel free to email at jkayeoldner@yahoo.com or leave comments on the original sign-up post with questions.
I have decided to commit to reading 5 Lisa Jackson books in the next 18 months or so. Here is my current list of books I'd like to read:
Cold Blooded

Shiver

Absolute Fear

Almost Dead

Lost Souls

Check back to see how I do!