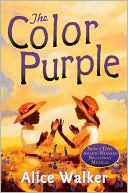 Barnes and Nobles Synopsis



Celie is a poor black woman whose letters tell the story of 20 years of her life, beginning at age 14 when she is being abused and raped by her father and attempting to protect her sister from the same fate, and continuing over the course of her marriage to "Mister," a brutal man who terrorizes her. Celie eventually learns that her abusive husband has been keeping her sister's letters from her and the rage she feels, combined with an example of love and independence provided by her close friend Shug, pushes her finally toward an awakening of her creative and loving self.
I may have never thought to read this book if it hadn't been for me joining the
Battle of the Prizes Challenge
hosted by
Rose City Reader
.
But I am so glad that I did! This book was the winner of both the Pulitzer Prize and the National Book Award, and now I can understand why. So I'm not sure why I'm having such a hard time reviewing this book. Maybe it's just me. Maybe my brain just isn't work well right now!
This story covers the life of Celie, a damaged and down-trodden black women living in the early 1900s. It follows her through years of physical, emotional and psychological abuse, and her resignation to it and to her lot in life. The one thing that sustains her through her life is her love for her sister Nettie, from whom she is separated. We get to know Celie through her writings to God, like diary entries, and later the writings of sisters Celie and Nettie to one another.
The Barnes and Noble synopsis says that this covers 20 years of Celie's life, but I would think that is inaccurate. By the end of the story, the women are plump and gray-haired. They are definitely older than the 34 years of age that the synopsis would put them at!
Celie has a childhood of abuse, being raised by an indifferent father after her mother dies. Even while her mother was alive, he began an incestuous relationship with Celie, raping her for the first time when she is 14. Her father marries her off to a man she doesn't even know, and she simply moves from one horrible homelife to another. Eventually she meets a woman that everyone calls Shug (like "sugar"), and Shug becomes a vital person to Celie over time and to her growth as a person.
Celie may not realize it early on in her life, but she really is a strong woman. She only learns this later on through the love of Shug.
I liked Celie. I really did. She was walked all over so much that she really underestimated herself. She built a wall around herself and didn't want to let anyone in. She became like steel-- rigid and nearly indestructible. I just kept rooting for her, hoping she would catch a break, that she would find herself and realize the power she had.
There are many "unlikeable" characters in this book, and some characters that you feel somewhat indifferent about. But this story is really one of hope and redemption, and many of those unlikeable or indifferent characters experience a certain redemption before the book ends. And the author did so well at making me care about Celie that by the last chapter it only took the final chapter introduction to make me break down in tears, although I wasn't even sure yet whether they would be tears of happiness or tears of sorrow.
This was a very good book. If you haven't already read this classic, add it to your Wish List!
Product Details
* Paperback: 300 pages
* Publisher: Harvest Books (May 28, 2003)
* ISBN-10: 0156028352
* ASIN: B002CMLRCY
My Rating: 8.5 out of 10