Mailbox Monday is brought to us by
The Printed Page
.
In my mailbox last week I got: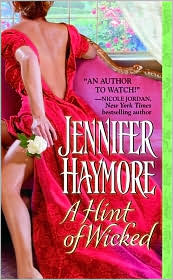 A Hint of Wicked by Jennifer Haymore
Won through
Maria's Space
CAUGHT BETWEEN DUTY AND DESIRE . . .



Sophie, the Duchess of Calton, has finally moved on. After seven years mourning the loss of her husband, Garrett, at Waterloo, she has married his cousin and heir, Tristan. Sophie gives herself to him body and soul. . . until the day Garrett returns from the Continent, demanding his title, his lands-and his wife.

TORN BETWEEN TWO HUSBANDS . . .

Now Sophie must choose between her first love and her new love, knowing that no matter what, her choice will destroy one of the men she adores. Will it be Garrett, her childhood sweetheart, whose loss nearly destroyed her once already? Or will it be Tristan, beloved friend turned lover, who supported her through the last, dark years and introduced her to a passion she had never known? As her two husbands battle for her heart, Sophie finds herself immersed in a dangerous game-where the stakes are not only love . . . but life and death.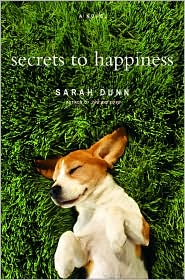 Secrets to Happiness by Sarah Dunn
Won through
Bookin' with Bingo
Holly Frick has just endured the worst kind of breakup: the kind where you're still in love with the person leaving you. While her wounds are still dangerously close to the surface, her happily married best friend confesses over a bottle of wine that she is this close to having an affair. And another woman comes to Holly for advice about her love life--with Holly's ex!

Holly decides that if everyone around her can take pleasure wherever they find it, so will she. As any self-respecting 30ish New York woman would do, she brings two males into her life: a flawed but endearing dog, and a good natured, much younger lover. She's soon entangled in a web of emails, chance meetings, and misguided good intentions and must forge an entirely new path to Nirvana.

From the author of The Big Love, Secrets to Happiness is a big-hearted, knife-sharp, and hilariously entertaining story about the perils of love and friendship, sex and betrayal--and a thoroughly modern take on our struggle to be happy.
I won TWO giveaways from the
Readaholic
this week!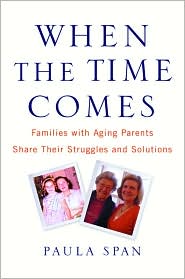 When the Time Comes by Paula Span
What will you do when you get the call that a loved one has had a heart attack or a stroke? Or when you realize that a family member is too frail to live alone, but too healthy for a nursing home?

Journalist Paula Span shares the resonant narratives of several families who faced these questions. Each family contemplates the alternatives in elder care (from assisted living to multigenerational living to home care, nursing care, and at the end, hospice care) and chooses the right path for its needs. Span writes about the families' emotional challenges, their practical discoveries, and the good news that some of them find a situation that has worked for them and their loved ones. And many find joy in the duty of caring for an older loved one.

There are 45 million Americans caring for family members currently, and as the 77 million boomers continue to age, this number will only go up. Paula Span's stories are revealing and informative. They give a sense of all the emotional and practical factors that go into the major decisions about caregiving, so that readers will be better able to figure out what to do when the time comes for them and their loved ones.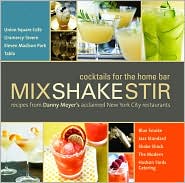 Mix, Shake, Stir by Danny Meyers
The bartenders at Danny Meyer's wildly popular restaurants are known for their creative concoctions. Guests at Union Square Café or Gramercy Tavern expect not only the finest cuisine but also Meyer's special brand of hospitality that often begins with a Venetian Spritz or a Cranberry Daiquiri. In MIX SHAKE STIR, Meyer offers all the tips and tools needed to become a masterful mixologist and supplements the cocktail recipes with gourmet takes on bar snacks. There are over 100 recipes of bar classics, signature favorites, and original, refreshing libations--from the Modern's elegant mojito made with champagne and rose water to Tabla's Pomegranate Gimlet. Shaken or stirred, straight up or on the rocks, these cocktails make this collection an invaluable resource for elegant entertaining.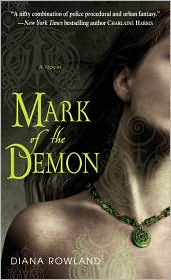 Mark of the Demon by Diana Rowland
Won from Katrina of
Stone Soup
Cop and conjurer of demons, she's a woman in danger of losing control—to a power that could kill....

Why me? Why now? That's what Beaulac, Louisiana, detective Kara Gillian was asking herself when an angelic creature named Rhyzkahl unexpectedly appeared during a routine summoning. Kara was hoping to use her occult skills to catch a serial killer, but never had she conjured anything like this unearthly beautiful and unspeakably powerful being whose very touch set off exquisite new dimensions of pleasure. But can she enlist his aid in helping her stop a killer who's already claimed the lives—and souls—of thirteen people? And should she? The Symbol Man is a nightmare that the city thought had ended three years ago. Now he's back for an encore and leaving every indication on the flesh of his victims that he, too, is well versed in demonic lore.

Kara may be the only cop on Beaulac's small force able to stop the killer, but it is her first homicide case. Yet with Rhyzkahl haunting her dreams, and a handsome yet disapproving FBI agent dogging her waking footsteps, she may be in way over her head...
Prey by Rachel Vincent
Won from
Fang-tastic Books
Sometimes playing cat and mouse is no game…

Play? Right. My Pride is under fire from all sides, my father's authority is in question and my lover is in exile. Which means I haven't laid eyes on Marc's gorgeous face in months. And with a new mother and an I-know-everything teenager under my protection, I don't exactly have time to fantasize about ever seeing him again.

Then our long-awaited reunion is ruined by a vicious ambush by strays. Now our group is under attack, Marc is missing and I will need every bit of skill and smarts to keep my family from being torn apart. Forever.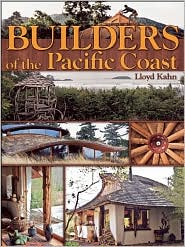 Builders of the Pacific Coast by Lloyd Khan
Won through
Beth's Book Review Blog
A continuation of Lloyd Kahn's journeys into the creative processes of owner-built homes — their innovative techniques, use of sustainable materials, and essential dedication to the natural elements surrounding their designs — Builders of the Pacific Coast explores the aesthetics and skills of three master builders in California, Washington state, and the rugged terrain of British Columbia. The three featured craftsmen — Lloyd House, Bruce Atkey, and Sun Ray Kelley — combine imaginative architecture with innovative contexts: everything from unusual house-boats to sculptural dwellings made of driftwood are included. With stunning color and black-and-white photographs, as well as detailed black-and-white drawings of the homes, this collection of unique and progressive designs creates a template for a future filled with forward-thinking architecture.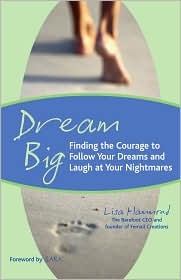 Dream Big: Finding the Courage to Follow Your Dreams and Laugh at Your Nightmares by Lisa Hammond
Won in a box of items from
She Saved
Lisa Hammond laughed, and cried, a lot on her way making Femail Creations the successful, woman-based company it is today.

Dream Big

is a tell-all, whopping inspiration of a book. If you're searching for your life's calling-- whether it's beginning a business, founding a charity, raising a family--

Dream Big

can help you find it. If you know what your dream is,

Dream Big

will help you achieve it.
Ageing Well by Dr. George Cromack
I got this book for review from Bostick Communications and the author
Tired of doctors who don't listen and medicines that only make you sicker?

There is a reason why more and more people today are turning off to traditional healthcare and turning on to alternative therapies and natural medicines-and it's not just because they're more affordable.

Ageing Well not only explores the latest health practices but takes you on a journey that examines the most beneficial ways you can make your body healthy and strong.

In Ageing Well, you'll learn about:

-Chiropractic techniques and how they should be done

-The effects of the foods we eat

-The invaluable benefits of Superfoods, antioxidants, probiotics, and enzymes

-The techniques of ridding your body of inner and outer toxins

-The types of exercises that will have you up and moving - and feeling great again

Step by step you can improve your health and rejuvenate your life!
In addition to these books, I also bought some books at Books-a-Million last night. They had a "Buy 4 get the 5th free" deal on some paperbacks. So I picked up
The Good Guy
and
Darkest Evening of the Year
by Dean Koontz,
Savage
by Richard Laymon,
Dead Sea
and
Ghoul
by Brian Keene. I also picked up
The Sleeping Beauty Proposal
on clearance for $3.57 with my discount.
I have a problem. My name is Heather, and I'm a bibliophile...