Mailbox Monday is brought to us by
The Printed Page
.
In my mailbox last week I got:
Winnings...
Visions of America

by Jean Koning
Won from
Confessions of a Book Habitue
Since I can't find this on Amazon or Barnes and Noble, see the
original giveaway post
for information about this book.
Enjoy Your Money

by J. Steve Miller
I have no idea where this book came from. I don't have it on my list of books that I am expecting, and it doesn't look like the type of book that I would normally request for review. But here it is.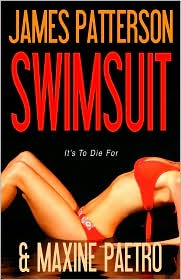 Swimsuit

by James Patterson and Maxine Paetro
Won from
Outnumbered 3-to-1
Syd, a breathtakingly beautiful supermodel on a photo shoot in Hawaii, disappears. Fearing the worst, her parents travel to Hawaii to investigate for themselves, never expecting the horror that awaits them.

LA Times reporter Ben Hawkins is conducting his own research into the case, hoping to help the victim and get an idea for his next bestseller. With no leads and no closer to uncovering the kidnapper's identity than when he stepped off the plane, Ben gets a shocking visit that pushes him into an impossible-to-resist deal with the devil.

A heart-pounding story of fear and desire, SWIMSUIT transports listeners to a chilling new territory where the collision of beauty and murder transforms paradise into a hell of unspeakable horrors.
Bought for myself...
I decided that it was time to buy
Hunger Games
, and since you get free shipping on orders over $25 when you order online at Barnes and Noble, what better time to buy more clearance books? I got
Hunger Games
for under $10, and the following books were all $1.79-3.59 each when taking into account my member discount and an additional 10% discount that I took, and FREE SHIPPING!
Just Sex
by Susan Kay Law
The New York Times Sunday at the Seashore Crosswords
edited by Will Shortz
The Road
by Cormac McCarthy (I got this on clearance the other day, but don't see it on clearance any longer)
Chosen By a Horse
by Susan Richards
Accidental It Girl
by Libby Street (I got this on clearance the other day for $1.79, and now it's full price for over $12)
Defiant Heart
by Tracey Bateman