Mailbox Monday is hosted
here
. I've received a few new books recently:
Crooked Heart by Lissa Evans
Received through TLC Book Tours
Paper Moon meets the Blitz in this original black comedy set in World War II England, chronicling an unlikely alliance between a small-time con artist and a young orphan evacuee.

When Noel Bostock—aged ten, no family—is evacuated from London to escape the Nazi bombardment, he lands in a suburb northwest of the city with Vera Sedge—a thirty-six-year-old widow drowning in debts and dependents. Always desperate for money, she's unscrupulous about how she gets it.

Noel's mourning his godmother, Mattie, a former suffragette. Wise beyond his years and raised with a disdain for authority and an eclectic attitude toward education, he has little in common with other children, and even less with the impulsive Vee, who hurtles from one self-made crisis to the next. The war's provided unprecedented opportunities for making money, but what Vee needs—and what she's never had—is a cool head and the ability to make a plan. On her own, she's a disaster. With Noel, she's a team.

Together they cook up a scheme. Crisscrossing the bombed suburbs of London, Vee starts to turn a profit and Noel begins to regain his interest in life. But there are plenty of other people making money off the war—and some of them are dangerous. Noel may have been moved to safety, but he isn't actually safe at all. . . .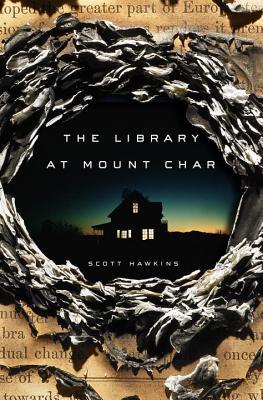 The Library at Mount Char by Scott Hawkins
Received through Blogging for Books
Neil Gaiman meets Joe Hill in this astonishingly original, terrifying, and darkly funny contemporary fantasy.

Carolyn's not so different from the other human beings around her. She's sure of it. She likes guacamole and cigarettes and steak. She knows how to use a phone. She even remembers what clothes are for.

After all, she was a normal American herself, once.

That was a long time ago, of course—before the time she calls "adoption day," when she and a dozen other children found themselves being raised by a man they learned to call Father.

Father could do strange things. He could call light from darkness. Sometimes he raised the dead. And when he was disobeyed, the consequences were terrible.

In the years since Father took her in, Carolyn hasn't gotten out much. Instead, she and her adopted siblings have been raised according to Father's ancient Pelapi customs. They've studied the books in his library and learned some of the secrets behind his equally ancient power.

Sometimes, they've wondered if their cruel tutor might secretly be God.

Now, Father is missing. And if God truly is dead, the only thing that matters is who will inherit his library—and with it, power over all of creation.

As Carolyn gathers the tools she needs for the battle to come, fierce competitors for this prize align against her.

But Carolyn can win. She's sure of it. What she doesn't realize is that her victory may come at an unacceptable price—because in becoming a God, she's forgotten a great deal about being human.
Bull Mountain by Brian Panowich
Received through Netgalley
Clayton Burroughs comes from a long line of outlaws. For generations, the Burroughs clan has made its home on Bull Mountain in North Georgia, running shine, pot, and meth over six state lines, virtually untouched by the rule of law. To distance himself from his family's criminal empire, Clayton took the job of sheriff in a neighboring community to keep what peace he can. But when a federal agent with the Bureau of Alcohol, Tobacco, and Firearms shows up at Clayton's office with a plan to shut down the mountain, his hidden agenda will pit brother against brother, test loyalties, and could lead Clayton down a path to self-destruction.

In a sweeping narrative spanning decades and told from alternating points of view, the novel brilliantly evokes the atmosphere of the mountain and its inhabitants: forbidding, loyal, gritty, and ruthless. A story of family—the lengths men will go to protect it, honor it, or in some cases destroy it—Bull Mountain is an incredibly assured debut that heralds a major new talent in fiction.