Here are some books that have recently hit my radar and set off my alarm bells...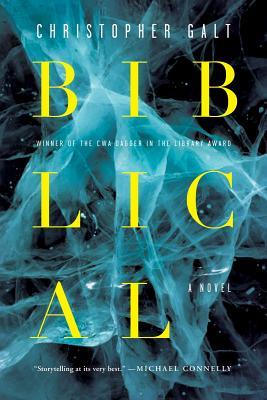 Biblical by Christopher Galt
A strange phenomenon is sweeping the globe. People are having visions, seeing angels, experiencing events that defy reality. Bizarre accounts pour in from distant places: a French teenager claims to have witnessed Joan of Arc being burned at the stake; a man in New York dies of malnutrition in a luxurious Central Park apartment; a fundamentalist Christian sect kidnaps and murders a geneticist. Then there is the graffiti WE ARE BECOMING that has popped up in every major city around the world, in every language. And everywhere people are starting to talk about John Astor, the mysterious author of the book that seems to be at the center of it all. After a rash of suicides around the world by individuals experiencing the time traveling hallucinations, psychiatrist John Macbeth and a team of FBI agents and scientists assemble to find out what s going on before it s too late. Is this a spiritual phenomenon or something more sinister?
Edge of Eternity by Ken Follett
EDGE OF ETERNITY is the sweeping, passionate conclusion to Ken Follett's extraordinary historical epic, The Century Trilogy.

Throughout these books, Follett has followed the fortunes of five intertwined families – American, German, Russian, English, and Welsh – as they make their way through the twentieth century. Now they come to one of the most tumultuous eras of all: the enormous social, political, and economic turmoil of the 1960s through the 1980s, from civil rights, assassinations, mass political movements and Vietnam to the Berlin Wall, the Cuban Missile Crisis, presidential impeachment, revolution – and rock and roll.

East German teacher Rebecca Hoffman discovers she's been spied on by the Stasi for years and commits an impulsive act that will affect her family for the rest of their lives.…George Jakes, the child of a mixed-race couple, bypasses a corporate law career to join Robert F. Kennedy's Justice Department, and finds himself in the middle not only of the seminal events of the civil rights battle, but a much more personal battle of his own.…Cameron Dewar, the grandson of a senator, jumps at the chance to do some official and unofficial espionage for a cause he believes in, only to discover that the world is a much more dangerous place than he'd imagined.…Dimka Dvorkin, a young aide to Nikita Khrushchev, becomes a prime agent both for good and for ill as the United States and the Soviet Union race to the brink of nuclear war, while his twin sister, Tania, carves out a role that will take her from Moscow to Cuba to Prague to Warsaw – and into history.

As always with Follett, the historical background is brilliantly researched and rendered, the action fast-moving, the characters rich in nuance and emotion. With the hand of a master, he brings us into a world we thought we knew but now will never seem the same again.