Mailbox Monday is hosted
here
. I've received a few new books recently:
Thanks to the publisher, I got the first two books in the Elemental Journey series...
Earth (Elemental Journey Series Book 1) by Caroline Allen
In rural Missouri in the 1970s, thirteen-year-old Pearl Swinton has just had her first mystical vision. There is no place for Pearl's "gift" in the bloody reality of subsistence farming and rural poverty. As her visions unfold, she must find her way in a family and a community that react with fear and violence.

When Pearl discovers that her Aunt Nadine, the family shame, has a similar gift, she bicycles across the state to find her. That trip unexpectedly throws Pearl into a journey to save her runaway sister and sends her into a deep exploration of herself, her visions, and her visceral relationship to the earth.

Told with fierce lyricism, Earth is a story about the importance of finding one's own truth and sense of self in dire circumstances and against the odds. It is also a story about the link between understanding ourselves and our relationship with the earth.

In this first of the four-book Elemental Journey Series that will follow Pearl across continents and into adulthood, Caroline Allen introduces a form of storytelling that is unflinching in its honesty, filled with compassion, and underscored with originality.
Air (Elemental Journey Series Book 2) by Caroline Allen
The second book in the Elemental Journey Series, AIR follows Pearl Swinton as she uproots and moves to Tokyo, where she hopes to live floating above the culture. Her encounter with Usui, a missionary who voluntarily makes himself homeless, brings her face to face with her own homelessness. AIR tackles core issues facing individuals coming of age in today's world. How can anyone feel safe and at home, let alone find themselves, on an increasingly unstable planet? Where, truly, is home?
I got this one through Netgalley, but just got a hard copy in the mail from Blogging for Books. The author's book A Constellation of Vital Phenomena was one of my favorite reads of 2015: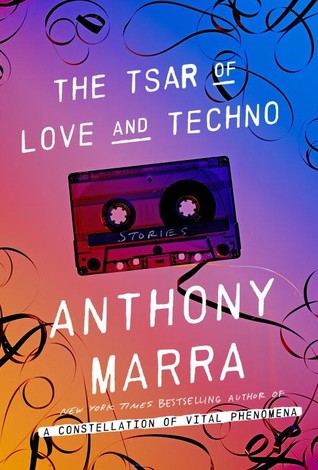 The Tsar of Love and Techno by Anthony Marra
From the New York Times bestselling author of A Constellation of Vital Phenomena—dazzling, poignant, and lyrical interwoven stories about family, sacrifice, the legacy of war, and the redemptive power of art.
This stunning, exquisitely written collection introduces a cast of remarkable characters whose lives intersect in ways both life-affirming and heartbreaking. A 1930s Soviet censor painstakingly corrects offending photographs, deep underneath Leningrad, bewitched by the image of a disgraced prima ballerina. A chorus of women recount their stories and those of their grandmothers, former gulag prisoners who settled their Siberian mining town. Two pairs of brothers share a fierce, protective love. Young men across the former USSR face violence at home and in the military. And great sacrifices are made in the name of an oil landscape unremarkable except for the almost incomprehensibly peaceful past it depicts. In stunning prose, with rich character portraits and a sense of history reverberating into the present, The Tsar of Love and Techno is a captivating work from one of our greatest new talents.
And I also got these through Netgalley...
The Crime of All Crimes by Nicole Rafter
Cambodia. Rwanda. Armenia. Nazi Germany. History remembers these places as the sites of unspeakable crimes against humanity, and indisputably, of genocide. Yet, throughout the twentieth century, the world has seen many instances of violence committed by states against certain groups within their borders—from the colonial ethnic cleansing the Germans committed against the Herero tribe in Africa, to the Katyn Forest Massacre, in which the Soviets shot over 20,000 Poles, to anti-communist mass murders in 1960s Indonesia. Are mass crimes against humanity like these still genocide? And how can an understanding of crime and criminals shed new light on how genocide—the "crime of all crimes"—transpires?

In The Crime of All Crimes, criminologist Nicole Rafter takes an innovative approach to the study of genocide by comparing eight diverse genocides--large-scale and small; well-known and obscure—through the lens of criminal behavior.

Rafter explores different models of genocidal activity, reflecting on the popular use of the Holocaust as a model for genocide and ways in which other genocides conform to different patterns. For instance, Rafter questions the assumption that only ethnic groups are targeted for genocidal "cleansing," and she also urges that actions such as genocidal rape be considered alongside traditional instances of genocidal violence. Further, by examining the causes of genocide on different levels, Rafter is able to construct profiles of typical victims and perpetrators and discuss means of preventing genocide, in addition to delving into the social psychology of genocidal behavior and the ways in which genocides are brought to an end.

A sweeping and innovative investigation into the most tragic of events in the modern world, The Crime of All Crimes will fundamentally change how we think about genocide in the present day.
Angels Burning by Tawni O'Dell
From the New York Times bestselling author of the Oprah Book Club pick Back Roads comes this fast-paced literary thriller about a small town police chief who's forced to dig into her own shadowy past as she investigates the murder of a teenage girl.

On the surface, Chief Dove Carnahan is a true trailblazer who would do anything to protect the rural Pennsylvanian countryside where she has lived all fifty of her years. Traditional and proud of her blue-collar sensibilities, Dove is loved by her community. But beneath her badge lies a dark and self-destructive streak, fed by a secret she has kept since she was sixteen.

When a girl is beaten to death, her body tossed down a fiery sinkhole in an abandoned coal town, Dove is faced with solving the worst crime of her law enforcement career. She identifies the girl as a daughter of the Truly family, a notoriously irascible dynasty of rednecks and petty criminals.

During her investigation, the man convicted of killing Dove's mother years earlier is released from prison. Still proclaiming his innocence, he approaches Dove with a startling accusation and a chilling threat that forces her to face the parallels between her own family's trauma and that of the Trulys.
This one is from LibraryThing Early Reviewers:
We've Already Gone This Far by Patrick Dacey
A heartfelt, vital collection; the debut of an exciting new talent already hailed as one of George Saunders' "favorite young American writers"

In Patrick Dacey's stunning debut, we meet longtime neighbors and friends--citizens of working-class Wequaquet--right when the ground beneath their feet has shifted in ways they don't yet understand. Here, after more than a decade of boom and bust, love and pride are closely twinned and dangerously deployed: a lonely woman attacks a memorial to a neighbor's veteran son; a dissatisfied housewife goes overboard with cosmetic surgery on national television; a young father walks away from one of the few jobs left in town, a soldier writes home to a mother who is becoming increasingly unhinged. We've Already Gone This Far takes us to a town like many towns in America, a place where people are searching for what is now an almost out-of-reach version of the American Dream

Story by story, Dacey draws us into the secret lives of recognizable strangers and reminds us that life's strange intensity and occasional magic is all around us, especially in the everyday. With a skewering insight and real warmth of spirit, Dacey delivers that rare and wonderful thing in American fiction: a deeply-felt, deeply-imagined book about where we've been and how far we have to go.
I got these books through the Book of the Month club:
The Witches: Salem, 1692 by Stacy Schiff
It began in 1692, over an exceptionally raw Massachusetts winter, when a minister's daughter began to scream and convulse. It ended less than a year later, but not before 19 men and women had been hanged and an elderly man crushed to death.

The panic spread quickly, involving the most educated men and prominent politicians in the colony. Neighbors accused neighbors, parents and children each other. Aside from suffrage, the Salem Witch Trials represent the only moment when women played the central role in American history. In curious ways, the trials would shape the future republic.

As psychologically thrilling as it is historically seminal, THE WITCHES is Stacy Schiff's account of this fantastical story-the first great American mystery unveiled fully for the first time by one of our most acclaimed historians.
Gold Fame Citrus by Claire Vaye Watkins
In a parched southern California of the near future, Luz, once the poster child for the country's conservation movement, and Ray, an army deserter turned surfer, are squatting in a starlet's abandoned mansion. Most "Mojavs," prevented by armed vigilantes from freely crossing borders to lusher regions, have allowed themselves to be evacuated to encampments in the east. Holdouts like Ray and Luz subsist on rationed cola and water, and whatever they can loot, scavenge, and improvise.

For the moment, the couple's fragile love, which somehow blooms in this arid place, seems enough. But when they cross paths with a mysterious child, the thirst for a better future begins. Heading east, they are waylaid in the desert by a charming and manipulative dowser – a diviner for water -- and his cultlike followers, who have formed a colony in a mysterious sea of dunes.

Immensely moving, profoundly disquieting, and mind-blowingly original, Watkins's novel explores the myths we believe about others and tell about ourselves, the double-edged power of our most cherished relationships, and the shape of hope in a precarious future that may be our own.
And these I purchased from Barnes and Noble: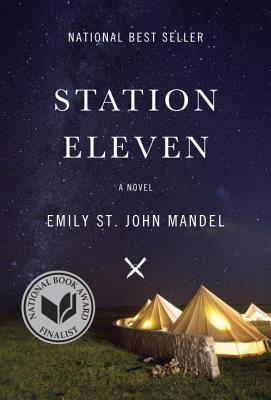 Station Eleven by Emily St. John Mandel
An audacious, darkly glittering novel set in the eerie days of civilization's collapse, Station Eleven tells the spellbinding story of a Hollywood star, his would-be savior, and a nomadic group of actors roaming the scattered outposts of the Great Lakes region, risking everything for art and humanity.

One snowy night Arthur Leander, a famous actor, has a heart attack onstage during a production of King Lear. Jeevan Chaudhary, a paparazzo-turned-EMT, is in the audience and leaps to his aid. A child actress named Kirsten Raymonde watches in horror as Jeevan performs CPR, pumping Arthur's chest as the curtain drops, but Arthur is dead. That same night, as Jeevan walks home from the theater, a terrible flu begins to spread. Hospitals are flooded and Jeevan and his brother barricade themselves inside an apartment, watching out the window as cars clog the highways, gunshots ring out, and life disintegrates around them.

Fifteen years later, Kirsten is an actress with the Traveling Symphony. Together, this small troupe moves between the settlements of an altered world, performing Shakespeare and music for scattered communities of survivors. Written on their caravan, and tattooed on Kirsten's arm is a line from Star Trek: "Because survival is insufficient." But when they arrive in St. Deborah by the Water, they encounter a violent prophet who digs graves for anyone who dares to leave.

Spanning decades, moving back and forth in time, and vividly depicting life before and after the pandemic, this suspenseful, elegiac novel is rife with beauty. As Arthur falls in and out of love, as Jeevan watches the newscasters say their final good-byes, and as Kirsten finds herself caught in the crosshairs of the prophet, we see the strange twists of fate that connect them all. A novel of art, memory, and ambition, Station Eleven tells a story about the relationships that sustain us, the ephemeral nature of fame, and the beauty of the world as we know it.
A Brief History of Seven Killings by Marlon James
WINNER OF THE 2015 MAN BOOKER PRIZE FOR FICTION From the acclaimed author of The Book of Night Women comes a masterfully written novel that explores the attempted assassination of Bob Marley in the late 1970s.

On December 3, 1976, just before the Jamaican general election and two days before Bob Marley was to play the Smile Jamaica Concert, gunmen stormed his house, machine guns blazing. The attack nearly killed the Reggae superstar, his wife, and his manager, and injured several others. Marley would go on to perform at the free concert on December 5, but he left the country the next day, not to return for two years.

Deftly spanning decades and continents and peopled with a wide range of characters—assassins, journalists, drug dealers, and even ghosts—A Brief History of Seven Killings is the fictional exploration of that dangerous and unstable time and its bloody aftermath, from the streets and slums of Kingston in the 70s, to the crack wars in 80s New York, to a radically altered Jamaica in the 90s. Brilliantly inventive and stunningly ambitious, this novel is a revealing modern epic that will secure Marlon James' place among the great literary talents of his generation.