Mailbox Monday is hosted
here
. I've received a few new books recently:
Sinful Folk by Ned Hayes
A terrible loss. A desperate journey.
A mother seeks the truth.

In December of the year 1377, five children were burned to death in a suspicious house fire. A small band of villagers traveled 200 miles across England in midwinter to demand justice for their children's deaths.

Sinful Folk is the story of this treacherous journey as seen by Mear, a former nun who has lived for a decade disguised as a mute man, raising her son quietly in this isolated village.

For years, she has concealed herself and all her secrets. But in this journey, she will find the strength to claim the promise of her past and find a new future. Mear begins her journey in terror and heartache, and ends in triumph and redemption.
The Story of Land and Sea by Katy Simpson Smith
Set in a small coastal town in North Carolina during the waning years of the American Revolution, this incandescent debut novel follows three generations of family—fathers and daughters, mother and son, master and slave, characters who yearn for redemption amidst a heady brew of war, kidnapping, slavery, and love.

Drawn to the ocean, ten-year-old Tabitha wanders the marshes of her small coastal village and listens to her father's stories about his pirate voyages and the mother she never knew. Since the loss of his wife Helen, John has remained land-bound for their daughter, but when Tab contracts yellow fever, he turns to the sea once more. Desperate to save his daughter, he takes her aboard a sloop bound for Bermuda, hoping the salt air will heal her.

Years before, Helen herself was raised by a widowed father. Asa, the devout owner of a small plantation, gives his daughter a young slave named Moll for her tenth birthday. Left largely on their own, Helen and Moll develop a close but uneasy companionship. Helen gradually takes over the running of the plantation as the girls grow up, but when she meets John, the pirate turned Continental soldier, she flouts convention and her father's wishes by falling in love. Moll, meanwhile, is forced into marriage with a stranger. Her only solace is her son, Davy, whom she will protect with a passion that defies the bounds of slavery.

In this elegant, evocative, and haunting debut, Katy Simpson Smith captures the singular love between parent and child, the devastation of love lost, and the lonely paths we travel in the name of renewal.
A Constellation of Vital Phenomena by Anthony Marra
In a small rural village in Chechnya, eight-year-old Havaa watches from the woods as Russian soldiers abduct her father in the middle of the night and then set fire to her home. When their lifelong neighbor Akhmed finds Havaa hiding in the forest with a strange blue suitcase, he makes a decision that will forever change their lives. He will seek refuge at the abandoned hospital where the sole remaining doctor, Sonja Rabina, treats the wounded.

For Sonja, the arrival of Akhmed and Havaa is an unwelcome surprise. Weary and overburdened, she has no desire to take on additional risk and responsibility. But over the course of five extraordinary days, Sonja's world will shift on its axis and reveal the intricate pattern of connections that weaves together the pasts of these three unlikely companions and unexpectedly decides their fate. A story of the transcendent power of love in wartime, A Constellation of Vital Phenomena is a work of sweeping breadth, profound compassion, and lasting significance.
Guests on Earth by Lee Smith
It's 1936 when orphaned thirteen-year-old Evalina Toussaint is admitted to Highland Hospital, a mental institution in Asheville, North Carolina, known for its innovative treatments for nervous disorders and addictions. Taken under the wing of the hospital's most notable patient, Zelda Fitzgerald, Evalina witnesses cascading events that lead up to the tragic fire of 1948 that killed nine women in a locked ward, Zelda among them. Author Lee Smith has created, through a seamless blending of fiction and fact, a mesmerizing novel about a world apart--in which art and madness are luminously intertwined.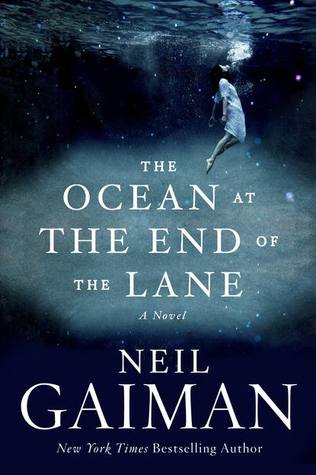 The Ocean at the End of the Lane by Neil Gaiman
Sussex, England. A middle-aged man returns to his childhood home to attend a funeral. Although the house he lived in is long gone, he is drawn to the farm at the end of the road, where, when he was seven, he encountered a most remarkable girl, Lettie Hempstock, and her mother and grandmother. He hasn't thought of Lettie in decades, and yet as he sits by the pond (a pond that she'd claimed was an ocean) behind the ramshackle old farmhouse, the unremembered past comes flooding back. And it is a past too strange, too frightening, too dangerous to have happened to anyone, let alone a small boy.

Forty years earlier, a man committed suicide in a stolen car at this farm at the end of the road. Like a fuse on a firework, his death lit a touchpaper and resonated in unimaginable ways. The darkness was unleashed, something scary and thoroughly incomprehensible to a little boy. And Lettie—magical, comforting, wise beyond her years—promised to protect him, no matter what.

A groundbreaking work from a master, The Ocean at the End of the Lane is told with a rare understanding of all that makes us human, and shows the power of stories to reveal and shelter us from the darkness inside and out. It is a stirring, terrifying, and elegiac fable as delicate as a butterfly's wing and as menacing as a knife in the dark.
The Tilted World by Tom Franklin & Beth Ann Fennelly
Set against the backdrop of the historic 1927 Mississippi Flood, a story of murder and moonshine, sandbagging and saboteurs, dynamite and deluge-and a man and a woman who find unexpected love-from Tom Franklin, author of the bestselling Crooked Letter, Crooked Letter, and his wife, Pushcart Prize-winning poet Beth Ann Fennelly

The year is 1927. As rains swell the Mississippi, the mighty river threatens to burst its banks and engulf all in its path, including federal revenue agent Ted Ingersoll and his partner, Ham Johnson. Arriving in the tiny hamlet of Hobnob, Mississippi, to investigate the disappearance of two fellow agents on the trail of a local bootlegger, they unexpectedly find an abandoned baby boy at a crime scene.

An orphan raised by nuns, Ingersoll is determined to find the infant a home, a search that leads him to Dixie Clay Holliver. A lonely woman married too young to a charming and sometimes violent philanderer, Dixie Clay has lost her only child to illness and is powerless to resist this second chance at motherhood. From the moment they meet, Ingersoll and Dixie Clay are drawn to each other. He has no idea that she's the best bootlegger in the county and may be connected to the missing agents. And while he seems kind and gentle, Dixie Clay knows he is the enemy and must not be trusted.

Then a deadly new peril arises, endangering them all. A saboteur, hired by rich New Orleans bankers eager to protect their city, is planning to dynamite the levee and flood Hobnob, where the river bends precariously. Now, with time running out, Ingersoll, Ham, and Dixie Clay must make desperate choices, choices that will radically transform their lives-if they survive.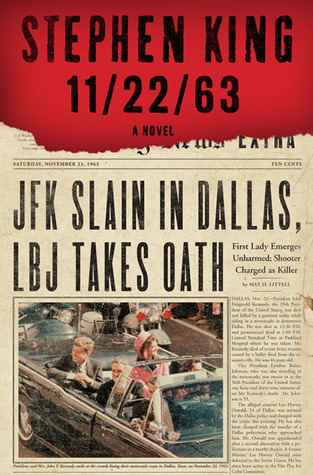 11/22/63 by Stephen King
Life can turn on a dime—or stumble into the extraordinary, as it does for Jake Epping, a high school English teacher in Lisbon Falls, Maine. While grading essays by his GED students, Jake reads a gruesome, enthralling piece penned by janitor Harry Dunning: fifty years ago, Harry somehow survived his father's sledgehammer slaughter of his entire family. Jake is blown away...but an even more bizarre secret comes to light when Jake's friend Al, owner of the local diner, enlists Jake to take over the mission that has become his obsession—to prevent the Kennedy assassination. How? By stepping through a portal in the diner's storeroom, and into the era of Ike and Elvis, of big American cars, sock hops, and cigarette smoke... Finding himself in warmhearted Jodie, Texas, Jake begins a new life. But all turns in the road lead to a troubled loner named Lee Harvey Oswald. The course of history is about to be rewritten...and become heart-stoppingly suspenseful.
The Ploughmen by Kim Zupan
A young sheriff and a hardened killer form an uneasy and complicated bond in this mesmerizing first novel set on the plains of Montana.

Steeped in a lonesome Montana landscape as unyielding and raw as it is beautiful, Kim Zupan's The Ploughmen is a new classic in the literature of the American West.

At the center of this searing, fever dream of a novel are two men—a killer awaiting trial, and a troubled young deputy—sitting across from each other in the dark, talking through the bars of a county jail cell: John Gload, so brutally adept at his craft that only now, at the age of 77, has he faced the prospect of long-term incarceration and Valentine Millimaki, low man in the Copper County sheriff's department, who draws the overnight shift after Gload's arrest. With a disintegrating marriage further collapsing under the strain of his night duty, Millimaki finds himself seeking counsel from a man whose troubled past shares something essential with his own. Their uneasy friendship takes a startling turn with a brazen act of violence that yokes together two haunted souls by the secrets they share, and by the rugged country that keeps them.
And, because this was one of my favorite books of 2012, I bought a copy for my bookshelf:
Wilderness by Lance Weller
Thirty years after the Civil War's Battle of the Wilderness left him maimed, Abel Truman has found his way to the edge of the continent, the rugged, majestic coast of Washington State, where he lives alone in a driftwood shack with his beloved dog. Wilderness is the story of Abel, now an old and ailing man, and his heroic final journey over the snowbound Olympic Mountains. It's a quest he has little hope of completing but still must undertake to settle matters of the heart that predate even the horrors of the war.

As Abel makes his way into the foothills, the violence he endures at the hands of two thugs who are after his dog is crosscut with his memories of the horrors of the war, the friends he lost, and the savagery he took part in and witnessed. And yet, darkness is cut by light, especially in the people who have touched his life-from Jane Dao-Ming Poole, the daughter of murdered Chinese immigrants, to Hypatia, an escaped slave who nursed him back to life, and finally to the unbearable memory of the wife and child he lost as a young man. Haunted by tragedy, loss, and unspeakable brutality, Abel has somehow managed to hold on to his humanity, finding way stations of kindness along his tortured and ultimately redemptive path.

In its contrasts of light and dark, wild and tame, brutal and tender, and its attempts to reconcile a horrific war with the great evil it ended, Wilderness tells not only the moving tale of an unforgettable character, but a story about who we are as human beings, a people, and a nation. Lance Weller's immensely impressive debut immediately places him among our most talented writers.